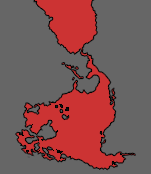 The Government and Political Parties are Committing Crimes as a Pretext to Gaining Access to and Hassling Indigenous Communities in Chiapas
By The Good Government Council

Heart Center of the Zapatistas in Front of the World
February 14, 2007
"A Communique about Felonies, New Frauds (Now Disguised as Combating Delinquency) and Not-So-Secret Plans"
By Subcomandante Marcos

Translated by El Kilombo Collective
February 12, 2007
Documentary Reveals the Underbelly of Affluent San Diego; Raises Ethical Questions that Accompany the Exposure of Injustice
By Bill Conroy

Via the Narcosphere
February 11, 2007
ENS Report Confirms Continued Efforts to Use U.S. Taxpayer Money to Exploit Protected Lands, Paving the Road for "Private Sector" Investment
By Stephen Peacock

Via The Narcosphere
February 8, 2007
February 20 Screening Set for the Julia de Burgos Cultural Center
By the Movement for Justice in El Barrio

The Other New York
February 6, 2007
New March Proves Movement is Alive; State Government Blocks Access to Public Spaces with Razor Wire and Dogs
By Nancy Davies

Commentary from Oaxaca
February 5, 2007
"There's No Hope for Them Through the Legal Path... Don't Leave Us Alone, at Least Come to Visit," Exclaims Jesus from the Camp Outside Santiaguito Penitentiary
By Juan Trujillo

Special to The Narco News Bulletin
February 1, 2007
Pre-Order the Book (and Help Us Determine How Many to Print)
By Al Giordano

Publisher, Narco News
January 30, 2007
Despite Attacks, Another Popular Assembly Emerges
By Nancy Davies

Commentary from Oaxaca
January 28, 2007
"...The Fleecing of U.S. Taxpayers: Colombian Oil Pipeline Security"
By Stephen Peacock

Via The Narcosphere
January 26, 2007
Reporters Without Borders Fails to Report the Entire Truth, Even with an Overwhelming Amount of Documented Killings Attributed to Vigilante Group
By Jeb Sprague

Special to The Narco News Bulletin
January 25, 2007
A Year After the Passing of Comandanta Ramona, Civilian and Insurgent Women Tell of Their Movement Within a Movement
By Ginna Villarreal

Special to The Narco News Bulletin
January 24, 2007
Book a Lecture, Workshop or Fundraising Event in Your Campus, City or Town
By Chris Fee

Newsroom Coordinator, Narco News
January 21, 2007
Holding a Mirror to the House of Death: Two Cases, Two Standards, "…If we are to demand that the laws be followed… we must be prepared to apply them to our own agents…"
By Bill Conroy

Via The Narcosphere
January 21, 2007
A Report About Land and Territory in the Encounter Between the Zapatista Communities and the Communities of the World
By Rodrigo Ibarra

Special to The Narco News Bulletin
January 19, 2007
Human Rights Attorney Miguel Angel de Los Santos Takes the Case to Mexican Court
By Craig Will

Brother of Brad Will (1970-2006)
January 19, 2007
Professor Robert Cikraji retired to Mexico and the center of an international scandal
By Rebecca Meiser

The Cleveland Scene
January 19, 2007
Your Donation Is Needed to Keep Authentic Journalism Alive
By David B. Briones

Webmaster, Narco News
January 18, 2007
20 Communities Join with the Regional Popular Assembly

By Diego Enrique Osorno

Special to The Narco News Bulletin
January 17, 2007
Supreme Court Decision Against the PRI Shows the Party's Weakening Grip on Oaxaca
By Nancy Davies

Commentary from Oaxaca
January 15, 2007
US Government and Its Ex-Informant Present Their Arguments in Federal Court in St. Louis
By Bill Conroy

Via The Narcosphere
January 13, 2007
Almost 13 Years After the Armed Uprising, Achievements of the Autonomous Governments Are Illustrated
By Hermann Bellinghausen

La Jornada
January 12, 2007
The APPO on the March Again
By Nancy Davies

"A Personal View"
January 11, 2007
Resources and Education Are Still the Main Struggles for Better Health in Zapatista Communities
By Ginna Villarreal

Special to The Narco News Bulletin
January 11, 2007
"An indigenous people's non-violent efforts to find a space for political participation and representation..."
By Francisco López Bárcenas

La Jornada
January 10, 2007
AP's Rebeca Romero Insists She Is Not on Ulises Ruiz's Payroll, but Publishes Her Denial on Her Website Next to an Ad… Purchased by the Oaxaca State Government
By Al Giordano

Publisher, Narco News
January 9, 2007
Oaxacans Have a Dream: "To Have a Just Government," She Said From an Undisclosed Part of the Country
By Emir Olivares Alonso

La Jornada
January 9, 2007
Throughout the State, Communities Continue to Organize Themselves in Resistance
By Nancy Davies

Commentary from Oaxaca
January 8, 2007
Ulises Ruiz Ortiz Carries on with Disregard to the Law, Declaring No Public Assemblies in "Sensitive" Areas

By Nancy Davies

Commentary from Oaxaca
January 8, 2007
Portion of 'Classified' Agency Report Obtained by Narco News Shows Embarrassment Is Behind Government's Secrecy Claim
By Bill Conroy

Via the Narcosphere
January 7, 2007
Refusing Government Money or Teachers, Indigenous Communities Have Built More Schools and Educated More Children Than Ever Before
By Amber Howard

Special to The Narco News Bulletin
January 6, 2007
"We Need to Organize an Encounter for Women to Exchange Ideas and Join Struggles"
By Intergalactic Commission of the EZLN

EZLN
January 6, 2007
"We the Zapatistas are Free to Organize Ourselves, to Govern Ourselves, and to make our own Decisions without being Exploited..."
By Intergalactic Commission of the EZLN

EZLN
January 6, 2007
Inauguration: 30 December 2006
By Intergalactic Commission of the EZLN

EZLN
January 5, 2007
Report from the Gathering of the Zapatistas with the Peoples of the World in Oventic
By John Gibler

El Universal
January 4, 2007
December 30 to January 2 of 2007 in Oventik, Chiapas
By Insurgent Lieutenant Colonel Moisés

Intergalactic Commission of the EZLN
December 24, 2006
Recent Conflict Merely the Newest Chapter in an Old Struggle
By Sean Donahue

Via The Narcosphere
December 23, 2006
The Art of Resistance
By Latuff

Salón Chingón
December 22, 2006
Three Men Kidnapped, Beaten and Released While Rueda Pacheco Says Teachers Have Left the APPO; Ulises Ruis Denies Role in Recent Apprehensions
By Nancy Davies

Commentary from Oaxaca
December 21, 2006
Documents From Pending Lawsuit Filed by the Families of Victims Expose ICE's Beforehand Knowledge that Murders Would Take Place
By Bill Conroy

Via the Narcosphere
December 20, 2006
ICE Raids on Swift & Co. Processing Plants Punish Workers' Families and Expose Political Use of Federal Police Force
By Bill Conroy

Via the Narcosphere
December 16, 2006
Business Cards of DEA and ICE Agents Taped to Forehead of Latest Corpse Found in Ciudad Juárez
By Bill Conroy

Via the Narcosphere
December 15, 2006
Delegate Zero Asks the Press to Take Pictures of Blanca Navidad and Ask, "How is it Just that a Worker and His Family Live Like This?"
By Murielle Coppin

The Other Journalism with the Other Campaign in Tamaulipas
December 15, 2006
An Executive Branch In Fear of the Growing Clamor of the "House of Death" Case
By Bill Conroy

Via the Narcosphere
December 10, 2006
The Official Story - that "Molotovs" Burned Stone and Concrete Buildings - Raises Eyebrows Toward Governor Ulises Ruiz Ortiz
By Sean Donahue

Via the Narcosphere
December 10, 2006
Giovanni Gaudioso Receives Slap on the Wrist and Pay Increase as Punishment for His Mishandling of the Ciudad Juárez Operation
By Bill Conroy

Via the NarcoSphere
December 7, 2006
Attorney General Alberto Gonzales has Been Attempting to Suppress Evidence from Public View
By Alex Gabor

OpEd News
December 6, 2006
Words of Delegados Zero, One, Two and Three During the Conclusion of the National Tour
By the Sixth Commission of the EZLN

Enlace Zapatista
December 6, 2006
Arrested Along with Ignacio García and Marcelino Coache in Mexico City; Protests Announced in Oaxaca
By Juan Trujillo

The Other Journalism in Mexico City
December 5, 2006
In Matamoros with the Zapatista Other Campaign
By Rodrigo Ibarra

The Trojan Rocinante, Column #3
December 4, 2006
Comandanta Grabiela: "We Are Here Because We Have Completed Our Work. Now We Get to Return, but You All Will Not Remain Alone"
By Amber Howard

The Other Journalism with the Other Campaign in Mexico City
December 3, 2006
Communiqué from Somewhere in the State of Oaxaca, from the State Council of the Popular Peoples' Assembly of Oaxaca

By the CEAPPO

The Other Oaxaca
December 3, 2006
Venezuela Goes to the Polls as Chávez Urges "Vote Against the Devil and Imperialism"
By Shawn O'Bryant

Special to The Narco News Bulletin
December 3, 2006
London Observer Plays Carpetbagger on House of Death Story
By Bill Conroy

via the Narcosphere
December 3, 2006
An Emergency Appeal After the Crash of the Hard Drive in the Narco Newsroom
By Bill Conroy

The Fund for Authentic Journalism
December 1, 2006
The Arrest of Gerardo Bonilla
By Counterpunch News Service

Counterpunch
November 30, 2006
Alberto Cilia Ocampo came to Oaxaca to document cases of forced disappearances and other human rights violations on Monday. There, he became the next case.
By John Gibler

Indymedia New York
November 30, 2006
As a New Regime Prepares to Seize Control December 1, Promising a New Wave of Repression, the Antidote Is Being Born from Below
By Al Giordano

Special to The Narco News Bulletin
November 29, 2006
Why is this Repression Carried out Against the Popular Movement? And why Now?
By Luis Hernández Navarro

La Jornada
November 28, 2006
Government Launches New Aggression Against the Popular Assembly Movement
By Nancy Davies

Commentary from Oaxaca
November 27, 2006
A Chronicle of the Battle of November 25
By Nancy Davies

Commentary from Oaxaca
November 27, 2006
Los de abajo
By Gloria Muñoz Ramírez

La Jornada
November 27, 2006
Confrontation Continues Between the Police and the APPO in Different Parts of the City
By the Popular Assembly of the Peoples of Oaxaca (APPO)

The Other Oaxaca
November 25, 2006
The Attacked in Montes Azules "Are Not Zapatista Bases of Support"
By the Zapatista Army of National Liberation

Sixth Commission
November 25, 2006
Calderón Will Begin to Fall from the Day He Takes Office, Warns the Rebel Leader
By Hermann Bellinghausen

La Jornada
November 24, 2006
The Guelatao Declaration of the Zapoteco, Mixe and Chinanteco Peoples of Oaxaca's Sierra Juárez

By Indigenous Communities

The Other Oaxaca
November 22, 2006
"We Are Not Only Struggling Against a Local Tyrant, But Against an Entire System"
By the Indian Organizations for Human Rights of Oaxaca (OIDHO)

Translated by El Enemigo Comun
November 22, 2006
Looking for a recent report from our previous issue?
Click here for Issue #43
From the Narcosphere
Written and Selected by the 17359 Co-publishers of Narco News

Enter the Narcosphere

Apply for a Copublisher's Account
Top Reporters' Notes
Vice President Pence Has Cause to Support Trump's Kremlin-Friendly Agenda by Bill Conroy
White House Grounds Breached After Secret Service Froze Officers' Pay, Leaked Email Reveals by Bill Conroy
Por un periodismo trascendente que otorga prioridad a la narrativa social by
For a Transcendent Journalism That Gives Priority To Social Narrative by
We Need Your Contribution To Keep The Heart Of The School Beating by
Necesitamos tu contribución para que el corazón de la Escuela siga latiendo by
Una escuela para personas que creen que el mundo puede ir mejor by
A School For People That Believe The World Can Get Better by
Now More Than Ever The World Needs The School of Authentic Journalism by
Ahora Más Que Nunca El Mundo Necesita El Periodismo Auténtico by
Narco News Features