The Coup d'Etat in Mexico
As a New Regime Prepares to Seize Control December 1, Promising a New Wave of Repression, the Antidote Is Being Born from Below
By Al Giordano

Special to The Narco News Bulletin
November 29, 2006
Of the 159 Mexican citizens rounded up last weekend in the southern state of Oaxaca, accused of various charges related to anti-government protests, 141 have been moved, by helicopter, a twenty-hour drive from their families and homes, to the penitentiary in San José del Rincón, Nayarit. Although this first wave of detentions was random – anyone unlucky enough to be on public streets and sidewalks where the riot cops stormed – the government classified these prisoners as "dangerous," justifying their transfer to a prison far away. Not one of those arrested last weekend has seen nor spoken with a lawyer, a human rights worker, a family member or an independent doctor. When, on Monday, reporters and Nayarit state legislators drove toward the prison to investigate, agents of the Federal Preventive Police (PFP, in its Spanish initials) intercepted them, threatened them with arrest, and stole the film from the camera of a photojournalist that had documented their presence.
In Oaxaca, federal police, coordinating their operation with the paramilitary squads and pirate radio station of disgraced governor Ulises Ruiz Ortiz, continue to conduct house-to-house raids searching for the alleged "leaders" of the Popular Assembly of the Peoples of Oaxaca (APPO, in its Spanish initials). Attorneys, doctors, clergy, journalists, family and human rights officials have likewise been blocked from speaking with the imprisoned or observing their condition in the wake of what eyewitnesses tell Narco News were the violent beatings police inflicted on many during their arrest.
The events in recent days in Oaxaca mark the largest mass arrest in Mexico since May 3 and 4, when 217 citizens were detained in Atenco and nearby Texcoco, outside of Mexico City. Within days of the Atenco police raid, the first witnesses to the beatings, rapes and tortures of the detained appeared: five foreigners – journalists and human rights observers – that had been swept up by police as they documented the events in Atenco, who were kept incommunicado for various days then deported back to Barcelona, Berlin and Santiago de Chile. From them the world learned of the gang rapes and other savagery inflicted on bound and blindfolded women and men as they were taken to prison. Federal police bosses have openly scoffed at the stern recommendations by the National Human Rights Commission, a government agency, that the police brutality be investigated and punished. In that context, the secretive stance of the State regarding the Oaxaca prisoners is worrisome.
The government of lame duck president Vicente Fox did not learn, from the atrocities of Atenco, to correct its own illegal and authoritarian abuses. It is evident that it considers its only mistakes of last May to have been the failure to hide its own crimes from public view. And so, last Saturday, when it went on the attack in downtown Oaxaca, it was careful to avoid scooping up any of the foreign journalists or human rights observers who might blow the whistle upon their subsequent deportation as witnesses of what occurred to the Mexicans arrested. (International observers, however, would be mistaken to presume that the jackboots won't be coming for them next; there are already reports in the national media that a separate operation is planned to rid the crime scene of global eyes and ears.) By immediately moving the bulk of the detainees far from Oaxaca or any other media center, the Fox government reveals its intent to hide from public view what it has done to the arrested. The last and final legacy of Vicente Fox, a man who often claimed he had "democratized" Mexico, turns out to be a domestic Guantanamo-on-the-Pacific, where none will be able to hear the cries of the tortured.
It is in this context that the coup d'etat will be completed on Friday, installing Fox's successor, Felipe Calderón, upon the throne of the Mexican democracy that never was.
The Civil War Up Above
As the treatment of the imprisoned remained behind the curtain yesterday, cameras were able to document the scene in the accompanying photo.

Photos:

DR 2006

, La Jornada
It is not, contrary to what it might appear to be, a photograph from a scene from a Marx Brothers film. It is, rather, the true history of yesterday's session of the Mexican National Congress, the distinguished hall in Mexico City where, on Friday, according to the Constitution of the Republic, Felipe Calderón must take the oath of office and put on the presidential sash in order to legalize his status as the nation's top executive.
Not all the members of that esteemed lawmaking body are in agreement that Calderón was elected to the presidency last July 2. The facts strongly suggest otherwise. (See "Mexico's Presidential Swindle," New Left Review, September-October 2006.) About 150 legislators allied with the Democratic Revolution Party (PRD, in its Spanish initials) insist that the PRD candidate Andrés Manuel López Obrador received the most votes and have vowed not to permit Calderón, of Fox's National Action Party (PAN, in its Spanish initials) to be sworn in as president. Last September 1, on live national TV, the PRD legislators (amounting to almost one-third of the entire Congress) took the podium and prevented Fox from delivering his State of the Union address, in protest of the electoral fraud on behalf of Calderón. Thus, their vow to do it again on Friday is not an empty one, and it has the defenders of the election fraud on tenterhooks.
The PAN government has thus applied the same "solution" in Mexico City as it has in Oaxaca: On November 20, it sent in the federal police to surround the Congressional building and declare a kind of martial law in the surrounding neighborhoods. That was the day that López Obrador supporters converged on the city's central square, known as the Zócalo, and presented him with the tri-color presidential sash. Fearing that the mass of people would then take the Congressional building various miles away (a fear that did not materialize), Fox sent in the riot cops to protect the building. But as the photo reveals, the solution had no impact. The Congress itself is at Civil War.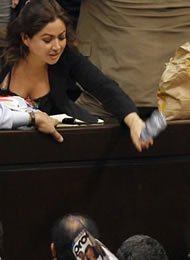 Photo: The Hon. Violeta Lagunes of Mexico's House of Representatives, hard at work.
The
PAN
again jumped the gun on Tuesday. Misinterpreting the appearance on the Congressional Hall podium of a sole
PRD
legislator as a "signal" that the dissident legislators were about to take the stage
en masse
, the
PAN
legislators launched a preemptive strike. This provoked the
PRD
legislators to follow them up there. Pushing and shoving, and more than a few fisticuffs ensued for control of the three-tiered podium. One
PAN
legislator pulled out a spray-can of mace, and tear-gassed a
PRD
legislator in the face, leading to his hospitalization. Another
PAN
legislator, 35-year-old Violeta Lagunes, of Puebla, was captured on film dumping soda and other liquids onto rival legislators. The melee continued throughout the day and night, with both sides vowing to hold the stage until Friday: one side to guarantee Calderón's ascent, the other to prevent it.
The Fox-Calderón transition teams have worked hard to recruit heads of state from other nations to attend Friday's ascension in their efforts to place a sheen of legitimacy on the regime shift. Among those expected: George Herbert Walker Bush, former US president and father of the current occupant of the White House, to represent the neighboring regime to the North. History repeats itself: It was Bush, Sr., who, as Vice President of the US in 1988, officially congratulated Carlos Salinas de Gortari as the new president of Mexico after what serious historians now agree was a monumental electoral fraud.
But today, Mexico's Secretary of State Luis Ernesto Derbez worried aloud that the ongoing brawl for control of the Congressional podium might scare some away. "It is going to be very shameful and disgraceful for our country," he said, "if we have chiefs of state of the quality of former president George Bush, Sr., observing below, on the podium, a spectacle worthy of a second-rate country."
As the legislators in suits and ties continue fighting over the podium, Calderón vows that hell or high water he will go to that hall and collect his trophy – six years at the helm of Mexico – on Friday. Meanwhile, his rival López Obrador has called his supporters to the Zócalo at 7 a.m. Friday morning and Fox is reduced again to his legacy as the "Dial 911 President," calling in the cops. It is not clear what, if anything, López Obrador and his allies plan to do on Friday. In the months since July's fraudulent election, he has talked big but pulled back from marching his troops into confrontation, even when he counted with millions, indignant and by his side. Either he will surprise on Friday or December 1 could mark the collapse of the electoral path to change in Mexico.
The First-Rate Country from Below
Today marks the final stretch in the eleven-month marathon that has been the Zapatista Other Campaign's listening tour of all of Mexico. Insurgent Subcomandante Marcos, who has visited every corner of the country since January 1, taking notes of the testimony of "the simple and humble people who fight," will make one more stop in the rural Huasteca region of the state of San Luis Potosí and soon head back to Chiapas to inform his indigenous comandantes of his findings. December will be dedicated to meetings between Other Campaign adherents to determine the next steps of what is now a truly nationwide effort to topple not just an illegitimate government but also "the capitalist system" that it serves. At the end of the year, December 30, the Zapatistas will receive delegates from throughout the world for an international gathering in the autonomous municipal seat of Oventik, Chiapas.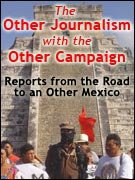 DR 2006

, Narco News
The Other Campaign tour of Mexico revealed, at every stop, that Mexico neither enjoys democracy nor any of the basic freedoms required for it. At this moment when the State's effort to hide its authoritarian repression in Oaxaca makes the atrocity in fact visible, the truth is that the terror seen this week in Oaxaca has been occurring all along in decentralized form against all Mexicans that have dared to speak up or organize for their rights. The Other Campaign found hundreds of political prisoners stashed already in the country's jails and penitentiaries. Until their family members and organizations brought their existence to the attention of the Zapatista spokesman, many had been taken away so quietly as to have never caused a single news report about their detention. The Other Campaign tour also met literally thousands of Mexicans, in every single state, that have arrest warrants over their heads or face ongoing charges related to their political organizing work. These, too, had been repressed alone, in silence. Likewise, it found mothers and family members of political dissidents that had simply been "
disappeared
," or who were later found only as corpses. It is impossible to presume, now that so much evidence has been documented, that Mexico is the liberalized democracy that the national and international Commercial Media portrays it to be.
Much of the work of this international newspaper over the past year has been documenting and reporting these stories, and translating them into other languages, to break that information blockade. The logic of the Other Campaign is that if so many are having their basic rights denied, suffering the blows of a dictatorial regime alone, each in their forgotten corner, then the time has come for Mutual Aid so that, if good people must be beaten, imprisoned and assassinated, then it makes infinitely more sense to confront the regime together.
Thus, for example, when on Monday it was learned that the Oaxaca 141 had been flown clandestinely to an isolated prison in Nayarit, Other Campaign adherents in Oaxaca, among them from the Other Journalism, now knew their counterparts in Nayarit and in the nearby metropolis of Guadalajara, Jalisco, on a first name basis. Between compañeros, phone calls, text messages and emails went out. And the adherents in that region have begun organizing support and noise-making actions so that these 141 political prisoners do not disappear into Fox's Guantanamo, forgotten and invisible. It also means that the efforts they undertake there will be reported back to Oaxaca, to the nation and to the world in many of its languages. In sum, although not one of the Oaxaca 141 in Nayarit has been heard from, they are already speaking and defying the government and media blackout on their existence and the repression against them. As a result of the Zapatista Other Campaign, the distance between Oaxaca and a prison in Nayarit has grown much shorter than Fox, Calderón, or their security apparatus capos presumed.
The Coup d'Etat Will Not Stand
This, down below, is not the second-rate country of clowns in suits punching each other out in the halls of Congress or of elections authorities that preside over falsifying the results. It is the first-rate country of the dignified Mexico that the outgoing viceroy, Fox, and the new viceroy, Calderón, attempt to snuff out in Oaxaca and elsewhere: a nation of people who work hard, raise their families, and endure police batons, teargas, bullets, prison, torture and death each time they express a desire for a better life.
Calderón sent a very clear signal that, in terms of state violence and repression, Mexico probably hasn't seen anything yet, not even during the dirty war of the 60s and 70s, compared to what is to come, when he named, this week, Jalisco Governor Francisco Ramírez Acuña to the powerful post of Interior Minister to essentially run the government. Ramírez Acuña is widely perceived as an authoritarian hardliner who imprisons dissidents – as he did time and time again in Jalisco – for sport. That's one philosophy of statecraft when a governor has a reputation for allowing narco-traffickers and other violent criminals safe haven in his state: create a distraction by rounding up protesters, while gloating with slogans about how "the law will be enforced."
Ramírez Acuña has told reporters that the matter of Oaxaca will be first on his agenda when he takes the steering wheel of the federal government. It is also an open question as to what changes in policy are in store regarding the Zapatista autonomous communities in Chiapas and the amnesty law for the leadership of the Zapatista Army of National Liberation (EZLN, in its Spanish initials) that Fox respected, more or less, during his six years in office. The disgrace of Fox's final year as president, including but not limited to the violent police actions in Atenco and Oaxaca, means that a man that began his presidency pardoning indigenous political prisoners leaves having put many more times that number – hundreds of Mexican dissidents, a disproportionate number of them indigenous – in prison, usually on trumped up charges, as punishment for their exercise of free speech. It is entirely possible that, regarding Oaxaca, he already ceded control of federal policy and techniques of repression to Calderón and Ramírez Acuña.
Whether by commission or omission, Vicente Fox Queseda, who wanted so much to be known as a statesman that ended 70 years of single party dictatorship, leaves with a legacy as having been just one more bumbling repressor and looter in a long list of them. Calderón and his team, on the other hand, begin with no such transcendent illusions. They are the proud architects and heirs of the 21st Century Coup d'Etat, and payday comes on Friday.
First they will promote fear and terror, to try to silence the clamor and protest from below. That's not going to have the desired effect. The level of indignant desire to do away with the long line of repressive regimes, as witnessed in every state and region along the 2006 Other Campaign trail, has only been inflamed by the ongoing events in Oaxaca and elsewhere. It is also an open secret that the 2006 election was stolen. Not even those that claim it was fair really believe it. There are certainly enough prisons and graveyards in Mexico to fill with thousands more for the crime of speaking and organizing for a better life. And there are police and soldiers galore, plus paramilitaries, to do the dirty work. But there are still not enough to hold back the critical mass of millions that do not recognize their legitimacy. History marches in the direction of a confrontation between those who impose from above and those below who, now recognizing that everyone else like them is in the same horrible situation, have constructed the "other" organization of horizontal communication and Mutual Aid.
The new regime is going to come in, most likely, with nightsticks and guns blazing. Not all of us are going to survive it. But the day is coming when millions will stand up, all at once, and overpower the powerful who have created two opponents for every one they have jailed, three for each they have killed. And from this small corner, that of an observer with a laptop, come what may, it has been the greatest privilege of this life to listen, learn, document and report over so many years from the first-rate country that is the Mexico from below. It has shown all of us, in every corner of the earth, a new way to fight. You won't read it in the Commercial Media and there will likely be moments to come when they succeed in peddling the myth that all hope is lost, but the following conclusion is evident to anyone that has really been listening to the sound from below: The coup d'etat is here, but it will not stand.
Click here for more Narco News coverage of Mexico
Lea Ud. el Artículo en Español
Lisez cet article en français
Legga questo articolo in italiano

Narco News is funded by your contributions to The Fund for Authentic Journalism. Please make journalism like this possible by going to The Fund's web site and making a contribution today.

- The Fund for Authentic Journalism
For more Narco News, click here.