Associated Press Correspondent in Oaxaca Urges Mexican "Authorities" to Investigate Narco News
AP's Rebeca Romero Insists She Is Not on Ulises Ruiz's Payroll, but Publishes Her Denial on Her Website Next to an Ad… Purchased by the Oaxaca State Government
By Al Giordano

Publisher, Narco News
January 9, 2007
Associated Press correspondent in Oaxaca, Rebeca Romero, sent us an email on Sunday, January 7, and also published it on her website, ADN Sureste ("Southeast Digital News Agency"), of which she is the publisher. Her letter (and introduction to it on her website) is marked by the same shoddy qualities as her AP reports from Oaxaca during 2006 about the conflicts there. She makes vague claims that she does not document about a supposed "lynch mob climate" against her that she says was generated by Narco News, specifically by a report that she is paid by Oaxaca's state government, which she denies.
In addition to being an unethical and disgraced pro-government "journalist," Mrs. Romero is evidently not a very bright one. In her breathless denial that she receives funds from Oaxaca governor Ulises Ruiz (with whom she claims only a "professional relationship") she inadvertently offers hard evidence that contradicts her defensive claim. On the right hand side of that web page are a series of advertisements, the largest of which is sponsored by "the Oaxaca State Government" ("Oaxaca… Gobierno del Estado," in Spanish). It appears under a similar ad sponsored by the state government of Puebla (known for its pedophile-protecting "precious governor" Mario Marín), and above another ad for the municipal city government of Oaxaca, among other interesting sponsors.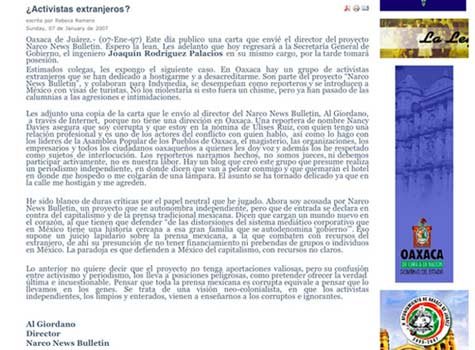 Graphic: The web page of AP correspondent Rebeca Romero, with ad sponsored by Oaxaca State government.
While it is clear from her website which parties to the Oaxaca conflict butter her chayote, she has never disclosed her conflict-of-interest ("reporting" about the embattled state government of Oaxaca while receiving sponsorship from it) in a single one of her AP stories. This failure to disclose marks a flagrant violation of the Code of Ethics of the Associated Press Managing Editors Association, which states:
"The newspaper and its staff should be free of obligations to news sources and newsmakers. Even the appearance of obligation or conflict of interest should be avoided.

"Newspapers should accept nothing of value from news sources or others outside the profession. Gifts and free or reduced-rate travel, entertainment, products and lodging should not be accepted. Expenses in connection with news reporting should be paid by the newspaper. Special favors and special treatment for members of the press should be avoided."

Graphic: Close up of ad sponsored by Oaxaca State Government ("Oaxaca… gobierno del estado")
And further states:
"Work by staff members for the people or institutions they cover also should be avoided.

"Financial investments by staff members or other outside business interests that could create the impression of a conflict of interest should be avoided."
We publish, below, a translation to English of Mrs. Romero's full and unabridged letter to Narco News (the link to the original, in Spanish, appears above) followed by a letter of response to Mrs. Romero and Associated Press which cleanly disproves her knowingly false claims about herself and about Narco News. It holds her, Associated Press, and the government of Oaxaca responsible for any attacks against our journalists or their families in Oaxaca based on her false claims. And it exposes the knowing falsehoods in her discredited reporting from Oaxaca during 2006. But this is not merely a "she said, he said" exchange. Unlike Mrs. Romero, we back up everything we say with documented facts.
But first, we give you Mrs. Romero's own words… sponsored by the State of Oaxaca of Governor Ulises Ruiz Ortiz…
Mrs. Romero's Introduction to Her Letter
Foreign Activists?
Written by Rebeca Romero
Sunday, January 7, 2007
Oaxaca de Juárez (Jan. 7, 2007): Today I publish a letter that I sent to the director of the Narco News Bulletin project. I hope they read it. I give them a heads up that today that the engineer Joaquín Rodríguez Palacios returns to the Secretary General of Government in his same post and in the afternoon will take possession of the job.
Kind colleagues, I expose to you the following case: In Oaxaca there is a group of foreign activists that have dedicated themselves to harass and discredit me. They are part of the "Narco News Bulletin" project, and collaborate for Indymedia, and work as reporters and come into Mexico on tourist visas. I wouldn't bother them if this were just gossip, but they have already moved from slanders to aggressions and intimidations.
I attach for you a copy of the letter that I sent to the director of the Narco News Bulletin, Al Giordano, via the Internet, because he doesn't have an address in Oaxaca. A reporter named Nancy Davies says that I am corrupt and that I am on the payroll of Ulises Ruiz, with whom I have a professional relationship and who is one of the actors in the conflict with whom I speak, as I also do with the leaders of the Popular Assembly of the Peoples of Oaxaca, with the teachers union, the organizations, the businessmen and all the Oaxacan citizens to whom I give voice and who I have also respected as subjects of interlocution. We reporters narrate facts, we are not judges, nor should we particiate actively, that is not our labor. There is a blog that this group that presumes to conduct independent journalism created in which they say they will fight with me and they will burn the hotel where I stay or they will hang me from a lamp. The matter has turned delicate since they already harass and attack me in the street.
All that doesn't wish to say that the project doesn't have valuable contributions, but its confusion between activism and journalism brings it to dangerous positions, such as trying to offer the final and unquestionable truth. Thinking that the entire Mexican press is corrupt is the equivalent to thinking that we have it in our genes. It's about a neo-colonialist vision in which the independent activists, the clean and knowledgeable, come to teach us, the corrupt and ignorant.
Mrs. Romero's Letter to Narco News
Al Giordano
Director
Narco News Bulletin
I hadn't wanted to respond to the series of imputations that you have made about my person in the media that you lead, but since I have been victim of verbal attacks by persons of foreign origin who have come to insult me at my house, that have introduced themselves with violence in the street they assault me, they follow me and they send me threatening emails, additionally they do the same in my cell phone, and some days ago they painted my car with slogans and scraped it, I would like to make the following thing clear:
I am an honest journalist and I have nothing to be ashamed of. I am not Oaxacan, but I am Mexican and in the length of my career I have almost 30 years in the journalistic media, I have always done my work with grand professionalism.
I have some months in Oaxaca and the climate has been very hostile. I lead a local news agency www.adnsureste.info where I give voice to all the political and social currents in the state. What's more, I collaborate at the national level in various radio news shows and I have worked as a correspondent for international agencies for some years.
Since I came to Oaxaca I have tried to provide a tribune for all the political and social actors in the state.
I decided to start my own media and I understood that the circumstances demanded that all voices be known, including those of the local and federal government. ADN Sureste has sought a balance above all and that's why we have been accused by the Oaxacan government of being in favor of the APPO, but we have also been accused by the teachers of being owned by the government and the same has happened with APPO. How easy it would have been to be spokesmen of one or the other, and to embrace their causes. But independence has its costs and it seems that the bill is very high.
Narco News Bulletin involves me in the death of Brad Will, the North American who died in a shootout in the colonia Santa Lucia del Camino. I lament his passing a lot with all those who have fallen during this conflict, but I only narrate facts, I can't say who are the authors of the crime because I don't know, I didn't see them and it is not my job as a reporter to do it, that is the task of the authorities. I reported the story and when the shots began the only thing that I thought was, and I think that we all did it, was to run to protect ourselves. It is very sad that Brad had died but I didn't pull the trigger.
We, the reporters that cover the conflict, have done the same during the violent events, we run to protect ourselves, we are humans and we react naturally.
Your media is very bothered because in our reports about the members of the Popular Assembly of the Peoples of Oaxaca we call them "uprisers," or "radicals of the left," or "rebels" thus that is the way in which the international media describes one part of the actors.
You say that I distort the truth and that I don't stick to the journalistic canons, and you say that I am on the "payroll" of Ulises Ruiz. Well, I ask you: Have you ever contacted me to listen to my point of view? That is what the canons of professional journalism dictate. All parts are listened to. What you have written are lies and I now demand that you prove your claims. It is not right that you have created a lynch-mob climate against me, such that blogs have been opened where they threaten to kill me or cut me up into pieces, to go to the hotel where I stay and burn me or hang me from the lamp. That is the independent journalism that you do here in Mexico?
You acuse me, without evidence, that I am corrupt, and that is serious because if you say it you should prove it.
I am a reporter and I narrate facts, I have never crossed the line of professionalism. The conflict in Oaxaca is very delicate and you have put a price on my head.
I am respectful of journalists and I never involve myself with personal affairs.
May each one act in accord with his dignity and his responsibility. I send this email representing myself and I am sending copies to the authorities and also to my colleagues so that they understand the lynch mob climate that you have provoked.
To work as foreign journalists in Mexico you must be accredited by a series of requirements by the Presidency of the Republic. I hope that your migratory status allows you to do the independent journalism that you promote.
If you need to contact me I will happily respond with courtesy and we will sit down so that you can listen to my version.
I hope that while this happens the lynch mob climate doesn't get worse and I won't have to receive you from a hospital bed.
Sincerely,
Rebecca Romero Pérez
Narco News Responds
Estimada Señora Romero,
Thank you for your letter of January 7. In it, you state:
"You say that I distort the truth and that I don't stick to the journalistic canons, and you say that I am on the "payroll" of Ulises Ruiz. Well, I ask you: Have you ever contacted me to listen to my point of view? That is what the canons of professional journalism dictate. All parts are listened to. What you have written are lies and I now demand that you prove your claims."
You published those words, among others, on your website "ADN Sureste" next to an advertisement sponsored by "Oaxaca… State Government," of which Ulises Ruiz is the boss. As director general of that website, you are the responsible party and the main beneficiary of his sponsorship. So it is in fact true that you are on his media payroll, along with many other pro-government "journalists."
Your own failure to disclose that conflict-of-interest in your many Associated Press reports is a crystal clear violation of one of the most important "canons of professional journalism": the Code of Ethics of the AP Managing Editors Association.
That is a very serious violation. As recently as the year 2000, AP's Bolivia bureau chief in Bolivia, Peter McFarren, had to resign when we similarly documented his own undisclosed conflicts of interest with the government of Bolivia through a foundation he managed. Your and Associated Press' credibility reporting from Oaxaca has thus been severely discredited not by us, but by your own actions of which there is a public record.
So, Señora Romero, we think you are not being honest when you say that what we have written are "lies." To the contrary, they are documented by the sponsorship on your own website and by the AP's own ethics code. We suggest that instead of trying to portray our reporting of the facts as harassment, that you respect our freedom of the press to tell the truth and document it. We have done so. You have not. We speak with actions. You complain with innuendo. Let the reader decide who is telling the truth about your conflict-ridden and distorted coverage of events regarding your sponsor, the state government of Oaxaca.
You also, in your letter and its published introduction on your web site single out Nancy Davies for having reported this documented truth about your unethical conflicts. You state:
"A reporter named Nancy Davies says that I am corrupt and that I am on the payroll of Ulises Ruiz, with whom I have a professional relationship…"
And you challenge us, saying:
"You accuse me, without evidence, that I am corrupt, and that is serious because if you say it you should prove it."
I repeat: The proof is provided on your own website. Accepting sponsorship from a governor while reporting on him is a corruption. Not disclosing it in your AP stories is a violation of the most basic journalist ethic of disclosure. It is my opinion that it makes you corrupt and not a real journalist, but, rather, one of many on the media payroll of Ulises Ruiz and his state government.
At this point it is also important to advise you that even as you falsely claim that our factual reports somehow constitute a "threat" to you or have generated a "lynch mob climate" against you, you have made various threats against our reporters in your letter and introduction: you have called upon your sponsors and allies in the government to take action against our press freedom. Regarding Nancy Davies and her family, we hold you, Associated Press, ADN Sureste and Ulises Ruiz and his secretary (and your friend) Joaquín Rodríguez Palacios personally responsible for any aggression against them from this day forward. We will hold you all responsible nationally and internationally. Because while you have dedicated so much of 2006 to distort the story out of Oaxaca, Nancy Davies has published the truth, and documented everything she has written, often translated to as many as seven languages around the world. She has a very big readership and, most importantly, one that has grown to respect her for her ethical and truthful approach to her commentaries, for which she is not paid by us or by anyone.
On the other hand, we do appreciate the free publicity, since a book about Oaxaca's Popular Assembly, authored by Nancy Davies, is being published at this moment and will soon hit the international and national book stores through a very important international book distribution company. Just think about it: Any aggression, no matter how small or large, against her or anyone associated with her will simply cause many, many more people to seek and read her book. Thank you very much, Señora Romero. We look forward to more free publicity from you (but we are sorry, unlike Ulises Ruiz, we will not purchase ads on your website to reward you).
Your letter, Señora Romero, also states:
"Narco News Bulletin involves me in the death of Brad Will…"
In addition to your lack of ethics and your professional incompetence, you are apparently not a very good reader or writer either. Your phrasing of those words creates a false impression that we somehow accused you of, as you say, "pulling the trigger." That is nonsense, but it is quite typical of how you do your "reporting."
I am the author of the only story that mentions both you and Brad Will on Narco News that I am aware of. Here is the complete and only reference to you in it:
"Brad went to Oaxaca in early October to document the story that Commercial Media simulators like Rebecca Romero of Associated Press distort instead of report…"
I referred to you as a "Commercial media simulator" who "distorts instead of reports." Nothing in those words "involves you in the death of Brad Will." You must be a pretty paranoid and deluded person to extrapolate such a bizarre interpretation.
You also state that you don't know who assassinated him. Let me refresh your memory. Here is the photo published by El Universal and others of the men who shot at Mr. Will.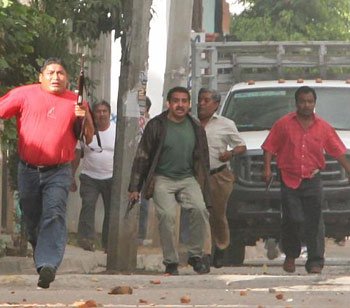 Brad Will's Assassins, identified by El Universal: Juan Carlos Soriano Velasco (red tshirt), a police officer known as "the Grasshopper"; Manuel Aguilar (dark jacket), city personnel director; and public safety chief Avel Santiago Zárate (red shirt)
Photo: D.R. 2006 El Universal
Since you clearly read my October 27 report mentioning you and Mr. Will in the same sentence, you also saw that photo. The caption identifies the names of the assassins, all members of the political machine of Mr. Ulises Ruiz, the man with which you claim a "professional relationship."
So it struck the a great many people as intentionally dishonest on your part when on November 16 you reported a claim – reportedly by the attorney general of Oaxaca, Lizbeth Caña – that those gunmen didn't assassinate Brad Will, but that members of the Popular Assembly (APPO) did. It was the Associated Press story titled "New Evidence Casts Doubt Over Who Killed US Journalist, Oaxaca Attorney General Says." The bizarre and false claim was:
"The evidence suggest that the protesters being filmed by Will may have shot him, Cana said."
It was a claim that was discredited by the video Mr. Will filmed, by photographs taken by other media, and by all eyewitnesses at the scene of the crime. Later the doctor that did the autopsy discredited it as false on Televisa. And the prosecutor, Mrs. Caña, was already widely discredited as a protector of Ulises Ruiz. It was clear to everyone, except you, Señora Romero, that she was seeking an excuse to let the real killers, the ones caught on film firing their guns toward Mr. Will and others – members of her and Ruiz's political machine – go free, which she did shortly after your bogus report. Her handling of the case was so outrageous that the federal government took the case away from her. But you and AP decided to treat an obviously false story as if it were real news.
Now that your story has been so widely discredited, you have been criticized a lot. Here is the first clue: Criticism of dishonest journalists does not constitute a threat. Critics, too, are exercising free speech. Neither are corrections to your knowingly false reports and statements. Which brings us to your most absurd claim: that somehow Narco News or I are involved with "blogs" or individuals that you say make threats against you. You haven't cited any on Narco News (or the Narcosphere, or Salonchingon.com, the only websites we publish that report about Oaxaca) because there have been none, not one. If such threats have truly been made against you by others, we don't know anything about them. We certainly have nothing to do with them. And your claim that we would be behind them is knowingly false: yet another pathetic lie by Señora Rebeca Romero. Don't you see how the only person discrediting you is you? Every time you make things up like that, you discredit yourself. That you are not respected is not our fault. It is yours.
If any such threats have been made against you (another evidence that you are an inept reporter is that you don't document those claims; a journalist would be specific and say who, what, when and where they happened, and provide links to any online. But you just spout innuendo and expect everyone to take your word for it). In any case, we don't believe in threatening journalists with violence or harm. We would have nothing to do with that. It doesn't interest us and you don't interest us that much either. You're just one of many mediocre so-called journalists that in our opinion disgrace the profession by selling yourselves to those in power. And even though we disagree with almost every thing you do, we join you in denouncing any threats against you. That is our ethic.
If you truly have worked in the media for almost thirty years as you claim, then you know that all of us who report get threatened, over and over again, on many different stories. It comes with the job. Doing journalism in Mexico, and especially in Oaxaca, is dangerous. In Oaxaca it is more dangerous because of the man with whom you have a "professional relationship," Ulises Ruiz. It is he and his regime – not other journalists – that have physically attacked the daily Noticias de Oaxaca newspaper for two years now. It was his political allies that assassinated Mr. Will and shot a daily Milenio photographer that same October afternoon.
That you feel you have a "professional relationship" with an individual that is so hostile and violent toward the press is another indication of your undisclosed participation in the conflict. Ulises Ruiz doesn't have "professional relationships" with real reporters, those that don't cover up for his repressive regime. He only has "professional relationships" with those who he feels he can control. And his government has a media payroll to buy ads to support those false journalists. You are one of them. The state government's sponsorship of your web site – and that you allow it – is obvious proof of that.
Finally, you say you are reporting me to the authorities. Feel free. Take a ticket with a number and get in line. You're not the first person that tried to get corrupt officials or others to silence us and certainly won't be the last. If you are chummy enough with the "authorities" you cite to get them to act against us, that won't be the first time either. But here is an interesting observation for you: every time they do try to silence and censor us, they end up causing such a noise that they bring more readers and attention to the stories they want to hush up: just as you have done here. Thanks again. I do look forward to your next missive.
As for your request to meet with me, I will respectfully decline. I want there to be an archive of every word exchanged between us, so I welcome you, instead, to communicate as you have, via email, or via your government-sponsored website. That way our readers are witnesses and the exchange is 100 percent transparent: nobody can later claim something was said that was not said.
You see, Señora Romero, I don't have any respect for you whatsoever. In my opinion you are corrupted (and probably come cheap to those who sponsor your website), you are dishonest, you make knowingly false reports, you don't disclose your biases, you violate the journalistic ethics codes about disclosing conflicts of interest, you accept ads from governments that you cover (we don't accept advertisements at Narco News from anyone), and you are one of many who call yourselves "journalists" that cause members of the public to hate everyone in our profession.
I'll add that I also think you are inept and incompetent at the most basic tasks of reporting and documenting your claims. If my disrespect, or that of members of the general public that you bring upon yourself, is something you somehow think is a threat to you, well, you are also paranoid, thin-skinned and unable to receive criticism like authentic journalists do. Still, I thank you for your letter and the opportunity to reply.
Sincerely,
Al Giordano
Publisher
Narco News
Click here for more Narco News coverage of Mexico
Narco News is funded by your contributions to The Fund for Authentic Journalism. Please make journalism like this possible by going to The Fund's web site and making a contribution today.

- The Fund for Authentic Journalism
For more Narco News, click here.