The Spirit of Ricardo Flores Magón Lives On in Cesar Martínez and His Newspaper, El Cortamortaja
Authentic Journalism Finds a Friend in Jalapa del Marques, Oaxaca
By Al Giordano

The Other Journalism With the Other Campaign in Oaxaca
February 9, 2006
JALAPA DEL MARQUES, OAXACA; FEBRUARY 2006: Compared to the effervescent popular struggles in other parts of Oaxaca's Isthmus of Tehuantepec, the town of Jalapa del Marques might seem a "hotbed of rest." But it is in places like this where simple and humble people who fight sometimes must fight alone, and here where they are most needed. People like the Authentic Journalists of the newspaper El Cortamortaja, named for a seabird that, according to local legend, cries out three times to announce the imminent death of a person. "El Cortamortaja, the newspaper," says its founder, César Martínez Rosales, "announces the death of a system."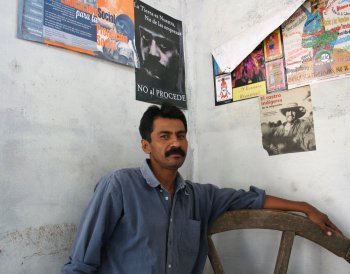 César Martínez Rosales
Photo: D.R. 2006 Annie P. Warren
The newspaper was founded in 1997 "to rescue the history of Old Jalapa," the town now underwater (see
main story at this link
), and each issue (68 so far have been published) contains historic texts, folktales and resurrected memories of this town. "We also denounce injustices. But we don't just denounce them. We act on them, following up with meetings in the neighborhood where something happens."
Subcomandante Marcos' visit to Jalapa del Marques is also a story about journalism, good, bad and mistaken. And Narco News learned this week that we have a five-year debt to pay to our colleagues at El Cortamortaja, a correction to make, and a truer story to tell than the one we stupidly repeated after reporting this town's receipt of the Zapatista Caravan of 2001.
The eight-page photocopied newspaper, quite by accident, became part of a media spectacle during that caravan of 24 Zapatista comandantes to Mexico City in 2001; a case of "pack journalism" in which one media publishes an errant story and then everyone else follows suit.
In this case, a bad interpretation of the word cortamortaja not as the name of a bird, but as "corta-mortaja" – literally, "shroud-cutter," a knife used to cut a shroud away from a corpse – led to reports of a paramilitary threat against Subcomandante Marcos and the Zapatistas awaiting them in Jalapa del Marques that bygone February. "Zapatistas Defy Death Threats," screamed Narco News on February 26 of that year.
Your correspondent, upon learning the true facts five years later, is embarrassed as all hell: When we passed through Jalapa del Marques with the caravan five years ago, we received a typed communiqué from denouncing the same "death threat." And a similar one from Delegate Zero himself. It said:
February 26, 2001.

To the People of Mexico:
To the Peoples and Governments of the World:
To the National and International Press:

Yesterday, February 25, 2001, during the course of the zapatista delegation's trip through the city of Juchitán, Oaxaca, we received the following written message:

"Tomorrow, in Jalapa del Marquéz, you'll get the shroud-cut."

We entrusted the members of civil society who are accompanying us with investigating this threat, and they confirmed that a criminal group exists in this part of the country with that name which carries out assassinations for money.

Given the above, the Clandestine Revolutionary Indigenous Committee – General Command of the Zapatista Army of National Liberation declares the following:

First. – No threat will make us desist from our objective of reaching the seat of the federal legislative branch in order to promote the constitutional recognition of indigenous rights and culture in accordance with the "Cocopa Legislative Proposal."…
Five years later, Subcomandante spent Sunday night at the home of compañero César – the man who allegedly made the "threat."
Prior to that, on Saturday, the Other Journalism arrived at César's home to interview him and others from the Other Campaign about the struggles of the people of his town. We learned that, in fact, César is a damn good journalist and brave social fighter, a former political prisoner, a modern-day Ricardo Flores Magón. He told us the story of how, on Valentine's Day 2005, he went to visit a local family to report a story, and on his way there the local police arrested him and accused him of transporting weapons. The only "weapon" they found on him was a digital camera. The cop stole the camera, put him in jail, and after a clamor from local citizens, César was released the next day.
As he told us this story, your correspondent asked, "And there is a paramilitary group here in Jalapa, too, isn't there? I remember there was a threat on Marcos in 2001. Have you had any problems from them?"
César smiled. "They blamed that on me. This is what happened. I had gone to Juchitán and left a note for the Zapatistas saying 'El Cortamortaja awaits you in Jalapa del Marques.' Suddenly the press, even the national media, went crazy reporting a 'death threat' to the Subcomandante."
César wrote to the Zapatistas clarifying the situation. He was invited to the Lacandon Jungle to meet with Subcomandante, had a photo taken with him that he could show anyone who still thought he had issued a "threat," and this week Delegate Zero slept and dined at his humble cinderblock house in Jalapa. "We liked the Sixth Declaration of the Lacandon Jungle and its call for a new constitution and a national fight from the left," he explained. "Apart from that, we like the Zapatista way of organizing." Another satisfied journalist that adhered to the "Sexta."
César and his compañeros received your journalists warmly last Saturday. He learned we would come the night before. When four of us arrived, chicken soup and fried mojarra fish awaited us, with tortillas and fresh orangeade. He introduced us to the other social fighters of the town, and took us around to see the neighborhoods and homes that will be flooded over if the dam is expanded. There, we spoke of our common struggles against Commercial Media, silence and lies. We pledged to stay in contact, and to watch each other's backs, in this growing network of Journalists With the Sexta. We found in El Cortamortaja the opposite of a threat: we met a new friend and ally in the Authentic Journalism renaissance. And we guess that this is what Delegate Zero means when he says, over and over again, that one of the goals of the Other Campaign is that all of us everywhere get to know each other better.
Click here for more Narco News coverage of Mexico
Lea Ud. el Artículo en Español
Legga questo articolo in italiano

Narco News is funded by your contributions to The Fund for Authentic Journalism. Please make journalism like this possible by going to The Fund's web site and making a contribution today.

- The Fund for Authentic Journalism
For more Narco News, click here.