My Funny Revolution Could Be In Serious Trouble
The time is now. It can't be tomorrow. And this is no joke.

By Gregory Berger

Class of 2003, School of Authentic Journalism
May 13, 2015
I am thrilled right now to have seen more than 120 people come forward and support a school that does what no one else in the world does. Your support feels wonderful, and you can still give to the campaign at this link. But as excited as I am, I am scared. It could all fall to pieces in 8 days.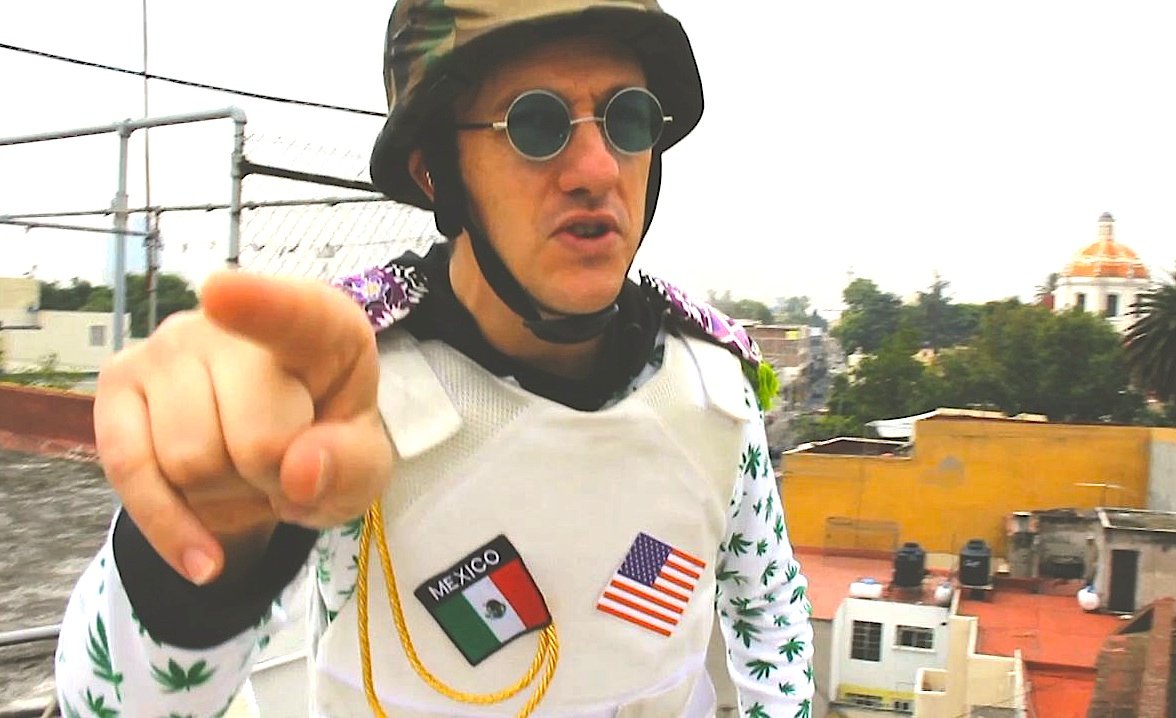 Gregory Berger as "Gringo Starr," a North American reporter in Mexico uncovering a

US

Embassy plan to break up the Sinaloa drug organization by fixing up crime boss Chapo Guzman with Yoko Ono.

DR 2011

from the video "Narco-Mania!" by Narco News TV.
A taxi driver asked me what I do for a living the other day. I never quite know how to answer that question. I looked up from my phone, from which I had just read a comment from a young guy from Honduras thanking me for letting him participate in the recent short comedy produced by The School of Authentic Journalism. He told me that it had changed his way of seeing the world.
"I slip on banana peels for the greater glory of others." I answered the taxi driver. And then I told him about the kind of political satire I make and about our school.
For the past three weeks I have posted the words and images of some the most talented people I know – the alumni and professors of the School of Authentic Journalism. And I have written personal messages to hundreds of you, singing the praises of the work of all of these individuals from around the globe. About the tremendous talent of Sarahy, from Mexico. Or Kevin from Kenya, or Joe from Egypt. I have told so many of you how much I want to make sure we can continue to train hundreds or even thousands more gifted people in the years to come, and how important is to keep this project going.
Over the past few years those of us who have had the privilege to teach at the school have learned what it means to work as a team. We have learned, often times with great difficulty, that to do something truly great requires fine-tuning one's own voice in harmony with others, and not just singing as loud as you can. That the good of the many outweighs the good of the few.
But the truth is, even with my personal commitment to our team and our shared project. I have a huge personal stake in this campaign. My life's work and my life's calling. My life could be changed forever after seven short days in May.
I have always been a clown. But a long time ago, I used to try and hide it.
It wasn't easy. When I came to Mexico in 1998, inspired by the surge in peoples' movements in the country, I set out to make documentaries about the rise in citizen power. But a funny thing happened. I was making documentaries, sure. But without intending to do so, I was also making people in those movements laugh.
There was the time in the State of Mexico when I was covering a popular uprising. A family invited me to take a temazcal, or traditional steam bath. I left the bath feeling refreshed, threw my clothes on, grabbed my camera, and rushed out the door. The guy I tried to interview next on the street started bawling with laughter, and then everyone else around him. Was it my bad Spanish?
Eventually a police officer I was trying to film asked me why I looked like I had just crawled out of an oven. I hadn't realize that I had gotten ash all over myself in the bath instead of getting clean. Which made cops and movement participant leaders alike start to laugh.
This was just one of many lessons that gradually taught me that I was far better at being the comic relief on the front lines of a movement than a "serious" documentary filmmaker.
The real game change though, was learning that making comedy with social movements was a more serious business than so-called serious documentaries.


Gringothon
Eventually, I started to make short comedies on the side, but I saw my real aspiration as documentary filmmaking. Until the day that I brought a
VHS
tape to Al Giordano's house as he was reading the applications to the 2004 School of Authentic Journalism. He laughed all the way through the film, called Gringothon, about a hapless Gringo in Mexico that emulates the panhandling and window washing of the Mexican informal economy as a way to raise funds for the overthrow of George Bush during the Iraq War.
Al insisted that my irrepressible clown WAS a journalist, and not just a clumsy obstacle.
A few months later I was in Bolivia at the 2004 School of Authentic Journalism screening my work among amid seasoned organizers who were in a nonviolent war against an authoritarian regime, and who later recruited me to make my second comedy in collaboration with their movement.
And thus, I found my true calling: Comedy in collaboration with social movements. I owe it all to the School of Authentic Journalism.
Over a million people have seen the comedy shorts I have made since 2004, but very few of you know that it was Al's ability to detect the talents of others that helped make those videos possible.
If you haven't seen the School up close, then you probably don't know that for us, comedic timing is also strategic timing. That in between brainstorming sessions where every imaginable crazy idea is thrown on to the table as a possible video idea, we study the techniques and planning that make some movements more successful than others. You may not know that "Frack U. Mexico" featuring my Texas oilman character Joe T. Hodo was designed to spark alarm and organization at the very moment when fracking was about to become standard practice in Mexico. Or that my beer-guzzling "Spring Breakers Without Borders" was created to break a taboo at the height of the Calderon Drug War, when dissent was few and far between and a space for those that dared to organize against the Drug War needed to be opened up. Or that "Danger! Journalists Crossing!" is a public presentation of a growing migrants' movement in Mexico that has won some important battles in anonymity and which now wants to go public in the most entertaining way possible.
And you probably don't know that although I may act in and direct these videos, that without the plenary sessions from people like Oscar Olivera from Bolivia and Khusta Jack from South Africa, that these videos would lack coherency and structure. That without the accompanying investigative journalism from seasoned Narco News veteran Bill Conroy or our young professor Alex Mensing, that these videos would lack substance.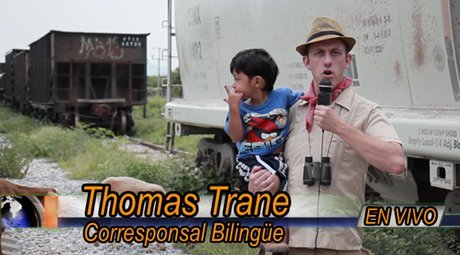 Gregory Berger as "Thomas Trane" in his latest video
You might not know that many of our videos, like our recent comedy "Danger! Journalists Crossing!" Have a cast and crew of more than 80 people, and that much of the camera, sound and production work is done by the young journalists that we train at the school.
I am proud of what we give to others at the school, but what we get back is immeasurable. Without it, my work would be impossible or would lack substance.
In other words, without a school, I can't make Gringoyo comedies.
The other day, after I told the text driver about what I do, I stared out the window and thought about how far our team has come and how lucky I am that I found a project that made clear to me what my vocation and calling in life truly was and is. I thought about how proud I am of our new video, but how much more there is to say and do.
If we do not raise the remaining 14,000 needed to obtain our Kickstarter goal, we will not receive a dime. There will be no 2015 School of Authentic Journalism.
And my Gringoyo comedies will be no more. I will have to find another line of work. My comedies will be no more.
I have been more than happy to release my videos for free to the world over the last decade. But in order to keep doing so, I desperately need you to give back something.
If you have enjoyed one of my videos, be it Gringothon, Jodido Mexico, Frack U. Mexico, Narco-Mania, or our recent Danger! Journalists Crossing! I would like for you to – in fact I need you to – give what you can to our campaign, be it one dollar or a thousand dollars.
This clown has a lot more jokes to make at the front lines of the Authentic Journalism Revolution.
The time is now. It can't be tomorrow. And this is no joke.
Join the Kickstarter campaign or go to authenticjournalism.org to learn more about the school.
Lea Ud. el Artículo en Español

Narco News is funded by your contributions to The Fund for Authentic Journalism. Please make journalism like this possible by going to The Fund's web site and making a contribution today.

- The Fund for Authentic Journalism
For more Narco News, click here.