Being a Leader Means Saying What You Mean When Nobody Else Is Saying It
Recovering Documentary Filmmaker Gregory Berger Takes Us Behind the Scenes
By Aline Camargo

School of Authentic Journalism, Class of 2013
August 22, 2013
Gregory Berger is best known as "Gringoyo": a mix of the word "gringo", a Mexican slang word for those born in the United States, and "goyo" the normal nickname for Gregorys in Spanish. Although he doesn't quite remember who gave him that nickname, Greg took it to heart and is called "Gringoyo" by everybody in Cuernavaca, México, where he lives.
You have to be persistent to talk to Greg Berger. Tall, thin, wearing shorts, a tee-shirt and sandals, Berger rarely talks seriously and tends to be busy all the time.
With a humor well known amongst his friends, "Gringoyo" currently works creating and producing viral videos. He also directs Narco News TV and teaches at the Autonomous University of the State of Morelos in the Arts department.
Gringoyo is the son of a mechanic and wannabe singer father and a waitress mother. As a child he loved living in New York City during the 70s and 80s.
He was disobedient even as a child, and Gringoyo and his friends would cross 14th Street and go to bars. On one of these adventures he found a famous American poet.
"There was a man taking photographs and I hit him and we started fighting. But then he bought me a drink and I realized that it was Allen Ginsberg," Berger remembers.
Ginsberg is known for having fought against militarism, imperialism and sexual repression during the Beat generation during the 50s.
Berger saw qualities in the poet that he wanted to have, like the restlessness to fight for what you believe in. Years later, Gringoyo followed that path.
"I am a recovering documentary filmmaker that doesn't want to be the next Internet sensation, but wants to change things," Berger comments.
His work brings together three of his passions: film, comedy and politics. In 1998 he lived in California and worked as an assistant producer when he got his heart broken. He left for Mexico with a friend where he didn't have time to suffer because he found a lot of work, and inspiration.
"Mexico was filled with social movements at the time, like the Zapatistas. You could feel hope in the air. I stayed and I stayed forever," Berger comments.
In Mexico he decided to change the way he made his videos using comedy as a tool. The first video he made was "The Gringotón," a play on the Spanish word for Marathon. It told the story of a guy who sells chewing gum in the Mexico City subway and busses to raise money for a guerrilla struggle in the United States against President George W. Bush.
"My specialty is playing the gringo pendejo character (American asshole) because as you know, it comes naturally to me," he jokes.
After producing that first video, Berger showed it to some friends. Amongst them was Al Giordano, president and founder of the School of Authentic Journalism.
"Al told me that what I was doing was journalism, and I thought it was art," Berger explains.
Afterwards, Berger was one of the scholars of the School of Authentic Journalism in Bolivia in 2004. From then on he intensified his work as a viral video producer.
Berger explains why he has stuck with the project of the School for Authentic Journalism with Al Giordano and why he is optimistic about the future of journalism.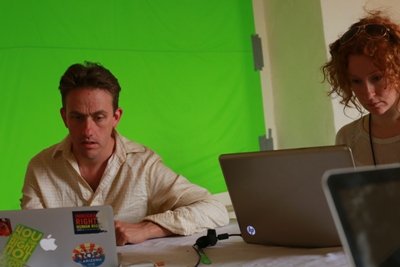 Gregory Berger and Heather McCuen, directors of the Viral Video Workgroup during the School of Authentic Journalism.

DR 2013

Noah Friedman-Rudovsky.
"There are moments where you see a group of people organizing and achieving things they didn't think were possible. It can be something really big like what happened in Egypt in 2011 with the fall of Mubarak, or it can be something really small and that inspires us to keep working," Berger comments.
"I think nobody believes the traditional model for journalism will live long. It is time to figure out what type of journalism we want to do and actually do something," he commented.
During the 2013 School of Authentic Journalism 80 people get together, think and muster up strategies about how to communicate and organize to help social movements.
Berger believes that "with comedy you can provide access to issues that maybe the audience wouldn't have access to before. Behind those videos there are always messages that provide more information so people can know things, organize and work for a movement".
Berger left long-form documentary filmmaking behind because he realized that there had to be a more effective way of transmitting those messages.
"I realized that the best way to tell stories on video, with and about social movements, is not with long videos, but with videos that reach people, capture their attention and make them think," Gringoyo mentions.
The constant struggles and the issues that he gets involved with work to make the world his six-year-old son lives in a better place. Berger says that his relationship with his son is not separate from what he does.
"In 2009, when Swine Flu hit, I saw that my son was afraid. Other parents and teachers were instilling fear in the children. I thought I had to do two things: I had to teach him not be afraid, ever. I also had to do that as a communicator because that is what authentic journalism is. We are not afraid voice our opinion and we show people that they should not be afraid," Berger shares.
The problem with Swine Flu inspired Berger to produce a video called "Love in a Time of Influenza," during the filming of which he walked through Mexico City streets with a piglet wearing a hospital mask on a leash. He also produced many other videos with the goal of transmitting a message of hope for his son and for the world.
"I saw the need of teaching him and society that it is possible to overcome any obstacle through joy and humor. That's why I think my roles as a father, professor, documentary filmmaker and journalist are all linked," he concludes.
Lea Ud. el Artículo en Español

Narco News is funded by your contributions to The Fund for Authentic Journalism. Please make journalism like this possible by going to The Fund's web site and making a contribution today.

- The Fund for Authentic Journalism
For more Narco News, click here.