US Officials Say They Won't Give a Reason for Blocking Mexican Human Rights Defender's Flight
When Asked About the Incident, Transportation Security Administration Agency Cites 'Security' Matters
By Erin Rosa

Special to The Narco News Bulletin
July 26, 2011
Mexican mathematician and human rights defender Raquel Gutiérrez Aguilar was blocked from traveling from her home country to Europe by the US government, according to a brief statement from the country's Transportation Security Administration (TSA) agency. However, the TSA and other government agencies won't say why Gutiérrez Aguilar, an internationally respected author and analyst of social movements, was stopped mid-flight and barred from crossing into US airspace.
"The United States has the authority to deny access to US airspace. For security reasons, we will not discuss the details surrounding when or why access is denied," the TSA told Narco News in a statement. The agency wouldn't disclose anymore information about the incident. The US Embassy in Mexico City directed questions to the TSA.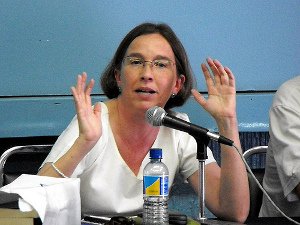 Raquel Gutiérrez Aguilar
On July 20, Gutiérrez Aguilar boarded a Aeroméxico flight from Mexico City to Barcelona, for a connecting flight to Rome, Italy. In the early dawn hours of July 21, the flight was forced to land in the Mexican city of Monterrey because it had been denied passage into US airspace, according to passenger Gutiérrez Aguilar. She wrote an
open letter
after the incident, stating that, "The flight was going normally until a little after midnight when the captain said that we would be returning to Monterrey because US airspace had been closed off."
After the flight landed, Gutiérrez Aguilar said that, "To my major surprise, when we landed in the city a little past one in the morning on July 21, a flight attendant approached me and asked for me to show identification. I showed it without any problems. I had my voter card and my National Autonomous University of Mexico credentials with me. Once she saw my name she asked me to collect my things and accompany her to the door of the airplane. When I got to the door of the plane with all of my luggage there were a few Mexican federal police and two or three employees of Aeroméxico that asked me to identify myself again and to leave the plane. I told them I was not leaving until they explained to me what was going on. They said that the United States government had refused the plane because I was on it."
Gutiérrez Aguilar was arrested, tortured and imprisoned in Bolivia in 1992. She was accused of belonging to a guerrilla organization, but all charges were dropped in 2007 and she has not been charged with any crime since that arrest. She came back to Mexico ten years ago, and since then she has been invited to speak at conferences at universities from around the world, traveling without any problems until now. She had been invited to speak in Italy on Latin American social movements.
The Federal Aviation Administration, which oversees and regulates air transportation in the United States, referred questions about the possibility that Gutiérrez Aguilar was on a "no-fly list" to the TSA. When the US Department of Defense was asked about the incident, media representative Robert Ditchey denied involvement and said, "I have nothing for you. It would be inappropriate for the department to comment."
In response, Gutiérrez Aguilar acknowledged that the statements from the government agencies confirmed what she had been told by federal police and Aeroméxico employees. She criticized "a law that allows certain authorities to decide on things at any moment—in relation to air transportation in this case—and another law that says that they don't have to explain to us the reasons for their actions. So if they act badly, or very badly like in this case or in others, in a very arrogant and absurd way, they are going against not only my interests but also those of many other people—the other passengers and the airline among others, making us feel vulnerable and creating distrust among the citizenry."
This is not the first time that authorities have diverted a foreign-bound flight that would have crossed into US airspace. In 2009, media reported that an airplane from Paris to Mexico was forced to land mid-flight because French resident and journalist Hernando Calvo Ospina was on board. Calvo Ospina was heading to Nicaragua to conduct research for a book about the Central Intelligence Agency.
The US government's Terrorist Screening Center maintains a secret list of around 400,000 people who are not permitted to fly into or around the United States, according to the TSA. These names are then shared with other agencies the State Department. It is unknown if Gutiérrez Aguilar is on the list, and the TSA will not specify why she would be put on such a list now, when she has successfully traveled to Europe as recently as 2010. Deeming her a threat now for her imprisonment in Bolivia in the 1990s doesn't seem to make sense, especially considering that Bolivia's current vice president, Alvaro Garcia, was brought up on the same charges that were later dropped.
Since all commercial flights from Mexico to Europe pass over United States airspace, it appears Gutiérrez Aguilar will have to find a new route to get overseas. In light of the US government's lack of transparency with the incident, she has started a network and a web site called Los Non Gratos to support those who have been banned from US airspace.
Narco News is funded by your contributions to The Fund for Authentic Journalism. Please make journalism like this possible by going to The Fund's web site and making a contribution today.

- The Fund for Authentic Journalism
For more Narco News, click here.