Open Letter to Conscious Men and Women Of This World
"Offenses and Threats That Are Always Happening to Us from the Gringo Government... They Touched Me Last Night"
By Raquel Gutiérrez Aguilar

Special to The Narco News Bulletin
July 22, 2011
Last night I took an airplane to go to Italy. I had to arrive in Tuscany to meet with friends and compañeros to share experiences in Latin American struggles with them. I wasn't able to make it to my destination because it occurred to the gringo government that not only did I have no right to pass through its territory, but through its "air space" as well. That's what happened on a supposedly Mexican airline— AeroMéxico—that was operating with another flight from an airline in a different country called Alitalia. It didn't matter that the closest I would get to "its territory" was 30,000 feet above the ground.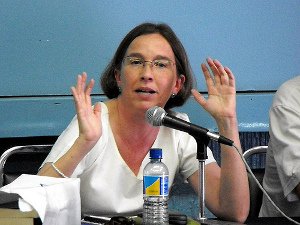 Raquel Gutiérrez Aguilar
I'll tell you what happened:
On Wednesday, July 20, 2011 at 10:35 in the evening I boarded Aeroméxico flight 033 in Mexico City to go to Barcelona to connect from there to another flight to Rome on Alitalia. A friend was going to accompany me from Rome to Tuscany by land.
The flight was going normally until a little after midnight when the captain said that we would be returning to Monterrey because US airspace had been closed off. He explained that since we would have to fly by another route the plane would have to refuel.
Like that we returned to Monterrey with some nervousness since what was said over the speaker was very strange.
To my major surprise, when we landed in the city a little past one in the morning on July 21, a flight attendant approached me and asked for me to show identification. I showed it without any problems. I had my voter card and my National Autonomous University of Mexico credentials with me. Once she saw my name she asked me to collect my things and accompany her to the door of the airplane.
When I got to the door of the plane with all of my luggage there were a few Mexican federal police and two or three employees of Aeroméxico that asked me to identify myself again and to leave the plane. I told them I was not leaving until they explained to me what was going on. They said that "the United States government had refused the plane because I was on it."
Before my astonished face, a very nice Aeroméxico person from Monterrey told me that they were also very surprised, and asked if I could please accompany them and we would see what could be done. I had no choice but to get off the plane; meanwhile, they were already taking my checked luggage off of the plane.
The federal police, in a very intimidating way, asked me to hand over a copy of my passport to them. I went with young women from Aeroméxico to make copies of the passport in a business office. The police took them. I think the young women were as amazed as I was at what had happened, and angry since they had to stay and work extra hours, but they were also extremely friendly. They told me that they had to find another route for me since I couldn't go through the United States, and that either way, Aeroméxico would be responsible for sending me to Italy.
We were waiting in the airport for more or less an hour and a half until they were finally able to send the plane back. After that, they got me a taxi that brought me to a hotel. I was pretty scared and very, very angry. I also asked them to get me a seat on the first flight returning to Mexico City, which they agreed to do immediately.
Once I was in the Marriot Courtyard hotel I contacted many of my dear friends and the compañeros in Italy who had been waiting for me in Rome to tell them that I would not be arriving on the flight. I also thought a lot about what to do and decided, while talking with all of my friends, on the following:
1. What I felt most deeply was a kind of shock, a deep vulnerability that basically pushed me to want to get to safety. That said, I decided to not try to travel again that night.
2. I also felt an endless anger: how could it be that they are taking me off of a plane? How can these "United States authorities" behave with such despotism? Why are we tolerating it? How do we protect ourselves against these things that they can do to us with such impunity and insolence?
3. All day on the 21st I had conversations with many friends whose support I appreciated enormously and whose anger was shared with me. We came to understand several things:
*These arbitrary actions that happen "just because," which one has to endure without a way to do anything, are the kinds of social relations that they impose on us. In this particular case, it is a kind of "warning" of what they think they can impose on everyone.
And of course they have a lot of power over many things, like being able to force a passenger in seat 17J off of a plane that belongs to a supposedly foreign airline traveling to a country that is not theirs, leaving her in the middle of northern Mexico on any dawn of any day.
But they don't have enough power to prevent us from getting together and speaking, because tomorrow I will be participating with my compañeros in Italy, although it will not be in person. They can't stop that.
Nor do they have the power to prevent this set of small grievances from helping us become outraged, or from getting together, or from taking care of each other the way my friends have been doing so with me since that dawn.
This is what we have done with this small, almost miniscule case, where there was no torture, or threats or death…just a nighttime fright for a passenger and a complete lack of respect to all of the other travelers whose itineraries and plans were surely affected. That is why I think that in this trivial, small case we can recognize all the wrongs we have been suffering and enduring. And that is why it would be good to think of ways to protect our collective selves.
We are going through hard times that threaten to be worse. To bring out our best and most varied abilities to stop them from doing things that paralyze and frighten us is what seems to be the most urgent thing to me. We cannot endure these insults quietly, we plan to not only "denounce them," but also to inhibit them, to turn it around: how we take care of each other is the best remedy—I think—for this fragmentation based on the fear in which we are living.
What happened to all of us on that day is that we had a dialog while I was going back on the long road from Monterrey to Mexico City, to my mother's house where I wanted to be to feel safe. We're going to do various things.
1. We're going to demand that the two airline companies Aeroméxico and Alitalia explain what happened with the passenger in seat 17J on flight AM33 that left at 10:35 p.m. on July 20 to cause her to not arrive at her destination.
2. We're also going to demand that US authorities explain the danger that would have been caused if the passenger in seat 17J had flown 30,000 feet above the United States. With this we are asking our US friends and compañeros to help us. We want an explanation. How is this woman dangerous? How does she threaten the security of Mrs. Smith in Alabama or Miss Jones in Boston when the passenger would have been flying over their houses? We want these "authorities" to explain what they're doing. We want them to explain to us how or why they decided what they decided, because their decisions are not only foolish, but also far too arbitrary.
3. We're also going to organize a way to ask our friends in the United States—who are the only ones that are recognized as persons with the right to a voice by the United States; the rest don't even have that—that all of us who are on a US government "black list" for very different and almost always absurd reasons have at least one "aerial visa" so the government can't stop air traffic and the movement of citizens to other countries. We're not asking that they let us come into their country. They will have reasons for not wanting us to go there. But it is aberrant to not let a plane through the air when we are traveling and are, for some reason, considered non grata.
4. Finally, we are also putting together a blog since we believe that the work of taking care of each other, among other things, is the only thing that can perhaps save us from this arrogance run amok. We cannot stay paralyzed and perplexed—like I was last night in the doorway of the Aeroméxico airplane in Monterrey. We are going to string together all of these "testimonies of the wrongs that those on the black list have suffered." We know there are many. We know that we don't want to endure them silently and alone. We know that we can do something to alleviate them and perhaps, I hope, stop them.
In the end, I am grateful for any kind of support or attention that you can bring to this matter. It's not a question of ensuring that Raquel Gutiérrez can travel, but that anyone, any person, man, woman or child that sits in seat 17J knows they can reach their destination. It's so they know they don't have to be afraid, that they know, well, that they are safe and can travel the world to meet their brothers and sisters with confidence.
If this letter makes any sense, is you think there's anything that's in your hands to stop this from happening, I'm asking for you to respond by e-mail at hombresymujeres.agraviados@gmail.com and visit the blog http://agraviosgringosnongratos.blogspot.com to write your comments there so all of us can begin talking.
With all of my heart I thank those who were there for me when I was trapped by despotism and the arbitrary actions of the United States government while in my own country. Thank you also to those who, I'm sure, we will bring together in this network of self-protection and care that we are proposing we build together.
María Raquel Gutiérrez Aguilar

Raquel Gutiérrez Aguilar is a Mexican mathematician who in 1992, at the age of 29, was arrested, tortured and imprisoned in Bolivia and charged—together with that country's current elected vice president, Alvaro Garcia—with belonging to a guerrilla organization. In 2001, she returned to Mexico where she is a nationally and internationally respected author and analyst of social movements. All charges against her in Bolivia were officially dropped in 2007 and she has not been charged with any crime in any country since her 1992 arrest. Frequently invited to universities, conferences and seminars to share her knowledge, she was invited to speak in Italy this month. All commercial flights from Mexico to Europe pass over United States airspace, and thus, as this essay describes, she is unable to leave her own country and conduct her work as an internationally renowned scholar.
Gutiérrez Aguilar has been invited to and spoken at conferences by the Universities of Essex (Great Britain), Seville and Gijon (Spain), Duke University (US) and the School of Authentic Journalism (Mexico). As recently as 2010 she flew to London – over US airspace – without any interruption or problem. She is currently a professor of social sciences and humanities at Benemérita University in Puebla (Mexico) and has also taught as a professor at the National Autonomous University of Mexico (UNAM) in Mexico City.
Translation from the original Spanish by Erin Rosa for Narco News.
Click here for more Narco News coverage of Mexico
Lea Ud. el Artículo en Español

Narco News is funded by your contributions to The Fund for Authentic Journalism. Please make journalism like this possible by going to The Fund's web site and making a contribution today.

- The Fund for Authentic Journalism
For more Narco News, click here.