Mexican Government Treats Disappeared Like "Collateral Damage"
Growing Movement Against Drug War Is Pushing Back Against Impunity
By Tadeu Breda, Irene Caselli, Kanya D'Almeida, Candice Vallantin and Katie Walsh

Special to The Narco News Bulletin
July 5, 2011
Efraín Vega is surprisingly relaxed for a communications officer talking about a human rights abuse case. He works for the public ministry of Mexico's Morelos state, and the case reported – the disappearance of a 26-year-old allegedly last seen in police custody – is serious enough to have raised the interest of Amnesty International.
But Vega seems unfazed. Amid dozens of other brutal cases, he recalls the action taken by the ministry in this particular one: "We requested information to the federal police and the Army, but they have not replied yet. It is a bureaucratic process, and that does take some time. … So we printed these to put out."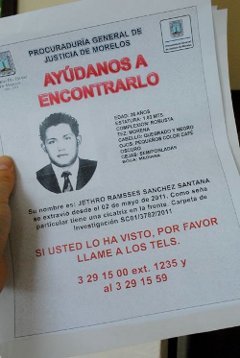 This missing person's poster, created by the Morelos Attorney General's Office, appears to be the only effort made by officials to find out what happened to Sánchez Santana.

DR 2011

Candice Vallantin
He shows a missing person's notice, which was put up in the public minister's office and distributed to the media.
The notice describes Jethro Ramsses Sánchez Santana as a tall, well-built man, with dark complexion, small brown eyes, dark hair, medium-sized mouth and semi-thick eyebrows, with a scar on his forehead.
There is no mention of the circumstances of his disappearance, which remain controversial.
According to Sanchez's family, he was last seen on the evening of May 1 at a popular event in Cuernavaca's Acapantzingo neighborhood, right before he and his friend Horacio were picked up by the police. Horacio, the last person to see Sánchez, said that the police broke up a fight, before picking up the two friends.
They were then separated. Horacio says he was beaten up by the police and then dumped in a field in the town of Miaclatán, some 40 kilometres from Cuernavaca, the following morning.
What happened to Sánchez is unclear.
According to Mauricio Vega Chavaje, ex-head of Cuernavaca's Secretariat for Citizen's Protection and Help – a municipal body overseeing police work and security issues – the municipal police temporarily detained the two young men, who had got into a fight after refusing to pay for some food and beer.
Chavaje, who recently announced that he would be stepping down from his position, told the media that the municipal police promptly handed them over to the federal police because the two had claimed to be part of the South Pacific drug-trafficking organization, which operates in Morelos. The police would then have handed them to the Army.
But the federal police told the media there is no record of Sánchez's detention.
The family officially reported Sánchez's disappearance to the public minister's office, requesting among other things the release of security video footage, as there are security cameras where Sánchez and his friend where detained. They deny that Sánchez was a drug trafficker.
"He comes from a good family, he was an engineer and was studying for his master's," said Andrés Vilchis Cárdenas, a cousin, during a public event to denounce Sánchez's disappearance. "The authorities need to tell us what happened exactly."
Family members prefer not to talk to the media now, as they are worried that it could affect the outcome of the investigation. But José Martínez Cruz, head of the Independent Commission for Human Rights of Morelos, a local organization, questions the police's version of the story.
"The declaration of the police doesn't seem plausible," Martínez told Narco News during an interview at the La Comuna café in Cuernavaca, which he set up and is now a hub for journalists looking into human rights issues. For him, even if Sánchez had actually claimed to be part of a drug trafficking group, that did not mean he was a member. "Some people say stupid things when they are drunk. But this guy was an engineer, he had a job."
"It seems to me that the police are using this as an excuse," Martinez said. "Everything in this case points towards a forced disappearance."
Evident Pattern
Viewed in the larger context of impunity in Mexico, the chances of Sánchez's kidnappers being brought to justice seem slim.
Less than two months ago, the United Nations Working Group on Enforced or Involuntary Disappearances (WGEID) wrapped up an extensive study on Mexico, the results of which have been met with dismay by both local and international human rights watchdogs.
The UN report cites data from Mexico's National Human Rights Commission (CNDH) confirming 1,500 claims of abuse against the National Defense Ministry in the last year alone. Compared to the 200 claims reported back in 2006, these numbers sketch a bleak, aerial view of the impact of President Felipe Calderón's "Drug War" tactics.
In one of the strongest statements yet to be made by an international body against Calderón's war, the report strongly recommends that the government of Mexico "consider the withdrawal, within a short time frame, of military forces from public security operations and criminal law enforcement as a measure to prevent enforced disappearances."
Along with a comprehensive list of conclusions, the report claims that human rights abuses committed by the military can no longer be attributed simply to "organized crime."
In May, Amnesty International released "Shielding the Guilty: Military Justice in Mexico," outlining the degree of impunity in Mexico caused by the bleeding of lines between police and military armed forces, and the practice of investigating and trying military personnel accused of rights violations within the military justice system.
Victims end up confronting "multiple obstacles to justice" – fear of reporting a crime back to the perpetrators and navigating a "system that has […] consistently failed to provide timely information on investigations."
Of the 1,500 claims made last year, Amnesty International only has knowledge of one conviction of a military official for human rights abuses committed during Calderón's tenure.
The Push Back
While many of these numbers are fated to become statistics in bureaucrats' filing cabinets, the murder of Juan Francisco Sicilia, son of the beloved Mexican poet Javier Sicilia, put a face to widespread outrage and sporadic calls for justice, sparking an unprecedented movement against Calderón's administration and the drug war.
Gathering steam in Morelos, and quickly spreading to cities across the country, the march for a Just and Peaceful Mexico culminated in a gathering of over 100,000 people in the Zócalo, or main square, in Mexico City on May 9, the largest concentration of protesters to date demanding an end to the narco-related violence. In early June, Sicilia led a caravan from Cuernavaca to Ciudad Juárez, the nation's most violent city.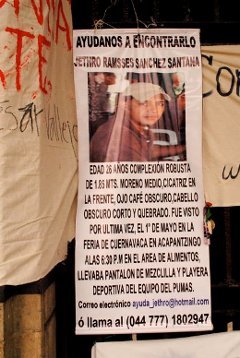 Sánchez Santana's picture in the Cuernavaca Zócalo.

DR 2011

Candice Vallantin
Even Amnesty International was quick to join the movement, claiming that impunity turns human rights into a mere illusion.
"By participating in these demonstrations we send a message of solidarity to all those individuals and families who have suffered high rates of violence in our country and for whom the Mexican State has not been able to bring justice," Alberto Herrera, executive director of Amnesty International in Mexico, said.
"Only justice can achieve security. The Mexican government must listen to the social outcry calling for resolving the important historical debt on human rights," he added.
Until Sicilia's movement gathered speed, Morelos had little to celebrate. According to Martínez, the Independent Commission for Human Rights in Morelos recorded 80 extra-judicial killings just last year, 50 of which happened over three months. Numbers are sketchy, but Martínez's organization has also recorded 3,000 disappearances in the past six years in this state alone – and other organizations talk of 10,000 disappearances country-wide.
"These are devastating examples that have highlighted the lies of a government that tries to portray everything as 'collateral damage' of a non-declared war," Martínez said.
Now Morelos has become sacred ground for the movement, a hotbed for young organizers who are feeling the crunch of a war that is increasingly targeting young, middle-class people.
Movement Forward
Cuernavaca's Zócalo is where the movement has set up its base. There are flowers for those who have died and plaques to remember their names, and a hand-written cardboard sign asking the Virgin of Guadalupe, the most celebrated Catholic icon in Mexico, to return Sánchez to his family.
"Anyone walking on the streets is at risk," said one of the organizers speaking under condition of anonymity.
He recalled how he and a friend were intercepted by the police on their way to a bar, sworn at, violently pushed around, searched and finally arrested with no warrant and no explanation. After having their cell phones stolen, they were held overnight in the Public Ministry, falling just short of the 350-peso-a-person bribe that would have bought their freedom.
"We're all narcos to the cops," he said.
While some people have come to the movement out of frustration and perhaps even fear, others come nursing much deeper wounds of loss and outrage.
Olivia Chilián is one of these people.
Insisting that she doesn't mind being overheard, she sits on a stage in Cuernavaca's Zócalo and recounts with perfect clarity the story of how her 36-year-old brother Pablo was beaten to death while pleading his innocence and demanding his rights.
"Pablo isn't another statistic of mortality," Olivia said. "He is more than just a crime of impunity, he was and is our brother."
"The government treats us like beasts, not like human beings. If they are not accomplices in this crime, then why aren't they doing their jobs, why aren't they telling us what happened to Pablo?" she asked, as three men who had been listening to her story inched closer to hear her denouncement of the government.
Since Calderón assumed office in 2006, vast sectors of the Army have been deployed in police operations against the drug trafficking groups.
Given that the Army is increasingly being deployed in a civilian police capacity, a National Security Law that is currently being debated by the Mexican Congress poses particularly bleak prospects for civilians like Sánchez.
Congress is debating an amendment to the existing law that would grant the president unprecedented powers to declare a state of emergency, and give the Army the ability to conduct random searches without warrant.
"If the amendment is approved, it will be impossible to stop cases of disappearances," said Martínez. "The government would give the Army a carte blanche."
Although there is no solid evidence that the Army was involved in Sánchez's disappearance, Martínez believes that the law would just add to the general atmosphere of impunity.
Moreover, he points to the arrest of Juan Bosco, chief of Cuernavaca's municipal police, in connection with Sánchez's disappearance.
"He was the person in charge of clarifying what happened with [Sánchez]," says Martínez. "So this is the state of things here in Morelos," adds Efraín Vega.
Martinez says victims like Sánchez are seen by the government as "collateral damage" of Calderón's drug war.
Therefore their hopes rest with the continued efforts of the movement to build massive support against the president's policies.
"The movement can't drop its guard now," he insisted.
Lea Ud. el Artículo en Español

Narco News is funded by your contributions to The Fund for Authentic Journalism. Please make journalism like this possible by going to The Fund's web site and making a contribution today.

- The Fund for Authentic Journalism
For more Narco News, click here.