A Revolution Is Like "Good Sex"
The Ivan Marovic Story Is Coming to a Street Theater Near You
By Kanya D'Almeida

Class of 2011, School of Authentic Journalism
May 19, 2011
The first day I spent with Serbian revolutionary Ivan Marovic, on the campus of the Narco News School of Authentic Journalism just outside Mexico City, I was torn between fits of laughter and bouts of inspiration.
Marovic is busy theorizing about the connections between various European philosophies as reflected in the countries' respective toilets.
"I'm using this analogy because this is what ideology is, not words, but how people live their daily lives," Marovic says.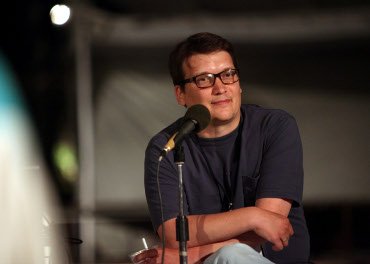 Ivan Marovic at the School of Authentic Journalism.

DR 2011

Noah Friedman-Rudovsky.
Marovic's face is the canvas of age's failed battle against a doggedly youthful soul. His mischievous eyes suggest a crude, practical joke is about to be played on an unsuspecting victim; his lips are constantly drawn tight at the threat of oncoming laughter; and his belly tells the tale of a man who woke up cheerily one morning and decided not to spend time worrying about a slim waistline.
He does not look the part of a recently retired revolutionary who is now in demand as a speaker and behind-the-scenes movement strategist. It is that latter role that has brought him to Mexico as the month of May winds down and the School of Authentic Journalism kicks off its annual gathering.
One of the first things I heard him say during a series of interviews at the school, in a strident Balkan accent, was, "I just love Laibach!"
The 1980s avant-garde Slovenian music group donned stark costumes reminiscent of the uniforms of Hitler's Youth and set popular songs like the Beatles' "Across the Universe" to stentorian fascist melodies.
"They are so wonderfully provocative," Marovic added, his voice tottering on the edge of laughter, 'It doesn't matter what their ideology is, they are geniuses at making people think!"
Instantly I decided that this man was either a professor of contemporary European philosophy prone to vague, intellectual ramblings or a child-genius-turned-unemployed-alcoholic. For the next five days I would burn with shame over these thoughts as I discovered how Marovic, along with eleven school friends, toppled Slobodan Milosevic's entrenched and pitiless dictatorship in two brief, bloodless years.
I would also realize that Marovic was full of surprises and ten years ago turned his comedic personality into a weapon against an oppressive state.
Prior to meeting Marovic, several institutions of British colonial education had etched a grim portrait of Eastern Europe into my head. Black and white pictures told the story of Milosevic's cruel rule in Serbia — formerly part of Yugoslavia — where the dictator reigned from 1989-2000. The Balkan history of that era is scarred by the wars in Croatia, Bosnia and Kosovo — culminating in gory details of the Srebrenica massacre in which armed forces slaughtered 8,000 Bosniak men and boys in what is now Bosnia and Herzegovena.
Engaging average imagination, successive resistance movements marched tirelessly through Serbia's capital city of Belgrade only to come up inadequate time and again before Milosevic's armed forces.
However, the regime met its match with the arrival of Marovic and his comrades – who employed cunning, nonviolent civil resistance tactics, a decentralized organizing strategy and dry humor to build a mass movement in Serbia that could not be turned back by the threat of violence. Influenced by the satirical, often unfathomable comedy of Monty Python and a conviction that humor constituted an essential ingredient in the soup of movement-building, the story of the Serbian youth resistance forced a narrative of the power of human creativity into the annals of revolutionary history.
Building A Movement
Otpor. Falling easily off Marovic's lips it sounds fun, clownish, like a carnival ride or candy packaged in a lurid but unforgettable wrapper. It doesn't sound like resistance.
But that is just what it was, the perfect Serbian word for the sardonic youth movement birthed by Marovic and his friends in a small Belgrade cafe in 1998.
A few months after Otpor's first meeting, NATO led a 78-day-long ($3.2 billion) aerial bombing campaign against the Serbian dictatorship, which, according to Marovic, did nothing but destroy a few tanks, a power station and some bridges but ultimately left the regime as insurmountable as ever.
In the wake of that last blast of physical force, Marovic told me, Otpor oozed into all the cracks of the political space and broke new ground as it expanded unstoppably.
But unlike other revolutionaries I have met, Marovic refused to take himself seriously.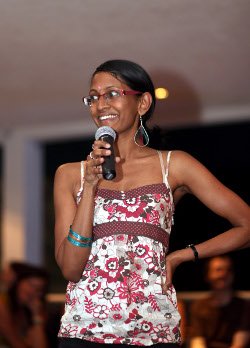 Kanya D'Almeida.

DR 2011

Noah Friedman-Rudovsky.
He said things like, "This [hotel] pool is too shallow. It is very badly designed. I think all outdoor designers should be hanged. Or better yet, drowned in their own shallow pools."
He proclaimed, "You have to think of a revolution like good sex! It's great until after the orgasm, then you're empty, depressed and alone—but that won't stop you from seeking out the orgasm!"
If his story as a youth organizer did not involve beatings, torture and imprisonment, it would take little effort to laugh off these declarations and let them drip right out of your mind.
But in the context of his struggle against the "Butcher of the Balkans" Marovic's twin personalities—that of a brilliant political strategist and a natural comedian—hammer down all insipid strategies, offering a new path paved in tar-black comedy.
"I used to be famous you know?" Marovic told me over beers that he generously purchased one afternoon. "People used to see me and shake my hand and cheer! Now they look at me like I am someone that maybe they knew in high-school whose name they have forgotten!"
The comment on his plunge from prominence is throwaway, warmly ensconced in his rolling laughter. But like most things he says, it is succinct, incisive and lands precisely at the crux of the issue: How to orchestrate and successfully execute a nonviolent civilian war, absent the ego-trips, absent the power-struggles, absent the myopic ideological vision that often breeds bitterness after the revolution is over.
Lesson number one (and also lessons two to fifty in Marovic's opinion): Understand the people involved in The Movement. Sift through the ideology and the rhetoric until you reach humanity.
In all of our many conversations about what drives a movement forward, Marovic stresses that citizens living under totalitarianism are more interested in gaining a tangible place among their peers than they are in struggling for a lofty ideology. His theory follows that if masses can be encouraged to organize and agitate for glory rather than money or power, a revolution is much more likely to succeed since "glory can be shared with everyone who wants it, it is endless, and it is everlasting, whereas money and power have none of these qualities."
"One of the first things we decided as Otpor was that we would be defined by what we were not," Marovic told me. "We banned the concept of ideology. Otpor was its own ideology. It was entirely new, entirely original."
I try to tease out some of these details but as Al Giordano, president of the School of Authentic Journalism rightly points out, "Just let Ivan think out loud. That's the best possible lesson in political strategizing you can hope to have."
Arresting the Turkey
There is plenty of information in the public record detailing Otpor's idiosyncratic tactics, but the film 'Bringing Down a Dictator', commissioned and produced by the International Center for Non-Violent Conflict, is perhaps one of the best portraits of the group's development from a base of 11 people in 1998 to 1,000 in 1999 and from there to 100,000 thousand by early 2000.
On the morning of October 5th, Marovic told me, 1 million of Serbia's 7 million-strong population marched on the capital and by 5 p.m. the revolution was completed.
The film captures the essence of Otpor's two greatest weapons: humor and creativity and traces Otpor's adoption of the "dilemma strategy"—the wide use of actions meant to baffle and create embarrassing conundrums for the regime such that any retaliation would be ruinous.
With great gusto, Marovic recalled a moment when a new batch of Otpor recruits stuck a flower behind a turkey's ear, evoking the fashion accessory often donned by Milosevic's wife at state functions, and placed the animal in a public square – leaving only the option of using police forces to "arrest" the turkey, or letting the humiliating street theatre continue.
Faced with Otpor's viral organizing strategy—which involved building a network of independent cells capable of acting in unison—and the onslaught its political street theater, which served to simultaneously humiliate the Milosevic regime and attract new recruits to the movement, the dictatorship faltered, police loyalty wavered, and gradually Otpor achieved its ultimate goal: To expose the absurdity of the regime and entice people to confront (and ultimately reject) their participation in a senseless reality.
"You Want Soldiers"
Much like Otpor did with apparent ease, Marovic attracted crowds at the School of Authentic Journalism in Mexico. He sat down at empty tables but within minutes every chair would be occupied, people pulling up stools from surrounding tables and soon gales of laughter were blowing.
Past interviews, old video footage and online archives prove that Marovic has barely changed since he dove into the movement at the age of 26.
Jack Duvall, president of the International Center for Non-Violent Conflict (ICNC) and a speaker at the school, gladly spent thirty of his precious sixty-minute break discussing his decade-long relationship with Marovic. Duvall recalled that he first met Marovic at the premier of "Bringing Down a Dictator" in 2002.
"Of all the Otpor boys, [Marovic] was the most interested in exploring new annexes of knowledge of civil resistance. Everyone else was trying to bottle the strategies, he was busy turning the bottle on its head and examining everything inside out.
One book I saw him holding at the school was Janet Cherry's most recent "Umkhonto Wesizwe", gifted to him by the author who had inscribed on the inside cover, "To Ivan, a friend and compañero in many struggles."
A tireless organizer against apartheid in South Africa, Cherry's unerring recollection of history and her long years of collaboration and travel with Marovic—from Ghana to Egypt to Palestine—converged in her forthright assessment of the M.
"I really have enormous respect for Ivan's political acumen," she told me.
"We arrived in Palestine together in 2007 to do a training on nonviolent resistance at a time when two violent incidents broke a period of relative calm. Following the extrajudicial killing of two Palestinian militants by the IDF, the town square in Bethlehem was full of mourners honoring the martyrs."
She was clearly still shaken by the memory, but focused instead on Ivan's humor, flexibility and level-headedness during that time of hardship and emotional chaos in the Occupied West Bank.
Marovic himself steered clear of those words, opting instead for descriptors like "robotic" and "mechanical" to define his strategy with Otpor.
"The Palestinians kept talking about how they are being wronged. I wish I could tell them how much THEY are wrong!" he said. "The tactic of violence is not working in Palestine. The people need to be focused, they need to be cold-blooded, like the Terminator! They need to think strategically if they want to achieve their goal for statehood in Palestine."
Referencing pop culture while discussing a brutal occupation is perfectly in line with both his and Otpor's crisp tactical design, which is both detached and marked by a deeply human understanding of movement building.
"Never expand a movement before it's ready," he told me, referring to Otpor's slow crawl to its first thousand members through a carefully designed system of late-night meetings, peer-led recruitment and a slew of original dilemma actions designed to boost the morale of every single person who chose to align themselves with Otpor.
"Wait until you are able to digest all the new recruits and churn them out as soldiers. You want soldiers," Marovic said.
I laughed at the time, but it was not until hearing him speak at a plenary session at the School of Authentic Journalism that it struck me just how disarming humor could be, a clever disguise for militant discipline and perhaps even a tonic for constraining fear.
While describing his time in the torture chambers of the Serbian secret police, Marovic's eyes failed to keep up with his smile for the first time since I had met him.
The moment was brief but it hinted at the reality that he was not only a visionary organizer, but also a warrior in possession of earnest endurance and full knowledge of the lives at stake in any people's movement.
His response to that stark reality, to that struggle, is to throw the unknown in the face of adversity. "If you write about the small, inspirational steps," he tells the journalists on his last day at the school, "you won't have time to write about the terrible stuff."
Lea Ud. el Artículo en Español

Narco News is funded by your contributions to The Fund for Authentic Journalism. Please make journalism like this possible by going to The Fund's web site and making a contribution today.

- The Fund for Authentic Journalism
For more Narco News, click here.