Professor and Italian Journalist Gianni Proiettis Deported From Mexico
Immigration Authorities Held Him Incommunicado Until His Unexplained Deportation
By Mercedes Osuna

Special to The Narco News Bulletin
April 16, 2011
On December 10, 2010 in Cancún, Mexico during the United Nations Climate Change Conference (also known as COP 16) meetings, from the depths of the earth there came a spurious cry upon the arrival of Mexican president Felipe Calderón. That afternoon independent journalists who were covering the meetings were beaten by the police.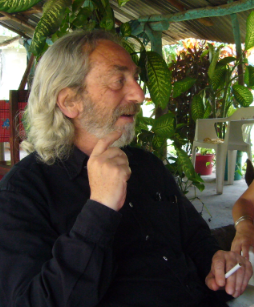 Gianni Proiettis
On December 16, Autonomous University of Chiapas (UNACH in Spanish initials) professor Giovanni Proiettis was
violently kidnapped
at 10:30 a.m about 50 meters from his home in San Cristóbal de Las Casas by three people and put into a car. Proiettis has been at the
COP 16
meetings earlier in the month, covering news for the Italian newspaper
Il manifesto.
That same day he was taken to the capital of Tuxtla Gutiérrez in Chiapas to the drug trafficking unit at the state attorney general's office, accused of selling narcotics. At approximately 10 p.m. they apologized to him and let him go free.
On December 17, Proiettis was called by UNACH rector Jaime Vals Esponda to ask what had happened with the detention. Proiettis responded that he didn't have any idea about the offense.
On February 1, a senior official with the state government called Proiettis to interview him. This man wanted to know if Proiettis knew why he had been detained. His response was the same: he didn't know the reason for his detention. The official also asked Proiettis if he had thought about making a complaint about the offense, to which Proiettis answered no.
On April 5, he went to the national immigration authorities (INM, or Instituto Nacional de la Migración) offices in the city of San Cristóbal to meet with sub-delegate Dora Patricia Grajales Cordero to renew his FM2 work visa. He handed over all of his papers on time and the form that would renew it. On April 12, he went to the offices again to find out how the process was going, and they told him that he would need to hand over his passport because there were problems with their computer network. Then he was summoned on April 15 at 10:30 a.m. to get his FM2 and a receipt for payment. At 11:30 a.m. he was called by his wife to know if everything was in order, to which he responded that he was still waiting. When he didn't return home by 2 p.m. the family called his phone again and there was no answer, but this didn't worry them since they thought he was at a bank. It was at 4 p.m. that his family began to worry and went to the INM offices. Both the office and the bank were closed. They couldn't find the motorbike that he had with Italian markings, either. They called 066 to find out if he was at the hospital or if there was an accident. The answer was no, they didn't know anything about him.
At that moment the family called the drug trafficking unit and they were told that the state attorney general's office had detained an Italian, which they thought was him. The family also called a senior official with the state government to find out if they knew anything about Proiettis. After a while, the official told them that Proiettis has been seen at the Chiapa de Corzo airport in Chiapas, and that he was in the custody of the INM.
Yesterday, on April 15, a district judge handed down a protective order in Tuxtla Gutiérrez, like was done last December. Until 9 p.m. nobody knew that Proiettis was gone.
At approximately 10:30 p.m. the consular at the Italian embassy, Guido Demarco, told Proiettis' wife, Maribel Rotondo, who is also a professor at UNACH, that her husband had been deported. Proiettis was taken out of the country on a Aeroméxico plane at 6: 55 p.m. en route to Madrid, and then to Rome through the airline Iberia. They didn't allow him to make any phone calls to his family or the embassy.
Click here for more Narco News coverage of Mexico
Lea Ud. el Artículo en Español

Narco News is funded by your contributions to The Fund for Authentic Journalism. Please make journalism like this possible by going to The Fund's web site and making a contribution today.

- The Fund for Authentic Journalism
For more Narco News, click here.