Here's a Four-Letter Word to Describe Al Giordano: Dean
Narco News' School of Authentic Journalism Survives and Thrives Only With Your Support
By Richard Bell

Professor, School of Authentic Journalism
December 28, 2010
Dear Friend,
Al Giordano has stirred up plenty of 4-letter words.
Given his life-long commitment to goring the mainstream media, it's no surprise that people turn to strong language when they find themselves on the receiving end of a little authentic journalism.
But there's one 4-letter word that I never thought I would use in relation to Al, one that came to me after I had the privilege of participating in the 2010 School of Authentic Journalism.
Dean.
As in, Dean Al, the founder and head of the Narco News School of Authentic Journalism, which will convene for its 2011 session in Mexico City in May.
Now Al would never think of assuming such a title for himself. But at last year's J-School, as the faculty and students blended into the most wonderful learning community I have ever been a part of, I began to see Al in a whole new light.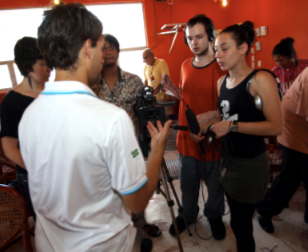 Students and professors learn from each other at the 2010 School of Authentic Journalism on Mexico's Yucatán peninsula.

DR 2010

Noah Friedman-Rudovsky
Becoming a Dean is the last thing I would ever have predicted for Al back when we first met in 1976, as members of the Clamshell Alliance. Even during his long stint as a crusading journalist at the Boston Phoenix newspaper, Al struck me as a lone wolf, one whose commitment to following the call of his conscience was always getting him into trouble.
But after he moved South of the Border and took a break from journalism, he emerged with a different vision, beginning with Narco News. I'd known all along that Al could be a ferocious community organizer. But the J-School was a different kettle of fish. All of a sudden, he was engaged in the very difficult task of building an enduring institution where people could learn and practice what he came to call "authentic journalism."
The reason that Al has succeeded where so many others have failed is due to people like you. Your contributions have made Narco News an indispensable and vibrant source of news. In the mainstream press, you can find a never-ending litany of worries about how the Internet threatens the future of these corporations.
But at Narco News, everyone believes that if you deliver authentic journalism, readers will respond with the resources needed to keep the work going.
And for more than 10 years, your support has made it possible for Narco News to make the world a better and more truthful place. Just think of all the organizations that have come and gone over the last 10 years! (And as institutional schools of journalism also go out of business because fewer and fewer jobs are available in corporate media, sometimes I wonder if Al will end up as the last dean standing after having invented a new, more sustainable, model for how journalism can and should be practiced, taught and learned.)
Despite its small staff, Narco News has been a BIG organization from early on, fighting and winning struggles against some of the most powerful and corrupt forces in the world, uncompromising on matters of principle. When Narco News took on one of Mexico's largest banks for its involvement in drug-trafficking and corruption, Banamex sued Narco News. In a precedent-setting court case in the U.S. back in 2001, the New York State Supreme Court extended the protections of the First Amendment to online journalists for the first time (Banamex v. Narco News).
Narco News casts a very bright light in the darkness of the mainstream media, covering dramatic new movements like the Zapatistas in Chiapas, or the civil resistance of Honduras to stop the illegal removal of a democratically elected president.
Narco News has become a beacon for journalists around the world. Narco News was not publishing more position papers complaining about the inadequacies of the mainstream media. Here was a full-blown, real-world demonstration on how to do journalism with courage and authenticity, and on a shoe-string budget besides.
So again, supported by your contributions, Narco News convened the first session of The School of Authentic Journalism in 2003 to bring together experienced practitioners and younger reporters for an intense ten days of seminars and hands-on practice, ten days in which the distinctions between faculty and students disappear in discussions, over meals, and after hours.
Getting a website up and running is one thing; the staff of Narco News has always been lean, mean, and virtual. But putting on a session of The School of Authentic Journalism is another thing again: 10 days, 40 students, 40 faculty, plane reservations, housing, meals, video cameras, microphones, wi-fi networks, you name it. (And if you didn't know, faculty are not paid: we want to be there so badly that we pay our own plane fares, plus $300 each for room and board, and that, together with your donations, helps make it possible that the students pay no tuition at all).
Someone has to be in charge of these convoluted logistics, keeping an eye on every level of the operation, from selecting the students and faculty to lining up the local fisherman's union to donate and grill red snapper for a banquet. Watching the 2010 School unfold, it came to me: Al had stepped up his game to become a Dean in the best sense of the word. His presence and his patience, aided by a great supporting crew, made it possible for the rest of the faculty and the students to focus 100 percent of their time and energy on the work at hand.
Like all effective Deans, Al depends on his friends and supporters to engage with and take ownership for the School and its mission.
That's why I'm asking you to take advantage of a special opportunity to double your contribution to Narco News and the J-School. The International Center on Nonviolent Conflict (ICNC) has generously offered to match your donation to this year's J-School, dollar-for-dollar, up to a total of $20,000. ICNC also supported the 2010 J-School; authentic journalists play a vital role in many nonviolent struggles, making the voices and concerns of grassroots activists heard over the din of state-sponsored media.
So don't wait! Just click here and support the best journalism school on the planet!
Or you can send a check to:
The Fund for Authentic Journalism
PO Box 1446
Easthampton, MA 01027 USA
And if you know a hard-working, dedicated journalist or independent media maker whose work could be enriched by the training the School of Authentic Journalism offers, encourage her and him to request an application (due January 23, 2011) from app11@narconews.com.
Thank you, in advance, for your support and participation.
Richard Bell
Click here for more Narco News coverage of Mexico
Lea Ud. el Artículo en Español

Narco News is funded by your contributions to The Fund for Authentic Journalism. Please make journalism like this possible by going to The Fund's web site and making a contribution today.

- The Fund for Authentic Journalism
For more Narco News, click here.