News Flash: The School of Authentic Journalism Begins
Al Giordano and His Colleagues Are Committed to Journalism That Acts Like a Community Organization
By Hugo Ramírez

School of Authentic Journalism, Class of 2010
February 6, 2010
PUERTO MORELOS, QUINTANA ROO, MEXICO, FEBRUARY 3, 2010: During the inauguration of the 2010 School of Authentic Journalism at 7pm in Puerto Morelos, Quintana Roo (Mexico), school president Al Giordano said, "Repeating things is a good way to make a point." The following story repeats some of the ideas that Giordano and School participants shared. The messages recorded here are now part of everyone.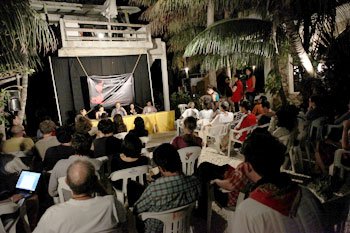 Over 60 journalists from more than 30 countries began 10 days of intensive training at the Narco News School of Authentic Journalism 2010. Feb. 3 Puerto Morelos, Mexico. – D.R. 2010 Noah Friedman-Rudovsky
Two maxims sum up the School of Authentic Journalism's intentions: 1) Tell the truth without resorting to monologues, giving space to other voices which may or may not agree with you. 2) Don't bore people; only the enemy should suffer, not you.
The School of Authentic Journalism is a rebellion against the establishment. It takes an interest in youth and proposes intergenerational knowledge-sharing. Proposals such as these seek to do away with vertical education (from above to below), such as that which is imparted in the overwhelming majority of schools where you have to sit for hours listening to untouchable professors. Proposals such as this advocate horizontal education that takes the journalist and the reader into account as part of the news.
Here, they propose that we give up objectivity, because as human beings we cannot distance ourselves from events that we are inevitably a part of. When a reality is narrated, we are involved in the story we are narrating.
Therefore, it is recognized that the journalist's work became one of the most important instruments for the establishment to maintain—and reproduce—its domination. News from above that only explains the point of view of those from above makes us think that it is time to start pointing the cameras and microphones below. In the coming days we will become experts in doing precisely that. Freedom of press isn't only for graduates of university journalism schools.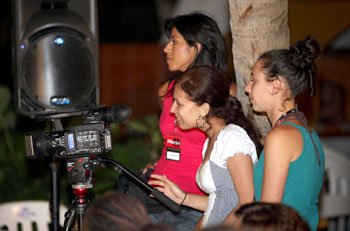 Professor Lourdes Zuazo works with students Maylin Alonso of Havana and New Yorker Marine Lormant recording the opening session of the 2010 School. – D.R. 2010 Noah Friedman-Rudovsky
Be on the alert! This form of work means that Narco News and the School of Authentic Journalism won't be the only ones tasked with carrying the flags of truth. Each one of the students, professors, and readers, who have made the decision to give the benefit of the doubt to authentic journalism and support this process, will be in charge of reproducing these messages and the knowledge that become so necessary in the contexts in which each one of us is coping with.
There is a crisis. People are becoming aware of an evident truth: corporate media has not been honest with its readers (and there are more than enough reasons to think that they're not even being honest with themselves). Al Giordano and his colleagues are committed to Authentic Journalism, a journalism that behaves as a community organization. In contrast to activism, which most of the time speaks to whomever wants to listen, Authentic Journalism has to speak to ordinary people—those who don't speak like us, who don't think like us, but who also need the truth. This is not an alternative. The School assumes its AUTHENTIC duty to communicate, to make the responsible decision to get a message out.
We don't have to agree on everything—hopefully we don't—but let's work together to construct a path towards that which hurts us so much. I was in the fourth row listening. It shouldn't be forgotten that there are so many versions of that which was said here, versions from other people who attended the event. We believe in that. Like Al Giordano, I decided to call myself a journalist—I don't know, maybe just this once—and write my version of the story.
Click here for more Narco News coverage of Mexico
Lea Ud. el Artículo en Español

Narco News is funded by your contributions to The Fund for Authentic Journalism. Please make journalism like this possible by going to The Fund's web site and making a contribution today.

- The Fund for Authentic Journalism
For more Narco News, click here.