"We're Looking For the 'President of Employment'"
Thousands of People March in Mexico City Against Calderon's Order to Shut down Luz y Fuerza
By Fernando León

Special to The Narco News Bulletin
October 16, 2009
Hundreds of thousand of people came to meet with an old friend. Just last Saturday, it was the epicenter that radiated a very different sentiment from that that prevailed yesterday in the Mexican capital. Not even the ten-meter-high Angel of the Independence [the statue where many Mexico City protest marches begin] was able to see where the sea of people ended.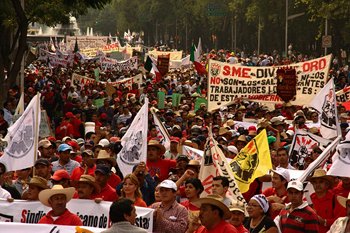 D.R. 2009 – Clayton Conn
Saturday night, thousands of people had gathered there – much fewer than gathered yesterday – and the atmosphere was one of celebration. Whatever else happens, at least Mexico had qualified for the World Cup. Next year our hatred will be focused on the eleven men who can't score on a stinking penalty shot. Perhaps this makes Calderon feel a little more secure, because the hatred won't be towards him.
The World Cup qualification turned into the perfect distraction – or almost perfect – from the play Calderon & Co. were preparing. Perhaps next year won't be very different.
Last Saturday was a different, sad night for thousands of Mexican families. That night, with the stroke of a pen, Calderon decided to throw 44,000 Luz y Fuerza del Centro electrical workers into the streets. With how the economy is doing these days, what's another 44,000? Surely they'll find work very quickly. Or even better, why don't they use their severance packages to start up a changarrito, a small business? What better time than now to decide to be your own boss? It's every worker's dream. With this crisis "that came from outside the country," it's better to go with a sure thing.
Saturday's decree shut down the government-owned electric company Luz y Fuerza del Centro. That company's union, the Mexican Electrical Workers Union (SME), with 95 years of history, had been characterized for being one of the most democratic unions in Mexico. It has also supported the Mexican people's struggle. Over the past few weeks, the union had been in the public spotlight. The federal government had decided to not recognize the union's Secretary General, Martin Esparza, and froze the union's bank account. The company had 44,000 workers and 22,000 retirees.
In the blink of an eye, 44,000 people lost their jobs, and the approximately 250,000 people who depended on their breadwinners' salaries now have nothing. Watching and listening to the news these past few weeks, one would think, "Well, good, fewer troublemakers on the payroll." The media campaign was up to par. The media's demonization of the electricians began long before Calderon and his henchmen published the order to shut down Luz y Fuerza.
Time and time again, we heard that the electricians were rich, that the electricians were lazy, that the electricians… Well of course, how could Televisa's anchorman Carlos Loret de Mola be wrong? After all, he's so handsome, said the ladies from the Valley. The electricians got what they deserved.
D.R. 2009 – Clayton Conn
The Mexican Electrical Workers Union, with 95 years of history, had achieved great conquests on behalf of the electrical workers in the country's central region. They didn't even deserve the burdensome expenditures. Unionism is a throwback to the Cold War. Now we're living in the era of the market. In what world do the electricians live in?
How is it even possible that electrical workers receive benefits? If everyone can't have benefits, no one should have them. No one asks how much members of Congress earn, nor Federal Electricity Commission executives. Those guys work hard, unlike the electricians.
The thing is, yesterday afternoon, those 44,000 lazy bums marched in Mexico City. Tens of thousand more – or perhaps even hundreds of thousand more – people joined them. The cries changed from "We're going to the World Cup! We're going to the World Cup!" to "Little Felipe, Little Felipe, privatize your ass!" We can't say for sure what exactly they meant by that, but what is certain is that the Angel and the thousands of people who surrounded it were not very happy yesterday afternoon.
"My severance package? Well, as you can hear, Little Felipe can shove it up his ass," Ernesto, who worked in a substation in the state of Hidalgo, told Narco News between laughs.
They came from all over the country to protest: SME electricians, workers from other unions, students, teachers, doctors, housewives, children, and the occasional office worker who couldn't find a way to get their car past the march. "What Calderon did is very bad. And now how are so many people going to survive?" said Manuel Ramirez, who works in a transnational credit card company on Paseo de la Reforma. Surely Manuel didn't hear what the Secretary of Labor said the previous day about how they're going to survive: they're going to be their own bosses.
But if Calderon had everything planned out before he issued the decree – he liked the idea Honduras' Micheletti gave him – one tiny little detail escaped him. His order went into effect at midnight on October 11, but his most loyal followers, the Federal Police and the Military, carried out their late-night attack one hour prior. What would have happened if the electricians realized that the operation was already underway?
But these new 44,000 unemployed people (or future business-owners, if you'd like to look at it that way) won't be the brilliant "President of Employment's" only ones. Since the beginning of his term, over 500,000 people have lost their jobs.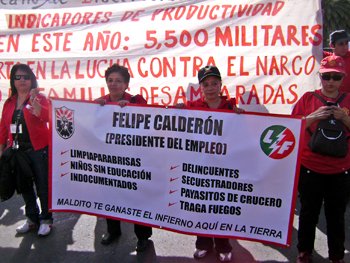 "President of Employment" – D.R. 2009 – Fernando León
The march went on and on. It seemed as though so many people wouldn't fit in the Zocalo, Mexico City's town square. The
SME
estimated that 300,000 had arrived by 7pm. However, it's hard to be sure; contingents kept arriving in the Zocalo. "We'll see if seeing all these people here makes
FECAL
[1] realize what he's provoked," said Dolores, a former Luz y Fuerza administrative worker. Calderon throw so many people into the streets at a crucial moment for the country. The economic crisis is being felt, but its social consequences remain to be seen.
"If there's not a solution, there will be a revolution!" shouted thousands of people in unison as they passed by the Glorieta de Colon, a threat that comes just months before 2010, the anniversary of Mexico's independence and revolution.
Failure is not in the SME workers' vocabulary, and in each firm step they take along the Paseo de la Reforma and later along Juarez Ave., their commitment to fight for what was taken from them is make clear.
"In the media they say that we are sabotaging the power plants. Ha! How can we sabotage if they threw us out like dogs on Sunday and haven't let us back in since?" asked Jorge, an SME construction worker. Likewise, all week SME workers have been blamed for Luz y Fuerza's alleged insolvency. However, it is easily forgotten that the SME was not in charge of running the company.
The protesters weren't alone. A Federal Police helicopter cheered them on from the air. After everything that has happened, everyone came out to the march.
Even though Calderon is probably accustomed to people throwing metaphorical rocks at him – after all, he has three years of experience as Mexico's most legitimate president since Maximiliano de Habsburgo[2], it seems as though it will be difficult to keep central Mexico's 30 million residents happy with their electric service.
The government-owned Federal Electricity Commission will be in charge of providing electricity to central Mexico. However, according to the SME's Secretary General Martin Esparza, "An electrician isn't made overnight. They calculated wrong and they could spark a social conflict on a grand scale if the blackouts continue." The first such conflict appeared on Wednesday in Ocoyocoac county in the State of Mexico, where residents blocked the Mexico-Toluca freeway for three hours to protest a blackout.
What was clear yesterday afternoon is that Calderon's decree provoked feelings of unity between the SME, the working class, and civil society in general. Those hundreds of thousands in the Zocalo plaza indicate that people are fed up with Calderon's structural adjustments. Mexican society took to the streets, where struggles are won, and were doña Lucia, the eighty-something-year-old wife of a SME retiree, told Narco News, "We're looking for the 'president of employment,' but we just can't find him."
Translator's notes:
1. FECAL is one of President Felipe Calderon's nicknames, formed by combining the first two letters of his first name and the first three letters of his last name. And yes, "Fecal" means the same thing in Spanish that it does in English.
2. France's Napoleon III declared Maximiliano de Habsburgo "emperor of Mexico" in 1864. Mexicans executed him in 1867.

Translated by Kristin Bricker

Click here for more Narco News coverage of Mexico
Lea Ud. el Artículo en Español

Narco News is funded by your contributions to The Fund for Authentic Journalism. Please make journalism like this possible by going to The Fund's web site and making a contribution today.

- The Fund for Authentic Journalism
For more Narco News, click here.