Your Donations Will Directly Improve the Content of the News You Read
The Narco News School of Authentic Journalism Helped My Reporting on Immigration, Foreign Aid, Politics and Drug Policy
By Andrew Stelzer

Graduate and Professor
October 6, 2009
There are two primary ways to make a splash in journalism: Your content and your connections.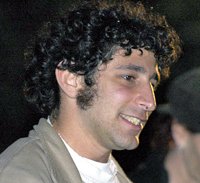 Andrew Stelzer, journalist and graduate of the 2003 School of Authentic Journalism, will return again as professor in February 2010. D.R. 2004 – Jeremy Bigwood
A quick word on the content — it should go without saying that my two ten-day stints at the School of Authentic Journalism have benefited my journalism. Narco News built its reputation on content — reporting stories no one else was, from a website no one had ever heard of, becoming a major information source for everyone from the grassroots up to the power brokers. For a gringo
periodista
, my time in Mexico and Bolivia helped me gain perspective on numerous issues from Latin American organizers and journalists. It's been a tremendous benefit to my reporting on issues like immigration, foreign aid, foreign politics (and interventions) and of course, drug policy.
We in the states know that our media needs to gain some real knowledge and understanding; supporting the J-school is a concrete way to make sure that some future stars of the press are exposed to the truth about what's happening south of the border. J-school graduates have had their work appear everywhere from the New York Times to Telesur, and the political understanding behind those reports affect every word and photo that eventually make it to print and broadcast.
Bottom line — your donations will directly improve the content of the news you read.
But while it may seem superficial, I'd like to focus on the connections.
Most people I know who've been to a 'real' journalism school, say one of the major reasons they spent all that money was for the connections. Meeting editors and other fellow journalists helps build your future networks, and helps determine what outlets you'll report for, and what angles you'll end up reporting from.
Talk about insular. If you are outside that network, how do you even begin to break in?
One way is to build your own network. And that's what the School of Authentic Journalism has done, and will continue to do, with your help. Each of us at the J-school brings our own outlets and networks to the group, and the atmosphere is one of support and dare I say it, familia.
The people I met at the 2003 and 2004 Narco News J-Schools directly helped me report for Latino USA, and the Santa Fe New Mexican. Through my work as a professor at the 2004 J-school and later contact with my fellow auténticos and auténticas, other attendees were able to report from Bolivia, Mexico, Brazil, Uruguay, Italy, Haiti, Argentina… the list goes on and on. We bypassed the traditional gatekeepers, avoided the tens of thousands of dollars of debt, and became each other's connections.
For many North Americans, even those who oppose the "war on drugs', the ill effects of that war are isolated to the Mexican border, and maybe the jungles of Colombia. But Narco News readers know that's not the case, and that the drug war is only one manifestation of the apparently crumbling era of 'American' influence and intervention. Because of your support in the past, Narco News has been positioned to report on movements for and against democracy all over Latin America, from present day Honduras, to Bolivia, to Haiti. They've been able to do that because of the networks they've built — of journalists, organizers, and insiders who want the truth to come out.
At this crucial time for geopolitics, a crucial time for drug policy throughout the Americas, and a crucial time for democracy in your Latin American country of choice, supporting the 2009 School of Authentic Journalism is so important. Your donations help us build 'the other' media. They allow the muckrakers of tomorrow to keep following their heart into journalism. And they allow the truth to keep coming out, one Narco News story at a time.
Please make a donation today to The Fund for Authentic Journalism, which you can do online through this link:
http://www.authenticjournalism.org
Or send a check to:
The Fund for Authentic Journalism
PO Box 241
Natick, MA 01760 USA
Thank you,
Andrew Stelzer
Graduate and Professor
The School of Authentic Journalism
Lea Ud. el Artículo en Español

Narco News is funded by your contributions to The Fund for Authentic Journalism. Please make journalism like this possible by going to The Fund's web site and making a contribution today.

- The Fund for Authentic Journalism
For more Narco News, click here.