Yet Another Tale of Woe and Intrigue: The Sierra Sur of Oaxaca
Teachers Fight to Maintain Control Over Their Union Amidst Threats and Violence from Political Bosses and Paramilitaries
By Nancy Davies

Commentary from Oaxaca
February 26, 2008
Sola de Vega is one of five districts in the Sierra Sur of Oaxaca. The Chatino indigenous group lives there, most in miserable poverty. Barefoot and hungry children walk their hour and half each way to school. The soil on the deforested mountains is stones and clay, while illegal tree-cutting busily strips other hills.
A teacher from the Section 22 local teachers' union, who I will call Ricardo, supervises one of the area's "telesecundaria" schools located in a village 950 meters above sea-level, belonging to the municipality of Santa Cruz Zenzontepec. Telesecundaria is a special long-distance Internet learning program, set up by the federal government for the country's most marginalized areas. But outlying villages, or agencias as they are called, lack an important ingredient: Internet service. The books, which came with the program, are based on seeing the broadcasts, and thus the teacher has to describe what they would have seen and explain what it meant.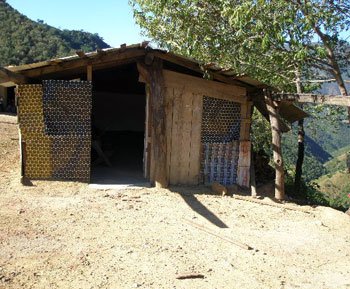 Telesecundaria schoolhouse in the Zenzontepec region
D.R. 2008 Narco News Agency
Not surprisingly, the
telesecundarias
in the
agencias
of Zenzontepec score among the lowest nationally of such schools. On the other hand, in the municipal center, which has Internet service and books as well, the students score among the highest. Santa Cruz Zenzontepec municipality receives from the state's public education commission (known by its Spanish initials
IEEPO
) the largest sums of targeted money, second only to Oaxaca City. The entire municipality contains 16,773 inhabitants. Federal funds come not just for education but to alleviate the region's poverty. Money travels from the federal government to the state government; it passes through
IEEPO
for education, and then all allotments are distributed to towns. Somehow no funds, supplies or amenities arrive at the local
agencia
level. Yet the money keeps coming.
Zenzontepec means "four hundred hills" in Chatino. Ricardo travels ten hours from Oaxaca City to arrive in Zenzontepec, which he says is presently blockaded by PRI paramilitary factions. The entire Sola de Vega district, according to Amado Sanmartin Hernandez, (Las Noticias, February 17, 2008) is under the control of a man named Fredy Gil Pineda, publicly referred to as one of Ulises Ruiz' hired thugs, or more accurately, shooters. A Chatino man missing for months, Lauro Juarez, may have been disappeared by Gil Pineda, Sanmartin suggests.
Ricardo does not speak Chatino. The indigenous teachers, he claims, are from the "elite" of the region – cacique families, the traditional bosses. Ricardo claims that they don't want Chatino youngsters to learn Spanish because ignorance permits control – an accusation on his part you can accept or not; I can't verify. The bilingual teachers try to teach the kids some English, a required subject. But without books and without Spanish, how could a youngster guess what an elephant, for example, might be?
The recent history of this cacique-dominated zone, according to Ricardo, started in 2004 when a man named Heráclio (sometimes spelled Eráclio) Juarez, a teacher, was chosen for the post of municipal president (equivalent to a mayor) of Zenzontepec; teachers often are regarded highly. In 2006, when the Oaxaca social movement erupted, Heráclio allied with the PRI government of Ulises Ruiz. When Heráclio's term ended, a local man, Antonio Merino, was offered the post of puppet presidente, for a payoff of five million pesos. Heráclio himself was rewarded with the job of state congressman for the region. At the close of Merino's term as president in 2007, Heráclio decided to install his nephew, Inocencia Michel, as the next president, in the election of February 5. Trouble erupted.
Ricardo relates that there are now two cacique families in town: Merino's and Heráclio Juarez's. The battle, which erupted between the two contending groups, resulted in the death of a man whom Heráclio failed to claim as one of his – but he was, Ricardo asserts.
When the battle broke out for control of the physical space of the town hall, Antonio Merino was actually away in Oaxaca City trying to convince the IEEPO to change the teachers' zone designation from one to two or even more zones. Heráclio Juarez left Oaxaca City to calm down the battle; Merino also returned to Zenzontepec. The two arrived at the same time, occasioning a peculiar photo in the daily Noticias de Oaxaca, with Heráclio seeming big and burly in a white shirt, standing next to Merino, who looks thin and timid, holding a Mexican flag.
The town, which has no paved access, and no telephone service, was blockaded from dusk to dawn by one or the other faction. (Other sources, contradicting Ricardo, say one group is PRI and the other PRD. I am inclined to suppose that might be true just for one reason: one group had guns, the other group had sticks.) A photograph displayed in Noticias on February 15 of Ministerial Police, who were supposedly sent to calm the battle in Zenzontepec, was actually taken some kilometers away, outside Zenzontepec, Ricardo told me. He said they never came into the town.
Ricardo does not know more of the history of this town, but according to Armando Perez Montaño, who wrote in Noticias on February 11, the government maintains a program to combat extreme poverty. Many caciques collude in heisting the funds, including the woodcutters who are stripping the forests of the region, and narco-traffickers. As Perez says, that's old news.
Ricardo, however, is mainly engaged in the current teachers' struggle. He gave me a copy of a Section 22 bulletin, which delineates the current zone-change "request." The contentious faction of local government allied with the PRI, and the Oaxaca governor Ulises Ruiz, want to divide Zenzontepec 's union representation. By creating more "zones", more delegates would automatically be appointed, thereby diluting the effectiveness of the present delegates who may be affiliated with the APPO or simply opposed to URO.
The "request", issued by the "representatives of the municipal authority of Santa Cruz Zenzontepec", was presented to the teachers with a demand for their signatures agreeing with the zone break-up, necessary for the state education commission (IEEPO) to proceed. The teachers were threatened that if they didn't sign, local officials "could not" guarantee their physical safety, and so teachers were not be allowed entry into specific schools. The latest news is that the teachers refused to sign. Six of them have been transferred out of the area. Substitute teachers have been brought in.
Zone 03 has 53 teachers and 16 schools scattered among fifteen agencias. The entire municipality hires 461 teachers, some of whom are young, uncertified "docents." The PRI is now running help-wanted ads for teachers, Ricardo asserts.
Antonio Merino had traveled to Oaxaca City specifically to request that IEEPO bring extra pressure on the teachers. IEEPO, of course, depends on the government of Ulises Ruiz. While Merino was in Oaxaca, Inocensia Michel, the nephew of Heráclio, and Heráclio's choice to replace Merino, occupied the municipal palace. A siege began. Merino's force was outside. The two cacique groups were fighting each other when one of Heráclio Juarez's henchmen was killed, perhaps by "friendly fire."
Amado Sanmartin Hernández, (Noticias, February 17, 2008) speaking of porros (hired thugs), wrote "…the most outstanding and notable member of this gangster industry has been Fredy Gil Pineda Gopar, who, together with paramilitaries, has destroyed the Chatino region, and attacks authorities and people in order to back the PRI, principally in those communities which govern themselves by the system of usos y costumbres." (Usos y costumbres refers to a recognized indigenous system for governing local areas.) One indigenous man has disappeared, which Sanmartin attributes to Pineda Gopar and his "band of criminals."
Then on February 21, Noticias reported that the Secretary of Public Works is investigating a possible diversion of the federal funds which went to Santa Cruz Zenzontepec during the mayoral administration of Heráclio Juarez. The article says that during the months of April, May and June of 2006, various funds were highjacked: from the programs Piso Firme (a cement floor to replace dirt), Techo Firme (a roof to replace thatching), "Lorenas Stoves" to replace wood fire cooking, and from similar projects funded under the Program of Water and Solidarity for Progress.
Town residents filed a complaint with the Secretary of Development, with no real expectation of ever receiving a reply, which in fact they did not. The shooting on February 9, 2008, changed things. Heráclio, in the forefront of this struggle, is now being investigated.
Why am I burdening you with this seemingly endless tale of woe and intrigue? First, this is life in Oaxaca, in case you wonder what Oaxaca is really like. Second, I was chatting this week with a Oaxaqueña who has been to Santa Cruz Zenzontepec several times in the past few years. I asked her what she knows about the area, and her reply was very brief: there's a uranium mine in the area; and the government is planning to build a hydro-electric dam in a town called Paso de la Reina.
In Noticias about a year ago (February 14, 2007 p. 9ª ) it was reported that the local Mixteco and Chatino indigenous groups are firmly against any multiple-use dam in the Paso de La Reina area and any hydroelectric project on the Río Verde because it would alter lands essential for maintaining life and culture.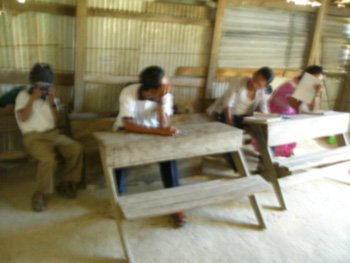 D.R. 2008 Narco News Agency
Last year, participants in the
Forum for the Defense of Water, Territory and Development of the Indigenous Peoples
asked the federal electricity commission to stop work already begun, and that workers leave the camps they set up without community consent. The municipalities involved include Santiago Ixctayutla, Tataltepec de Valdés, Santiago Amoltepec and San Francisco Cosoaltepec. I'm not giving you these unpronounceable names to confuse you, but only so you can check: they are all in the Sierra Sur, with Chatino and Mixteco communities.
The civil organization Services for Alternative Education, and the "Ñu 'u Ji Kandii" Human Rights Center, as well as a sector of Franciscan Missionaries of Mary, demanded that the state and federal government carry out information and consultation processes through the community assemblies, before initiating any projects. That would comply with an agreement made with the International Labor Organization regarding indigenous rights (Convention 169 on Indigenous and Tribal Peoples).
The principal rivers of the region are Rio Verde, Rio Concha or Atoyac, and Rio San Pedro that empties south into the Pacific. A plan has been afoot for a decade to construct a dam to generate electric energy along the Rio Verde. Although the Federal Electricity Commission (CFE) has done several studies it has yet to inform the communities, which want to put forward their own plans for development. They believe that altering the natural course of the Río Verde ignores the significance it has to the communities for food, water, construction materials and above all their social, political, and economic environment. The huge economic rewards would not benefit the peoples and they don't want it. The hydroelectric project is promoted "to improve life," while the people say that "in reality the projects bring negative consequences that affect our territories and drown our lands. In this sense, far from generating sources of permanent employment, it will provoke greater migration and displacement of the communities."
My friend has no expectations whatsoever that Governor Ulises Ruiz will lose his position. She believes I am naive to think that the federal interior secretary, Juan Camilo Mouriño, can restrain Ruiz. Her belief is seconded by many, such as authors of the "Oaxaca in Pie de Lucha" blog who deduce that the caciques of the state have grand plans –– for their own futures. They cite, for example, that in December of 2001 investigators from UNAM (Autonomous University of Mexico) discovered evidence of uranium near Pochutla, Oaxaca.
According to the National Institute of Statistics and Geography (INEGI), Oaxaca is a state with high mining potential, particularly in non-metallic minerals whose production in 2004 was 106,138 tons, representing 5.2% of national production and an increase of 97% over the previous year. In Noticias of February 25, 2008, a new article says now is the time for development in Oaxaca– mining is next, for gold, silver, iron and zinc. Investments are being sought, with five of six named exploration companies being foreign. In the words of Norberto Roque, the General Coordinator of Mining for the Secretary of the Economy who visited Oaxaca, mining "represents a broad potential for growth, so we affirm that mining in Oaxaca (will) be the motor for regional development."
Ulises Ruiz, and those whom I think of as his subordinate thieves, are looking to the Plan Puebla Panama, the exploitation of uranium, minerals, despoilment of the Pacific coast to build tourist hotels, wind generators on the Isthmus, hydroelectric dams, and more. Leaving aside the poverty programs which are a source of ready cash, what motivates a fight to the death among caciques in the Sierra Sur? Opportunities for extracting money, as well as literally extracting gold, answer the question:
Another question: the affected peoples object, but can they fend off the robbers?
As for Heráclio Juarez, and even Section 22 of the National Education Workers Union, the epic nature of this crime story relegates them to the footnotes. Grand corruption, abuses of power by all parties, and disregard for the lives of affected populations read like a who-dunnit. No region of Oaxaca is unaffected.
Click here for more Narco News coverage of Mexico
Narco News is funded by your contributions to The Fund for Authentic Journalism. Please make journalism like this possible by going to The Fund's web site and making a contribution today.

- The Fund for Authentic Journalism
For more Narco News, click here.