Laughing at the News in Oaxaca
Governor Ruiz Smiles as the Secretary of Government Lays Down New Rules
By Nancy Davies

Commentary from Oaxaca
January 28, 2008
Yesterday's edition of Noticias de Oaxca (Sunday, January 27, 2008) printed in the "Entredichos" Opinion section, written weekly by Luis Ocejo Martinez, a confirmation that Ulises Ruiz Ortiz (universally known as "URO") did indeed meet with Secretary of Government Mouriño, recently appointed by Felipe Calderon and widely regarded as the enforcer of Calderon's edicts. URO now admits he lied when he denied being called to meet with Mouriño. Or kinda admits it.
Ocejo confirms that Mouriño laid it on the line with URO as follows:
Guarantee governability in the state and attend to the teachers and social movement demands before there's another uprising.
Free movement leader Flavio Sosa as a way to lower the temperature of the

APPO

.
Re-establish normality in the government and re-occupy the Palacio de Gobierno, or "Palace of Government" – the governor's building which was abandoned during the 2006 uprising, was turned into museum by

URO

and used for private fiestas.

URO

must re-establish his government offices in the palacio. URO's motive for closing the building was that it is located in the zócalo and is a regular site for protests.

URO

decided this stream of demonstrations was not good for tourism.
Deal with the problems of Benito Juarez Autonomous University of Oaxaca (UABJO in its Spanish initials).
UABJO just suffered through an election for rector of the Law School. Each candidate hired his own thugs. I happened to be walking outside the law school building Friday night and saw a couple of hundred armed riot police waiting on the sidewalk. The two who spoke with me said they were waiting for the election results "and the explosions." The police actually arrested four known porros (hired thugs), but later released them. Apparently all elections at UABJO are conducted in a similar way; the rival groups represent the faculty, the students, and the union of university workers. A fourth group, hidden from view, is that of the governor, whose candidate in fact was chosen. UABJO is considered to be among the worst public universities in the nation because of corruption and lack of resources.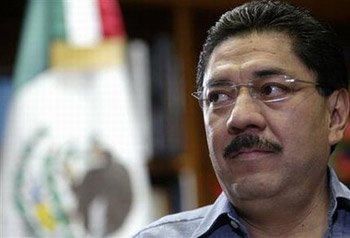 Governor of Oaxaca, Ulises Ruiz Ortiz
Photo: D.R. Olganza.com
The big
#5
is that Governor Ruiz consider accepting an ambassadorship to some foreign country. This was slipped into the conversation as a measure to re-establish governability, and Ocejo offered no further details about this federal government proposal, except that it seems genuine. Rumors of such offers abounded under Fox, too, along with
URO
's refusal.
Why am I laughing? Sometimes Oaxaca seems absurd beyond belief, but you haven't yet heard the funniest part: there is already a contest over who might succeed URO as interim governor, although his term lasts nearly three more years. The first "candidate" is none other than "El Chucky," Jorge Franco Vargas, the man allegedly behind the assassinations, disappearances, torture and imprisonment of participants in the popular movement. Franco Vargas is said to be going around to various municipalities to sell himself – or, better said, buy himself the appointment.
But wait. The real power pushing for URO's collapse is actually former governor Diódoro Carrasco Altamirano, who is now a federal senator. When Carrasco's term of office as Oaxaca's governor ended in 1998, he tried to place his friend José Antonio Estefan Garfias as next in line. He was thwarted by José Murat, who won the election (dare we say by fraud?) and became the next authoritarian governor. Murat was followed by Ulises Ruiz, giving Oaxaca what you might call an excessive losing streak, of 18-years duration. Anyway, according to Ocejo, Garfias' name is being promoted for the thus-far-not-available position of interim governor.
Carrasco now sits in the federal government as a senator, and in position to wield more influence on the federal level. However, Felipe Calderon may need no nudging- he's facing seven "Egyptian plagues," which is to say, political plagues. The first is the blazing-guns narco war; second is the rise of prices "into the stratosphere" as Ocejo says; the rule of URO who Ocejo characterizes as "one of the dwarfs who happily dance in their reign of Lilliput"; global warming climate change; national opposition to the predicted attempt by the PAN to sell off more of the state-owned oil company, Pemex; and the risks of the USA's economic decline crippling Mexico, as has been mentioned at Davos, and which Calderon heartily denies.
"Entredichos" does not lack enumeration of the plagues within Oaxaca – he reports: an ex-policeman responsible for repression being saved by being appointed to the position of Chief of Transit in Cancun; aggression against a priest (Alejandro Solalinde) and undocumented immigrants entering from Central America via Tehuantepec; the impunity in the state during and after the 2006-2007 repression– nothing has been done at all regarding the 26 dead.
Also, a woman, Eurofrosina Cruz Mendoza was refused a position as mayor in the town of Santa MarÌa Quiegolani, setting off a storm of women's opposition to the policy. Twenty percent of the 418 Oaxaca municipalities govern by the system of traditional local norms ("usos y costumbres"). In 82 rural communities women still do not have the right to vote or to be elected. On November 4 the authorities of Quiegolani refused to honor the election of Cruz Mendosa on the grounds of her being a woman and well-educated to boot. She is going from municipality to municipality publicizing how she was barred because of her gender, raising complaints against machismo.
Meanwhile, half a dozen innocent children were victims of pederasty but their parents were bought off when they tried to take it to court (the accused were quite wealthy); one Chinto Indian has killed another in a political quarrel; and the state Association of Notaries Public (who have more legal responsibility than in the U.S., for example) has been exposed in a scandal. That's the news for January, and January isn't yet over.
Sunday evening the governor appeared on channel 9, his state channel The scene was set at the foot of the broad marble staircase inside the ex-government-palace-museum (who knows what to call it?) with a table and chairs set onto a small rug in this odd location, surrounded by vases of flowers and ferns. The cameras kept panning up the stairs to the hall murals. URO demonstrated his ease by wearing a leather jacket and a shirt open at the neck. The TV showed scenes of his accompanying Eurofrosonia Cruz, scorned as president, with his comments that women should have all rights. (Every time he refers to usos y costumbres, saying they should be respected, he smiles. Oaxaca residents know he is trying to do away with that system so that political appointees of the PRI can enter those municipalities. It's frightening to see him smile. He repeated many of the "profound reforms of the state" programs I have heard before, including the Cuban program (of three years ago) to teach reading to the many who are illiterate, and repeated his stock answers to parents' demand for better education. He insisted that important changes are underway. He assured the listening public that the incomplete highway to the Isthmus will be completed. He assured us that the two million Oaxaqueños who still live and sleep on dirt will be recipients of a program for installing cement floors, another federal program of several years ago. Mobile health units are going around the state taking blood pressures and tests for papillomavirus (HPV). These services are free.
In other words, he trotted out the same programs which are exposed daily by Noticias as false, fraudulent or uncompleted, with photos of half-built roads and decaying abandoned structures. I thought URO spoke smoothly and fluently, answering whatever questions with replies I have heard before in response to other questions, such as the question about the bad condition of universities which he answered not by addressing his share this week in hiring porros, but by assuring the audience that thirteen new universities will be constructed around the state. The three big problems of water, garbage and transportation are being studied, and URO hopes, he says, to have these problems resolved in the next three years.
During all the answers to every question, URO smiled. Usually URO's smile hides his true intentions. This time, I could have interpreted his smile as a mask hiding his true defeat – at least for the moment. Because on Monday morning, Noticias showed on its front page a photo of the human rights organization from Europe (La Comisión Civil Internacional de Observación por los Derechos Humanos (CCIODH)) who are returning to Oaxaca to meet again with the APPO. The Commission will also go to Mexico City to address the federal senators. A second article appeared regarding Padre Uvi, the movement's beloved priest, testifying before the judge that Flavio Sosa could not have committed crimes on the same dates when he was already in prison. Meanwhile, the radio station affiliated with Noticias announced that URO will return to the palacio de gobierno in February – I guess they'll have to remove the TV stage set from the show I just watched, which was set in the palace. One deduces that Calderon is very serious about not having the southern tier of Mexico in revolt while he is attempting to hold Mexico's economy together and avoid revolution. Also, I deduce that URO doesn't want an ambassadorship in Madagascar or whatever other remote country can be found. Judging by his actions, he would prefer to remain in Oaxaca, even with the necessity of appearing to clean up his act.
Especially interesting to an observer is the implication in all this, that indeed the federal government knew well what was happening in Oaxaca, vís a vís the failures of state government powers, and the repression. Three months ago it was not convenient for Calderon to do anything; he needed the PRI's votes and hence, Ruiz. The situation has changed. Mouriño has been sent in to make sure that URO does not spark another outburst from the social movement by his repressive policies. A second uprising, like the first, would once again grab national and international attention; and now there are sympathetic APPOs in several states. Calderon has bigger worries on both the national and global stage, as Ocejo points out.. In the big picture URO is small fry, and Calderon's view of Mexico's future takes precedence over placating the PRI. URO may smile on the outside, but on the inside… I doubt it.
Click here for more Narco News coverage of Mexico
Narco News is funded by your contributions to The Fund for Authentic Journalism. Please make journalism like this possible by going to The Fund's web site and making a contribution today.

- The Fund for Authentic Journalism
For more Narco News, click here.