Al Giordano's Northeast Tour Expands to Philadelphia, Baltimore, Montreal and Montpelier in May 2007
May 2 at Robin's Bookstore in Philly, May 4 at Red Emma's in Baltimore, and More Events Added
By Chris Fee

Newsroom Coordinator
April 26, 2007
Following a series of lectures, workshops, fundraising events and book readings in New England and New York, Narco News founder and publisher Al Giordano's Northeast tour has been extended into the month of May, heading farther both south and north.
At each stop, he brings collector's edition proofs of Nancy Davies' "The People Decide: Oaxaca's Popular Assembly" (2007, Narco News Books, with appendix by George Salzman and a preface by Al) and DVDs of video newsreels from Narco News' 2006 coverage of the Zapatista Other Campaign in Mexico.
More important, Al reports, is that he is meeting so many Narco News readers and co-publishers face-to-face, and is hearing ideas, proposals and contributions that help us do this work of reporting about the drug war and democracy from Latin America. I saw how it happens in New York last week. More on that in a moment, but first…
Here are some of the upcoming events that Al will attend:

Red Emma's Bookstore and Coffee House
D.R. 2007 Red Emma's Bookstore
Wednesday, May 2:
A talk at
Robin's Bookstore in Philadelphia
(6 p.m., at 108 South 13th Street), the city's oldest independent bookstore, about the social struggles in Oaxaca and the rest of Mexico highlighting the experiences of Nancy Davies and other Narco News reporters that continue to bring and translate the news. Collector's edition proofs of "The People Decide: Oaxaca's Popular Assembly" will be made available there.
Thursday, May 3: An "Authentic Journalism 101" workshop in Philadelphia that is open only to affiliate organizations and individuals of the Media Mobilizing Project.
Friday, May 4: A book event at Red Emma's Bookstore and Coffee House in Baltimore (7 p.m. at 2640 St. Paul Street) where you can also grab a copy of the collector's edition of Davies' book:
"From the Lacandon jungle of Chiapas to the streets of insurgent Oaxaca, from the killing fields of the war on drugs to the heights of the new Latin American popular insurgency, Al Giordano and Narco News have for the past seven years been the most consistently dead-on sources of information about developments south of the U.S. border. Combining journalistic integrity with a commitment to justice, Narco News has been an essential tool for anyone wanting to break through the corporate media's veil of ignorance and disinformation regarding Latin America. On his first U.S. tour in ten years, founder and editor Al Giordano will be offering his perspective on authentic journalism and recent developments in Mexico and elsewhere in Latin America."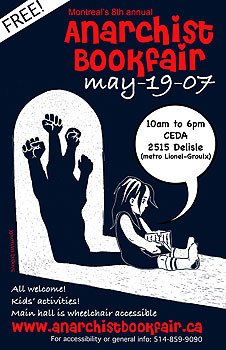 Montreal Anarchist Book Fair
D.R. 2007 Montreal Anarchist Book Fair
Mid-May:
Events to be announced in New York City and Cape Cod in Massachusetts (contact Al directly at
narconews@gmail.com
if you're in either of those areas and want to be involved).
May 19: Narco News will have a table at the Montreal Anarchist Book Fair, "the largest anarchist gathering in North America." (9 a.m. to 6 p.m. at CEDA, 2515 Delise, near the Lionel-Groulx metro stop). If you can help staff the table please contact Al at narconews@gmail.com.
May 21: Reunion of the Vermont Yankee Decommissioning Alliance and the anti-nuclear Clamshell Alliance in the Montpelier, Vermont area. (If you are a video photographer in that region, and can help Al conduct some interviews there for the The Village Square Clamshell Alliance archiving project, please write him at narconews@gmail.com).
May 22: Black Sheep Books in Montpelier, Vermont, on "Oaxaca, Chiapas, and the Other Campaign: Organizational Models from Below." Nancy Davies' book will also be available there:
"With a new and repressive regime above, and increasingly rebellious social movements from below, Mexico is on the verge of a wider conflict. Al Giordano will share his eyewitness observations from ten years on the ground in Mexico, and travels during 2006 throughout the Mexican Republic reporting on Zapatista Subcomandante Marcos's national "Other Campaign" tour. He will provide background and context about the Popular Assembly movement in Oaxaca, document the electoral fraud of July 2006 that imposed an illegitimate president on the country, and offer some possible scenarios of what could come next. Also, he'll show two or three brief video newsreels from Narco News' 2006 Other Campaign coverage."

Black Sheep Books
D.R 2007 Black Sheep Books
Al's first extended visit to the United States in the past decade has brought us back in contact with valued old friends and collaborators and made us many new ones. We are therefore considering the possibility of sending him on a September-October tour in other parts of the country. If you are a student or professor at a university and would like to sponsor a lecture or workshop by Al in the fall, please contact me directly at chris@narconews.com.
I had the pleasure of attending the Narco News Seventh Anniversary Celebration in New York on April 18, where I met an amazing group of colleagues. Journalists from our Other Journalism with the Other Campaign project spoke: Kristin Bricker, Joshua Bregman, Simon Fitzgerald, Barrett Hawes, R.J. Maccani and Mark Swier told of their experiences last year accompanying Zapatista Subcomandante Marcos on his national tour of Mexico and reporting it through Narco News. The gracious hostess Marianne Vitale served up a delicious feast of seafood and vegetarian fare. I met Michele Stoddard of The Fund for Authentic Journalism there, and investigative journalists including Mike Ruppert, Cynthia Cotts, Paul DiRienzo, and Joannie Moossy, the photojournalist Lionel Delvigne, and also Johanna Lawrenson of the Abbie Hoffman Activist Foundation. Cha-Cha Connor (of Supermodels for Oaxaca) and Kelley Gaunt performed great music with Al and his Dobro guitar. And so many other talented and committed people came from far and wide. I agreed with Mike Ruppert who commented that the event "gave us hope," which is no small thing in this day and age.
Now that I'm back "somewhere in a country called América," I know now more than ever that these kinds of gatherings north of the border are so vital to our work down here. They not only help keep the project going financially, but they also deepen our international "safety net" of friends and allies, and provide us with fresh plans and ideas that come from all of you who attend them. I'm sure it will be that way, too, in Philadelphia, Baltimore, Montreal, Montpelier and the next stops along the tour. We hope you can be part of it.
Narco News is funded by your contributions to The Fund for Authentic Journalism. Please make journalism like this possible by going to The Fund's web site and making a contribution today.

- The Fund for Authentic Journalism
For more Narco News, click here.