Surrounded by 800 Heavily Armed Police Agents, San Blas Atempa, Oaxaca, Refuses to Surrender
The Autonomous Government Was Violently Expelled on Wednesday, but the "Official" Government Has Not Yet Returned to City Hall
By Al Giordano and Bertha Rodríguez Santos

The Other Journalism with the Other Campaign in San Blas Atempa, Oaxaca
March 2, 2006
SAN BLAS ATEMPA, OAXACA; MARCH 2, 2006: The town of San Blas is under siege, surrounded by 800 state troopers and other heavily-armed police who invaded the Popular Autonomous City Hall here at three o'clock on Wednesday morning. They came in the pre-dawn hours following the indigenous Zapotec town's traditional Carnaval fiesta. By Wednesday night there were violent confrontations between townspeople and riot cops, gunshots, teargas canisters shot from cannons, attack dogs, and at least four arrests — people who once again, as occurred here 14 months ago, were imprisoned as a consequence of being wounded in the streets.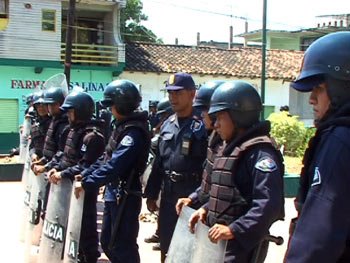 Photo: D.R. 2006 Bertha Rodríguez Santos
The siege came exactly fourteen months to the New Years Day in 2005 that the townspeople — tired of the simulation of democracy imposed upon them by a local political boss that is backed by a repressive state government — took the City Hall in a history that became known to the Republic and the world on February 6 when they welcomed Zapatista Subcomandante Marcos at the building. The rebel spokesman then visited five political prisoners from the town at the nearby penitentiary (a visit that is documented in the video newsreel "
Marcos Goes to Jail
" by the Other Journalism with the Other Campaign) and vowed that their local rebellion would soon turn national.
The violent occupation by state troopers came nine days after the arrest, on Sunday February 19, of Nicanor Salud — a local moto-tricycle driver (the primary form of transportation between San Blas and nearby Tehuantepec) involved with the town's Civil Resistance Committee, and one of 72 local citizens with arrest warrants over their heads stemming from the January 2005 uprising. Police planted a pistol and a bag of cocaine on Salud and brought him to the federal prosecutor's office in Salina Cruz. There, 500 indignant San Blas townspeople surrounded the building and threatened to occupy it if their compañero remained prisoner. Salud still faces federal charges for the pistol and drugs used justify that arrest. As he was being released on bail, state prosecutors arrived to detain him on the 2005 arrest warrant, but indigenous Zapotec women of the town, in their colorful huipil blouses and skirts, created a human wall around him and whisked Salud off to safety. Salud then addressed a multitude from the steps of the Autonomous City Hall, declaring himself a "Zapatista and adherent to the Sixth Declaration of the Lacandon Jungle." And the townspeople, by public assembly, voted to do the same, en masse.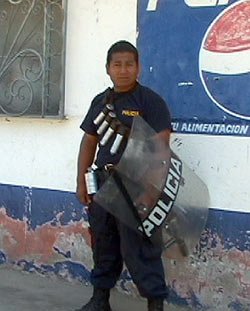 Photo: D.R. 2006 Bertha Rodríguez Santos
By last week, the tension continued to rise to the point where Oaxaca governor Ulises Ruiz Ortiz sent a lawyer for his regime to visit the five political prisoners from the town. The governor offered them immediate release if they would sign a pre-written statement denying that they are political prisoners and denouncing Subcomandante Marcos' definition of them as such. One prisoner, Roberto Ortíz Acevedo, heavily pressured by his family, signed the paper and walked out of prison the same day. Four others — Alfredo Jiménez Henestrosa, Jorge Reyes Martínez, Feliciano Jiménez López, and José Luis Sánchez Gómez — refused to sign and remain behind bars as prisoners of conscience. They hold the keys to their own cells but refuse to use them if it means having to lie to gain their freedom.
The Other Journalism entered San Blas on Wednesday six hours after the siege and found a City Hall surrounded by 200 state troopers in dark blue helmets, heavily armed with AK-47 rifles, billy clubs and teargas canisters. Unable to enter the city center, your journalists headed to nearby Jalapa del Marques to alert the authentic journalists of El Cortamortaja newspaper and later in the afternoon both news teams succeeded in entering San Blas.
Today, Comandante José Manuel Vera Salinas, director of the state Public Safety Police, told journalists that he counted with 800 police agents in this town of 14,000 inhabitants, that "to safeguard the security of all the inhabitants of San Blas… and reestablish and maintain the state of law."
He blamed violence on Wednesday night on "drugged youths" that, he said, fought with police. But local citizens tell of a different version: that a police officer had kicked an elder man, and other citizens of the town, including women and senior citizens, descended upon him, and that a melee ensued that led to five wounded citizens being picked up and brought to jail.
Today, Thursday, during a press conference, community leaders Dr. Francisco Salud and Professor Augustín Villalobos Talín offered four demands on behalf of the Civil Resistance of San Blas Atempa:
1. Freedom for the town's political prisoners (the above-mentioned men imprisoned since 2005 plus four more as of yesterday: Obed Baylon Ortíz, José Luis Villalobos Osorio, Juan de la Rosa and Leobardo Ortíz Ruiz).

2. Cancellation of the 72 arrest warrants against local citizens stemming from the events of January 2005.

3. That the state government apply a writ of "disappearance of powers" against the "official" government of the town.

4. That former mayor and state representative Augustina Acevedo Gutiérrez (the local cacique or political boss) be deprived of her legislative immunity from prosecution to face criminal charges.
Shortly after the press conference, pickup truck number 968 of the state police arrived at the doors of Dr. Salud's office and eight troopers took position at the door with AK-47 rifles and tear-gas cannons. "My babies are inside," gasped an elder woman.
A commander then knocked on the health clinic door and asked to see the community leader. The pretext: "The government chief of staff wants to talk with him," he said, cell phone in hand. Dr. Salud did not come to the door. (The chief of staff already has Dr. Salud's phone and cell numbers). The police contingent then left, and drove by one more time, slowly… Townspeople have blocked vehicular access to the street at both ends.
Other media — independent and also pro-government — arrived on Thursday. And at 2 p.m. on Thursday afternoon the situation appears to be in a stalemate: the Autonomous government no longer occupies the City Hall building, but neither does the "official" government of the town. The tension rises in the tropical heat and so far there appears to be no solution to the abyss between imposition from above and fighting spirit from below. San Blas Atempa — invaded by the shock troops of Oaxaca Governor Ulises Ruiz Ortiz — is a time bomb ticking rapidly.
Click here for more Narco News coverage of Mexico
Lea Ud. el Artículo en Español
Legga questo articolo in italiano

Narco News is funded by your contributions to The Fund for Authentic Journalism. Please make journalism like this possible by going to The Fund's web site and making a contribution today.

- The Fund for Authentic Journalism
For more Narco News, click here.