Francisco "Pacho" Cortés Close to Freedom
Maintaining His Innocence Against "Narco-Terrorism" Charges, the Colombian Social Fighter May Soon Leave His Bolivian Prison

By Alex Contreras Baspineiro

Narco News South American Bureau Chief
January 4, 2005
"Time passes, the neoliberal system adapts to new circumstances, the repression continues, and the poor do not rest in the struggle for justice, dignity, and freedom"
– Francisco "Pacho" Cortés in his latest manifesto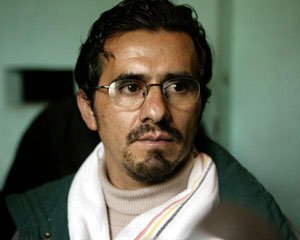 "Pacho" Cortés at a December 15, 2004 press conference
Photo: Noah Friedsky
Cochabamba, Bolivia, January 4 2005:
Twenty-one months have passed – more than 630 days and nights of unjust imprisonment – but the truth seems to have finally beaten the Bolivian justice system and pressure from the United States. Francisco "Pacho" Cortés is very close to winning his unconditional release.
Pacho and Bolivian coca growers' leaders Claudio Ramírez and Carmelo Peñaranda were arrested on April 10, 2003 – during the administration of former president Gonzalo Sánchez de Lozada – accused of terrorism, armed uprising, espionage and drug trafficking.
No Bolivian who watches TV or reads the newspaper can forget that fateful day in April when the so-called "terrorists" were apprehended in a spectacular show supervised by the U.S. Drug Enforcement Agency (DEA), as confirmed by a high-ranking Bolivian cabinet member.
First the prisoners were held in the Chonchocoro maximum-security prison; they are currently in the San Pedro prison in La Paz.
In all this time, the Public Ministry (Bolivia's justice department) could not prove any of the charges against Cortés or the other accused. Because of this, the prisoners should now win their freedom according to Bolivia's New Penal Procedural Code (NCPP). The code states that prisoners cannot be held for more than eighteen months without receiving a sentence.
On December 7, 2004, Judge Nancy Altuzarra set Cortés's bail at 100,000 bolivianos (about $12,000 dollars), with the condition that he must remain in La Paz. Cortés's lawyers believe that according to the NCPP his release should be unconditional, and appealed the ruling. Though the conditions were not changed, bail was lowered to 65,000 bolivianos ($7,900) after the appeal.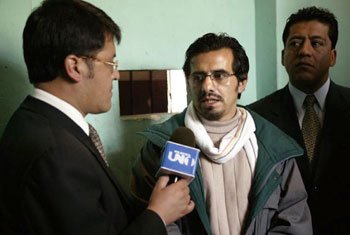 Photo: Noah Friedsky
On December 24, human rights organizations paid the bail of 65,000 bolivianos for Cortés's conditional release. They had waged an international campaign to raise the sum, with the help of the group
Vía Campesina
. However, Pacho's decision was different: he wanted his unconditional freedom.
"My decision is made," Pacho told Narco News today in a phone conversation from his cell in San Pedro prison. "It's freedom or jail, and this time I am stronger than ever."
Faced with the court's ruling for parole that would consist of house arrest, reporting to the court once a week to sign an attendance sheet, and visiting the narcotics enforcement office once a week, Cortés's defense submitted a constitutional habeas corpus for an unconditional release..
"This is a political trial," said Cortés, "because other interests in Bolivia and Latin America are being manipulated from the United States. That is why my struggle will continue until I obtain absolute freedom. I am innocent and I will maintain that until I leave prison."
International Solidarity
Throughout this time, many organizations have been working on a campaign to free Cortés, including the Coordinating Committee for Latin American Rural Organizations, Vía Campesina, the European Parliament, and others.
"We denounce, before the national and international community, the unjust detention of Fransisco Cortés, a peasant-farmer leader and human rights activist in Colombia, and a political prisoner in Bolivia," they said in a joint communiqué. "This is a civil rights violation in which the Bolivian authorities are trying to criminalize Latin America's social movements."
These groups claim that while Cortés has been in custody, there has been a series of irregularities and procedural errors. These include human rights violations, when prisoners were submitted to cruel and degrading treatment at the hands of masked authorities. Their privacy was violated when they were violently taken from their beds, half-naked and tied up.
The organizations also denounced the Colombian citizen's illegal detention and unjustified solitary confinement in the Chonchocoro maximum-security prison, the lack of proper medical attention, the lack of any real evidence to justify his incarceration, and the partiality of the executive and judicial authorities.
Defense lawyer Andrés Zúñiga said that throughout Pacho's imprisonment, none of the accusations against him or the other prisoners could be proven, and that what they deserve is freedom, pure and simple.
The Criminalization of Protest
According to Cortés, the U.S. government tried to link him to these crimes as part of a strategy of criminalizing the continent's and world's social movements in name of the false war on terrorism and drugs.
From his cell in San Pedro, Pacho said that he feels calm because in a few days – maybe a few hours – he could get his freedom.
In his latest manifesto, "El arte de jugar con la libertad de los pobres" ("The Art of Playing with the Freedom of the Poor"), Pacho writes:
"I am about to have completed twenty-one months as a prisoner, bearing the pressure of capitalist and political interests, who in their obedience to the North American empire have made Bolivia a country run by the legacy of dictatorial governments propped up by corruption and state narco-terrorism, where injustice rules.

"We have been arbitrarily and unjustly imprisoned. It was an investigation fixed to accommodate the dictatorial interests of the Gonzalo Sánchez de Lozada administration, which resulted in accusations with no basis. They went so far as to buy witnesses in both Colombia and Bolivia, and are now standing in the way of our freedom and right to a fair trial based on human rights.

"Our case has enormous political and economic importance for imperialism: it is the only way to demonstrate the supposed fight against narco-terrorism to the world, and therefore justify their investments and dehumanizing militarization. That is how the invasion, penalization and criminalization of social life is being legalized – it is a strategy to take ownership of the richness and patrimony of humanity, and to exterminate anyone who stands in the way.

"There is a definite reason for keeping us imprisoned – there is no danger of us escaping, interfering with the investigation, or not attending the trial. If that were so, where are the thousands of dollars invested in our case? What about the eighteen months that the law sets as sufficient time for an investigation? If that were so, I would have taken one of the many opportunities I have had to escape, I would not be asking for solidarity from the organizations and human rights activists around the world that know me, working for a fair trial and a legitimate defense."
Cortés has become recognized for standing up for the rights of his comrades. He represented all the prisoners, both in Conchocoro and in San Pedro. Now, when he fights for his freedom, he has in mind the formation of a Global Political Prisoners' Network, so that from now on it will be possible to defend the rights of those unjustly accused by the system.
His manifesto continues:
"I don't understand Bolivia – the the system of injustice, the defense and application of inhuman rights. Sometimes I don't understand the difference between the popular political opposition and the forces of neoliberalism, when everything based on political and economic manipulation. They even bargain with human rights and the people's social patrimony; bosses and strongmen adapt more and more to new situations and don't care if they must violate laws or ignore the clamor of the poorest to do so.

"It worries me how the jails of the world keep filling with poor people. Especially now, there is a tendency towards social/political prisoners, who – for having raised our voices to denounce injustice or fight for dignity and freedom or demand work, education, healthcare, land, and other basic necessities of life – are locked up by those who use power or apply the law in favor of neoliberalism. Meanwhile, the tycoons who massacre the people, extract wealth, rob state budgets, exploit farmers, workers, soldiers, police, and proletarian people in general, are set free or exonerated from any crime and rewarded with important posts, or sent away to enjoy their riches in some other country. Look at this so-called justice, at who is punished and who is rewarded! That's why we remain followers of Christ, why our sacrifice, our persecution, humiliation, threats, torture and imprisonment must serve to strengthen the struggle. If that is how they crucify us, it is better to die on our feet rather than live as slaves or leave a world in disgrace for our future generations."
Another one of life's paradoxes: a human rights activist who fought for years for others was accused by a tyrant's regime of being a "narco-terrorist." Now Pacho, nearly a free man, still has much more to tell, to write, and above all, to live.
Lea Ud. el Artículo en Español

Narco News is funded by your contributions to The Fund for Authentic Journalism. Please make journalism like this possible by going to The Fund's web site and making a contribution today.

- The Fund for Authentic Journalism
For more Narco News, click here.