A "Terrorism" Case Without Proof in Bolivia
The Persecution of Pacho Cortés Backfires on Washington
By Al Giordano

Part II in a Narco News Investigative Series
February 16, 2004
EL ALTO, BOLIVIA; SUNDAY, 10:00 A.M., JANUARY 25, 2004: It is visiting day at Bolivia's maximum-security prison. I arrive at the penitentiary gates to interview alleged "international terrorist and narco-trafficker," Francisco "Pacho" Cortés, and, suddenly… all visits are cancelled.
Wives, girlfriends, children, and nuns, about 40 of them arriving over the next half hour to visit the inmates, are left standing outside in a brisk wind, wondering aloud why they can't see their loved ones. "This has never happened before," murmurs a Catholic nun, a weekly visitor of the imprisoned, from beneath her black habit. Cell phone numbers of the various inmates (yes, inmates can have cell phones here) – which include a former Bolivian president and a famous Colombian chef, both convicted of narco-trafficking – are not answering calls. The guards won't say what has happened to cause the surprise cancellation of Sunday visits, except that the inmates are all in lockdown, without access to the outside world.
An hour later, as the aspiring visitors mingle, confused, around the entrance, a red jeep comes roaring up the dirt road toward the penitentiary – it's a TV crew from Channel 21 in La Paz – spinning a cloud of dust behind it. The gates of the San Pedro Choncocoro Prison swing wide open, in expectation, to receive the broadcast journalists. The guards, in olive-green uniforms, usher the reporter and cameraman inside, to the scene of what government officials now claim was an alleged escape attempt by prisoners, one of whom, Pacho Cortes, has little motive to attempt flight, since he has not been convicted of any crime, and is only there awaiting his day in court.
The penitentiary of San Pedro de Chonchocoro sits in a vast, barren, plain. There are concrete walls, watchtowers, and guards inside, milling about. Outside the chain link fence that surrounds the complex, a young boy, about seven, shepherds his family's sheep with a stick. Two Aymara women, cross-legged on clumps of grass outside the gate, offer to sell fresh milk in recycled soft drink bottles for visitors to deliver to any of the one-hundred-and-four prisoners inside. The milk is not flowing, today, though. The gates remain shut.
An hour ago, as my taxi wove around puddles and through small streams that slice the otherwise dusty roads that lead to the prison, I thought, "no wonder they put a maximum penitentiary way out here, in the middle of nowhere." There is no hiding place 'round here, nowhere to escape to even if an inmate were to somehow get past the high stonewalls, the ubiquitous armed guards, and the multiple barbed-wire fences. The dogs that guard the sheep and cows in this valley of potato fields bark at anything that moves. They growl and bear their teeth at the passing, spinning, tires, chasing ominously alongside the taxi. Keep your hands in the window, kind reader. The dogs aren't wagging their tails. They will take a bite out of any stranger who attempts to cross this flat plain on foot.
And yet "attempted escape" is exactly the pretext that the officials use today to prevent the Narco News interview of Francisco "Pacho" Cortés, who nears nine months behind bars awaiting a show trial on charges of "narco-terrorism."
Cortés is an unlikely candidate for such infamy. He is well known in his own land of Colombia as one of the mediators of peace talks between the government and the National Liberation Army (ELN, in its Spanish initials). He is internationally known as a human rights advocate, and as a voice for peasant farmers.
Last April, Pacho Cortés traveled to Bolivia, staying with friends, here in the city of El Alto, on the outskirts of La Paz, near the metropolis' international airport. Three days later, at dawn on April 10th, police stormed the house and arrested Cortés on charges of "terrorism."
A "Manual" of Dubious Origin
Bolivian prosecutors have charged Pacho Cortés with attempting to establish a guerrilla army – "ELN-B," or a supposed, according to them, new branch of the Colombian ELN, in nearby Bolivia.
Attorneys and human rights organizations that have reviewed the case say that the evidence prevented by the State is flimsy at best, and shows strong signs of being manufactured. The ELN has not, in its more than forty-year history, attempted to open up chapters in other countries. And yet the case projects a presumption that the Colombian guerrilla organization behaves as some kind of a McDonald's or Burger King chain. The key piece of "evidence" offered against Cortés is a 64-page alleged guerrilla manual, a report supposedly directed to the Colombian ELN, which reads mostly like it was cribbed from some world almanac with page after page of mundane lists describing Bolivia's regions, industries, economy, government, military bases, and culture.
The alleged manual – Narco News was able to review it but was advised by counsel that mere possession of the manual would be considered an act of "terrorism" – has a few pages that could be described as seemingly guerrilla, but they read more like a paramilitary manual than any authentic guerrilla manual ever penned, with flourishes of obtuse, seemingly Marxist, rhetoric. Although authorities claim that a Colombian ELN militant authored the alleged manual – they claim, against all historical record, that Pacho Cortés is that guerrilla operative and author – that claim deviates from the Colombian ELN's own historic Modus Operandi. Reporters familiar with Latin America's guerrilla movements and their history, upon reviewing the "manual," laugh aloud in gallows humor at the ways the "manual" is so obviously contrived, a simulation, a slow-class intelligence agent's fantasy of what a guerrilla army does or would supposedly do if it expanded into Bolivia.
For example, the manual calls for "kidnappings" to finance the new, allegedly Bolivian, guerrilla army in the early, clandestine, stage of its construction. That recommendation runs directly counter to how the Colombian ELN and other armed guerrilla movements have historically founded their organizations. Use common sense when considering this reality: If you're constructing a guerrilla army, do you really engage in kidnappings – or any illegal activity that creates a higher risk of getting caught – in the early, clandestine, stage? To the contrary: all guerrilla revolutionary theory and praxis specifically urges against it. Isn't the main task, in the beginning, presuming someone did want to form a guerrilla movement in Bolivia or anywhere, to not be discovered? The concept of conducting "kidnappings" to raise financing in the starting phase of an armed guerrilla movement – as this "manual" claims – is particularly dubious since, to obtain a ransom, one has to either appear in person to receive cash physically, or leave a paper trail through bank accounts in an age when transactions are increasingly, more easily, traced than ever before.
The Embassy's Hand
But something else is more interesting about the arrest of Pacho Cortés: At dawn, last April 10th, various Commercial Media reporters and editors received phone calls alerting them that a "Colombian terrorist" had been arrested in El Alto. Those calls did not come from Bolivian police, or military officials, or prosecutors. The calls came, according to La Paz journalists at various media organizations, from Erik Foronda, an official of the United States Embassy on Arce Street in La Paz. The media circus had a ringleader that was not Bolivian. This circus tent was Made in USA.
Since the Bush administration and its Latin America fixers have never made any secret, since September 11, 2001, of trying to promote the idea that national liberation movements in Colombia – indeed, that even peaceful, legal, politically registered parties and social movements in Bolivia and other countries – constitute "international terrorist" and "narco-trafficking" organizations, Mr. Foronda's phone calls were not all that surprising to the reporters at ATB TV, Channel 2, La Prensa, and La Razon, among others, who received them. Oh, the Embassy says there is "terrorism" here, that it is exported from Colombia, and that it is imported to Bolivia. It's been making such undocumented claims for a while now. The previous ambassador, Manuel Rocha, and the current ambassador, David Greenlee, are already famous in this land for bandying about the T-word to anyone who will listen, in order to stain any growing social or electoral movement with the brush of "terrorist."
The other thing about the alleged manual that raises eyebrows is its apparent claim that a political party – one of the biggest political parties in Bolivia, with Senators and Congressmen, the fastest-growing, most successful, most authentically popular, party that this country has seen in decades – and its base organizations among coca growers in the Chapare region, somehow serve, according to the montage, as the identical base organization of this alleged guerrilla organization. Journalists, human rights observers, and other watchers are neither surprised that the claim of the Embassy circus is that this political party is the MAS party, the "Movement Toward Socialism" party, the base of 2002's presidential runner-up Evo Morales' national electoral support.
Last April, after Pacho Cortés was arrested and, in May, after he was shipped to the isolated Chonchocoro Penitentiary, the invocation of the word "terrorist" was enough to cause fear among human rights organizations, not one of which raised its voice in critique of the montage. That dynamic of fear has changed, though, since last October's fall of the regime of ex-president Gonzalo Sanchez de Lozada, a.k.a. Goni, and his exile to Miami. The fear has lifted. But until then, fear was the dominant cloud that obscured attention to the many irregularities in the case of Pacho Cortés.
In the climate of that fear, the Embassy ringleaders – who controlled every aspect of the Goni administration – opened up a second flank in this "terrorism" montage. Now that they had Pacho Cortés, a Colombian, behind bars in Bolivia, the campaign was expanded to target 29 Bolivian citizens… who just happen to be, all of them, important political and labor leaders… plus two minors of age.
Narco News has since had the opportunity to interview many of those Bolivian political leaders prosecuted as co-defendants of the Colombian Cortés. Those interviews, and the story behind the case mounted against them, will be published later this week as part of this series.
Meanwhile, the Embassy-backed montage against this Colombian social activist in Bolivia is coming apart at the seams.
Human Rights: From Defense to Offense
LA PAZ, BOLIVIA; TUESDAY, 4 P.M., FEBRUARY 3, 2004: The La Paz Assembly for Human Rights has called a press conference here, today, in its offices, at 4,200 meters above sea level, and reporters – print, radio, TV and Internet – have climbed two more flights of stairs higher to cover the story.
After nine months on the defensive, and after the prior week's unsubstantiated claim of an "escape attempt" by the man awaiting trial, Pacho Cortés, attorneys and human rights organizations are today taking the offensive for the first time since his incarceration ten months ago. There are three TV crews, plus radio and newspaper reporters present. Joining this press conference is the accused man's son, Andrés Cortés, 18, three members of the national Congress, his defense lawyers, and other human rights groups.
"We are here to publicly state our worry about the treatment of Cortes because we feel his life could be in danger," begins Dr. Sacha Llorenti, President of the Permanent Assembly of Human Rights of Bolivia. "Two months ago, the bureau of prisons ordered him transferred from Choconcorro to the prison here in La Paz, but the Judge, Dr. Gonzalo Sánchez Castelú, refuses to allow the prisoner to be moved. This is a dilation of judicial responsibility that must be overcome."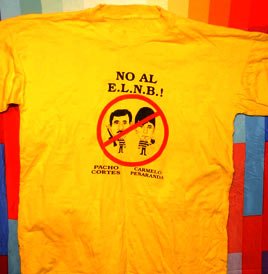 "Who is paying for these things?" asks attorney Rogelio Mayta. A shirt (above) and a poster (below), part of the "media campaign" against Pacho Cortés.
Photos: Narco News Agency
Andrés, the defendant's son, who came to Bolivia alone last year, at the age of 17, to try to get his father released from prison, speaks, too: "My family and the entire human rights movement of Colombia is very concerned," he says. "We fear for his health and we fear for his safety. Now they're saying he tried to escape. That's because the charges against him are so weak that they have to now invent other charges to keep him. These charges of terrorism are not just against my father. They are against my entire country. They say that we Colombians are terrorists. I hope that those of you who came today can help us."
One significant development in the case, answering the call of young Andrés Cortés, is that one of the rising stars of Bolivia's recently-overhauled court system, defense attorney Dr. Rogelio Mayta, advisor to the powerful National Senator Filemón Escobar, and author of Bolivia's new law protecting, and allowing the unionization, of housekeepers and other domestic servants, has now stood up to captain the defense of Pacho Cortés.
Rogelio Mayta is here, today, too, at this press conference, defending his latest client. He says: "The most worrying thing is the media campaign against my client. Another prisoner at Chonchocoro bought a tee shirt with a caricature of my client, calling him a terrorist. Who is paying for these things? Fancy posters have been made, too, with this accusation. Meanwhile, they deny to us, the defense, key documents in the case. And we fear for his life in Chonchocoro. He has an ulcer, a hernia, and other health problems. So, today, we have filed a motion before the judge that my client be moved to the San Pedro de La Paz prison here, where there is better medical care. All we ask is that the order that has already been made to transfer him be complied with, so he can survive until his day in court."
In other words, the defense is now playing offense. And the Embassy case against Pacho Cortes and his co-defendants is so flimsy that the offenders will, now, have to start playing defense.
The Story Comes Full Circle
THAT EVENING, as I'm organizing my notes, with an eye on the day's election results in the United States (wondering when the Bush administration will similarly start branding U.S. opposition parties as "terrorist"), hours from the 5:30 a.m. deadline when I must be at the airport to leave Bolivia, for now, the phone rings from one of our sources: "Pacho is out of isolation. He's still at Choncocoro, but he is in general population and can have visitors again. Of course, in your case, there's no time left to interview him."
As the events of recent days show, the authorities are more apparently worried that the truth about this manufactured case will break through those walls and that the story will run free, than their claim that the defendant might physically attempt a dangerous escape.
Sound the alarm, Mr. Ambassador: Your "case" against Pacho Cortés and the Bolivian political leaders is fraudulent… Your "case," in fact, sabotages the battle against terrorism, because it cries "wolf" where no terrorism exists… and the truth, Mr. Ambassador David Greenlee… the truth has already escaped.
Next:
"They're Real People Who Are Winning Elections"
Bolivian Case Against Political Party Leaders Seeks to Criminalize Democracy
By Al Giordano
See Part I of this Series:
Terrorists? Or Political Prisoners?


Washington Tries to Destroy Bolivian Social Movements


By Alex Contreras Baspineiro
Lea Ud. el Artículo en Español

Narco News is funded by your contributions to The Fund for Authentic Journalism. Please make journalism like this possible by going to The Fund's web site and making a contribution today.

- The Fund for Authentic Journalism
For more Narco News, click here.