Argentina: Decriminalizing Medical Marijuana
ARDA and the "Parentella Law"
By Luis Gómez

Part III: Argentina at the Gates of Reform
August 27, 2003
"The Harm Reduction and HIV/AIDS Prevention Program, carried out among drug users in the city of Rosaio, confirmed both the efficiency and the direct benefit that comes from utilizing drug users community health workers," begins Gustavo Hurtado, secretary of the Harm Reduction Association of Argentina (ARDA, in its Spanish initials). "In Argentina," he continues, "we have proven that specifically trained drug users can be the best avenue to contact their peers, especially during interventions in communities that society has flung into conditions of extreme poverty and marginality."
Silvia Inchaurraga, president of ARDA, agrees, adding that "this program is actually being reproduced in various areas and unusual urban bases, with the respective support of ARDA, the ETS/AIDS Program of Santa Fe Province, and the LUSIDA Project of the National Health Ministry. In May of 2002 the program was monitored by the UN Joint Program on HIV/AIDS (ONUSIDA). We recieved an official vist, durring which ONUSIDA commited to financial support for the project's continuation into the next period."
The successful growth of the program, led by the National University of Rosario's Center for the Advanced Study of Drug Dependencies and AIDS (CEADS), relies on the will of some brave politicians interested in making changes to drug policy. Ichaurraga says it clearly: "The Province of Santa Fe has been a pioneer in Argentina by putting this issue on its public health agenda. For this, an agreement was signed between the Ministry of Health and the National University of Rosario." This agreement has had a high impact on the growth of the program's activities. "It meant, first of all, the possibility of advancing a regional campaign of harm reduction, needle exchange, and contraceptives, in all public facilities (hospitals, dispensaries, etc.). This will be the first time that a State agency launches a campaign of this nature in conjunction with ARDA and the University of Rosatio," says Inchaurraga.
ARDA's professionals continue to widen their horizons. Currently, they are starting new programs in the city of Córdoba, with the university student population, and in the nation's capital of Buenos Aires. Gustavo Hurtado says "various harm reduction projects have been approved, recently, with funding from the UN's Global Fund for the Struggle Against Tuberculosis, Malaria and HIV/AIDS, granted through the Ministry of Health. The pioneering model of Rosario inspires many of these programs. These include the Carlos Gardel Center for Prevention and Assistance for Addiction, another public health initiative being carried out in the city of Buenos Aires.
Before setting this subject aside, it should be noted that for the members of ARDA, harm reduction "is not just about avoiding risks and harms such as overdoses, HIV, or hepatitis; it is also about avoiding risks and harms such as arbitrary arrests, the use of false evidence, imprisonment, and violations of human rights," says Silvia Inchuarraga. "We are conscious that while drugs are prohibited, harm reduction can never been complete."
"Harm reduction is for us, at a macro level, working to modify the legislative policies, in particular repealing Article 14 of Law #23737, which penalizes drug possession for personal use. On a micro level, it means working to reduce the damage this law does to individual people, and that's why we also distribute information about rights, about what to do in case of detention, and legal advice." Silvia Inchaurraga concludes, which brings us to the central theme of this report, another of ARDA's running battles:
The Proposed "Parentella Law"
In a previous installment, we spoke about how ARDA was a front in a war. Nothing illustrates this like this issue of marijuana, in which ARDA's ranks have multiplied against the enemy.
On July 1st – the same day that President Kirchner nominated legalization advocate Eugenio Raúl Zaffaroni to the Supreme Court – a group of congressmen from different provinces, led by Buenos Aires representative Irma Parentella of the Alternative for a Republic of Equals (ARI) party, began a discussion in the Lower House of Congress on a proposal to permit the therapeutic use of marijuana. Supported by the experience and knowledge of ARDA's membership, the congressmen have thus opened a new dialog on the issue of drugs in Argentina.
The ARI party was founded by Representative Elisa Carrió, a presidential candidate in the last election. Two years ago, Carrió launched Argentina's biggest congressional investigation into money laundering in Argentina.
And according to Silvia Inchaurraga, Parentella presented the proposal "with the endorsement of other legislators… convinced by the patients' testimony and conscious of the international evidence of marijuana's therapeutic use." In this light, we can read the text of the proposal:
"Article 2: The medical prescription of all varieties of cannibanoid compounds, as therapeutic agents or in the treatment of cancer and

AIDS

, is permitted. The prescription and administration will follow the model of 'Clinical Investigation of Individual Cases,' when professional physicians believe that its use could have significant advantages over other available drugs."
In the documentation included in the law's text, Representative Parentella clearly analizes the posibilies for improvement that medical use could bring to cancer and HIV/AIDS patients.
"These considerations," says Parentella, "shouldn't minimize the serious problem that improper drug consumption represents for users and for society, but suggest that the strategies for aproaching it should be based on the reality of the phenomenon and not on some frightening fantasy."
What's more, "there are many drugs, many relationships they can have to the consumer, and many forms of addiction. Now, when dealing with health problems like those mentioned, with AIDS and cancer, and with producing important improvements in the quality of life of the sick, we could conclude that the (highly unlikely) risk of addiction is an acceptable 'cost' for the benefits gained. In fact, morphine, a more addictive substance than marijuana, is used as a cheap and effective anesthetic for intense pain."
This proposal's approval – which would be the first of its kind in Latin America – would be a definitive step in the creation of non-prohibitionist public policy. However, says Inchaurraga, "it's notable that Representative Parentella has separated the issue of general decriminalization or legalization of drugs from this debate. From ARDA's point of view, we agree that this should be treated exclusively as a problem of science, a science 'based on evidence and not on myth,' something very difficult in the current context of prohibition and the war on drugs."
In any event, the day this proposal was introduced, Representative Parentella told the newspaper Página/12, that "one of most likely challenges to the proposal will be the possibility that this drug creates addiction in users, an argument refuted by looking at the rate of marijuana addiction, which is less than that of tobacco and comparable to that of legal pharmaceuticals." This goes against one of the principal myths against the herb's use, one that is now widely recognized in other parts of the world.
At this point, kind readers, it must be asked, how has ARDA involved itself in this decisive initiative for the future of the struggle against prohibitionist policies in our América? Well, Silvia Inchaurraga tells us: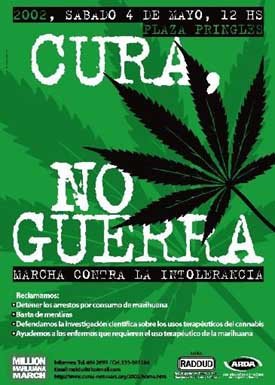 Flier from "Cures not Wars" march
"The Harm Reduccion Association of Argentina was the first organization to push the debate on marijuana's therapeutic uses in this country. We organized the first global 'Cures not Wars' march in May 2002; a march for the defense of scientific research on the therapeutic uses of marijuana, for aid to the sick who need it, and for the decriminalization of its use. Recently, in May of 2003,
the march in Argentina
was the second largest in the world, with 12,000 people at the festival against intolerance, part of the national campaign for the decriminalization of drug possession for personal use. We believe that these demonstrations can have a key role in public opinion on this issue; they allowed studies and legislative advances in other countries – such as Canada, Spain and the United Kingdom – to be debated scientifically for the first time in this country. They also brought wide media coverage and a massive participation."
As a result, Inchaurraga says, "ARDA professionals from diverse disciplines, such as medicine, criminal law and psychology, are coming to participate in the process. ARDA has accompanied this process with a wide dissemination of its manual on harm reduction and marijuana… That has strengthened the scientific research on therapeutic use against the obstacles, such as the policy of prohibition." And so we go, one step at a time – but securely, with resolve.
And while Congress debates the Parentella Law, ARDA is now working on several projects to reinforce their position from below. Silvia Inchaurraga says that the group "is working with the Santa Fe AIDS Prevention Program on the possibility of a pilot study on marinol." (Marinol is a prescription pharmaceutical utilizing THC, the active ingredient in marijuana.) Together with CEADS, on August 22, ARDA held a symposium on "Therapeutic Uses of Marijuana" "with the participation of Dr. Aquiles Roncoroni – a member of the Nartional Academy of Medicine – and Representative Parentella in a table discussion with medical, legal, and psychological specialists."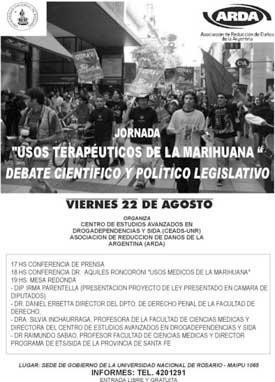 This event – free to the public – took place in the National University of Rosario. In the invitation, Gustavo Hurtado wrote: "this event, unprecedented in Argentina, hopes to contribute to an academic and political debate on a timely issue… and to help defend the foundations of a legal project… It also hopes to begin a necessary reflection on the relationship between science and legislation, and on why and how scientific research should guide drug policy, not the other way around."
Dr. Roncoroni, a historic figure in the history of Argentine medicine, explained what was said in the symposium during an interview with the newspaper La Capital de Rosario on August 24: "in general, those who ban marijuana aren't physicians, but politicians. And politicians don't function based on reason, but on votes. The issue of marijuana should be left in the hands of science, not politicians or police."
But that's not all, kind readers. As we having been outlining in this series, ARDA is discussing prohibitionist laws and issues as decisive for the future of this US-imposed "War on Drugs" as drug legalization itself… an issue we'll bring to your screens in our last installment of this series called "Argentina on the Threshold of Reform." So, please, stay with us until this voyage reaches its end.
Lea Ud. el Artículo en Español

Narco News is funded by your contributions to The Fund for Authentic Journalism. Please make journalism like this possible by going to The Fund's web site and making a contribution today.

- The Fund for Authentic Journalism
For more Narco News, click here.