Gary Webb: Vindicated
Family Members of the Intrepid Investigative Journalist — Soon To Be Immortalized By An Upcoming Hollywood Movie — Share Their Story With The World

By Bill Conroy

Special to The Narco News Bulletin
September 24, 2014
Sometimes, they kill the messenger, and the message takes flight, only to return later, with its truth self-evident to a new generation. And then, the messenger is resurrected.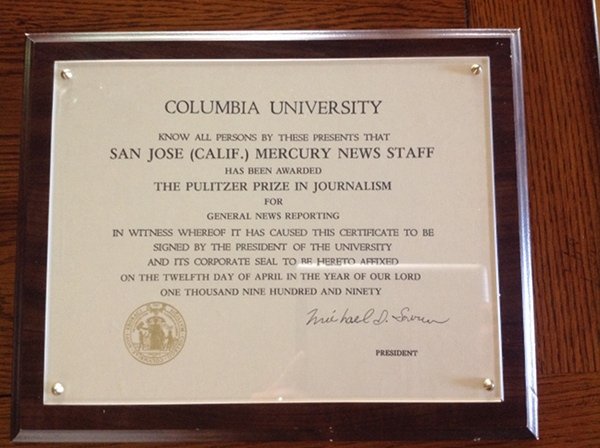 Framed copy of Gary Webb's Pulitzer Prize in Journalism, which he shared with five other reporters at the San Jose Mercury News for their coverage of the 1989 Loma Prieta earthquake.

DR 2014

Webb family photo collection
Investigative journalist Gary Webb wrote a series of stories in 1996 for the San Jose Mercury News that documented the US-government-backed Contra insurgents' drug pipeline into Los Angeles. More importantly, Webb's reporting revealed that
CIA
assets were involved in the sale of millions of dollars worth of cocaine in South Central LA to raise funds for the Contras, who in the 1980s, during the presidency of Ronald Reagan, were seeking to overthrow the democratically elected Sandinista government in Nicaragua. The cocaine — transformed into cheap, addictive crack rocks at the street level — hit Los Angeles and spread like the plague. The proceeds from the drug running by the "CIA's army" were then used to buy weapons for the Contras, fueling more misery and bloodshed in Nicaragua.
The series was pioneering in that the stories and all the documentation also were posted on the Internet, and quickly went viral without the help of the establishment media, creating a national sensation that threatened to buckle the CIA's pretense. A media smear campaign against Webb, seeded by the CIA, followed on the heels of that threat, a campaign that attacked Webb personally while sidestepping the facts he had uncovered. The major agenda-setting media — including the New York Times, Washington Post and Los Angeles Times — were unrelenting in their assault, with the Los Angeles Times putting some 17 reporters on the assignment to destroy Webb, the messenger.
The Mercury News' top editor, Jerry Ceppos, ultimately buckled, threw Webb to the wolves and penned a letter of apology to the readers for the Dark Alliance series. Webb was subsequently banished to a small Mercury News bureau in Cupertino, Calif., south of San Francisco — and some 125 miles from his home and family in Sacramento. He was forced to write stories normally assigned to cub reporters. His career was effectively destroyed, and he would never again get a job with a daily newspaper. He took his own life on Dec. 9, 2004.
"Gary saw the writing on the wall. It took him a long time to sign a resignation letter, and I don't blame him," recalls Sue Bell Stokes, Webb's widow, ex-wife and enduring friend — since they began dating in high school. "Then he finally signed it, on December 10, and that was the day he was found dead, on December 10, seven years later."
But in Webb's case, his message did not die. And it has now returned, in the vessel of a major Hollywood movie set to hit theaters nationwide on Oct. 10, starring box-office sensation Jeremy Renner. And that means Webb's legacy, and his Dark Alliance investigate series, are about to push back hard against the lies and petty self-interests that worked to destroy his life — though they could never vanquish his spirit. You see, you can't kill the truth, because it survives even death.
"Gary was sure that people had forgotten about him, and a lot of people had," Bell Stokes says. "... I suggested he start looking at other newspapers. And he said, "No one is ever going to hire me after Dark Alliance.'
"Yeah, his resume was incredible," says Webb's oldest son, Ian, now 30. "All these awards [including a Pulitzer Prize]."
"Christine helped him send out all the resumes and clips," Bell Stokes adds, referring to Webb's daughter, now 24.
"'I talked to people, no one's calling me back,'" Bell Stokes recalls Gary telling her. "And he got just more and more depressed.
"And then he thought the movie would never be made. He said, 'No one will ever do this movie.' I said, 'One day you're going to be vindicated.' I really believed that.
"And he said, 'No, it's never going to happen.' He thought it was crazy that I thought he one day would be vindicated, but I always did, that one day it would happen. I knew what he wrote was good, and it was right, and I just thought this is going to come out."

Gary Webb on the job.

DR 2014

Webb family photo collection
Recently, Narco News sat down with members of Gary Webb's family — Sue, Ian and Christine — in Sacramento to talk with them about the upcoming major motion picture based on Gary Webb's life, "Kill the Messenger." They also talked about Gary's life, his journalism and his Dark Alliance series. We gathered in the backyard of Sue Bell Stokes' home in a Sacramento suburb, on the patio, as the sun was still shining down on the Earth from bright blue skies above, and while a wildfire raged some 30 miles down the road, being fought by a force of several thousand firefighters.
But that fire was no danger to us at the time. The fire set off by Gary Webb and his Dark Alliance series, though, is a different matter for those who sought to contain it. With the release of the movie "Kill the Messenger," the messenger is about to be resurrected from the ashes, along with his message, and that truth won't be extinguished easily — even by an army of first-responder propagandists from the CIA and national media.
The Big Picture
The most important thing about the movie, for her, Sue Bell Stokes says, is that her children liked it.
"I was so worried about that," she says.
In July, the producers with Focus Features, which is releasing the movie, flew the family down to Santa Monica, Calif., setting up a special screening for them at the movie center there.
"And we went into the screening room by ourselves, just the four of us [including Eric, 26, Gary's other son], and I was so glad we were alone because it was so emotional," Sue recalls. "I felt good because I could tell by them watching the movie that the kids all liked it and enjoyed it. I felt so much better after that."
Ian says there "was just a good vibe" to it all.
"One of my dad's favorite movies, besides The Good, the Bad and the Ugly was The Big Lebowski, and right on the outside of the screening room they had every characters' life-size poster from "The Big Lebowski" just lined up," Ian recalls. "Out of all the movies they could put in there."
"On the same wall as the "Kill the Messenger" poster," Christine chimes in.
Sue says the road to that screening room to watch the initial cut of Kill the Messenger was long, with a lot of setbacks along the way, though.
"There were a couple other times that there were movie options going on," she says. "… I mean this has been going on for years. The movie was going to be made at one point by Universal. Then the recession hit and Universal went up for sale, and they backed away from it.
Christine adds: "They didn't want to do any depressing movies, only happy movies."
Sue stresses, though, that screenwriter Peter Landesman never gave up hope. "He said, 'We're going to make this movie someday,' Sue adds. "Peter and I kept plugging away, and then all of a sudden Jeremy Renner got interested. I mean there were other actors that read the script."
Ian says Tom Cruise was close, and Brad Pitt, "but it was just talk, too."
Finally, once Renner signed on, everything began to click.
"The movie went into production about a year and half after he showed interest," Sue says. "He stuck with it. Jeremy Renner wanted to make this movie so bad."
Ian says as soon as Renner "attached to the movie, it was just day after day of stories. It was wildfire all of a sudden."
The Webb family says they all have been impressed with the effort the movie's producers have put into making it as realistic and believable as possible, from the script, to the actors and down to the smallest details.
"When we were in Atlanta watching a scene, they had do pick-up shot. So they redressed the set to look like the interior of our house," Ian says. "In that scene, my character walks downstairs and asks what's going on. Jeremy Renner turns to him [the stand-in] and says, 'Ian, why don't you go back upstairs.'
"Jeremy even looked in my direction, and I actually thought he meant me, because we had just gone down stairs to watch this scene. That's when it really hit me. It kind of comes in these waves of realism."
The art department for the film went to great lengths to incorporate things from Gary's life into the scenes, including reproducing a pair of Gary's reading glasses; using posters from Ian's bedroom at the time; recreating the jerseys worn by the kids' hockey team, the Rebels; and even assuring that a motorcycle used in the film was the same color, make and model as the one owned by Gary.
"No one else would give a shit. They don't know what color bike he had or what poster I had in my room, or what he had on his desk," Ian says. "The music too, like the moment where there's a Mott the Hoople song — it meant so much for me to hear that song."
Also important to the family is the fact that the people involved in making the movie are invested in the project, and care about the events portrayed in the movie. It wasn't just a money grab for them, the family says.
"When we were at the filming in Atlanta, they were talking about how the actors and actresses, and everyone involved in the movie, were doing it because they care about it, not just for the money," Christine says. "Someone said we're basically calling up actors and actresses on family vacation asking them if they want to come to hot, humid Atlanta for $8 to film a movie."
"They're not getting paid much," Sue adds, "and Oliver Platt cancelled his vacation to do the part because he really wanted to play [Mercury News Executive Editor] Jerry Ceppos so much."
She says it was clear to her that Jeremy Renner also has put his heart into the project. "He spent so much time with us in Atlanta [where the film was shot], had lunch with us, warmed up to us, gave us hugs, and he was so excited about it, and moved by it too," she says.
Sue is particularly impressed with another aspect of Kill the Messenger: The fact that it gets the story right.
"We're just so happy Gary's going to be vindicated, and he is in the movie. The core of the movie is right. The truth is there.
"I think Gary would have liked it. I think he would have really liked the movie, and been so excited about it," Sue adds.
"It just feels right," Ian says. "It makes everybody who was bad look bad, and everyone who was good look good. It just serves everyone a little bit of justice."
The Media Assault
Kill the Messenger may offer up some sweet vindication for Gary Webb, but the real story behind the movie is a tale of anguish for the family. The big media that teamed up and piled on in the smear campaign against Webb not only ruined the career of a great journalist, but also helped to tear apart a family's future.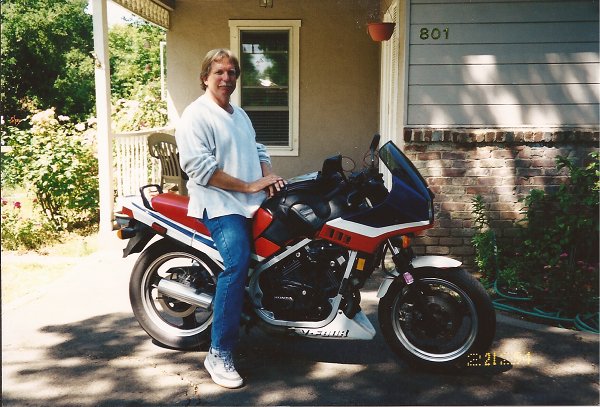 Gary Webb was an avid motorcycle rider, a pastime he also taught his children to enjoy as well.

DR 2014

Webb family photo collection
"If they [the New York Times, Washington Post and Los Angeles Times] hadn't written what they did, then Gary would have been able to continue on with his story like he was supposed to do," Sue insists. "A lot more would have come out. Gary wouldn't have had to quit the paper to write the book [
Dark Alliance: The

CIA

, the Contras, and the Crack Cocaine Explosion
], and he would have continued on as a newspaper reporter."
She says the newspapers attacking him went to great lengths to "criticize him, looking into his personal life."
"It was was just stupid," she adds
Sue recalls the day Gary went to San Jose to meet with the editors about Dark Alliance, after the media assault was in full swing. "He was so nervous that morning about going, because he didn't know what was going to happen," she recalls. "He knew it wasn't going to be good, but he never expected them to write that letter [to readers apologizing for the series].
"Gary was like, 'I guess I better put on a jacket' and everything, and he was dreading the meeting. He knew they probably would not let him write more stories, but he didn't think that [letter] was going to happen. He called me and told me."
The letter to the readers went through five or six drafts, back and forth between Gary and the Mercury News editors, Sue says.
"Gary was saying, 'You can't write this,' and they had his name all in there and that he agreed with it. I said, 'You can't let them put that in the paper. It makes it sound like you agree there were problems with the story.'
"Then they were really upset with him because he would not go along with it. He never signed anything, but they just finally put the letter out there."
Gary was "baffled about why the media attacked him," Sue recalls. She adds that he assumed the pressure was too much for the Mercury News, and they finally cracked.
"I think there was more to it than [the other newspapers just being embarrassed]," Sue says, however. "I think the LA Times was embarrassed, because [Dark Alliance] was right in their backyard. Gary really, truly believed [that].
"… But honestly, back at that point [when Gary was being attacked], I thought someone had gotten to them [Ceppos and the Mercury News], someone in the government, at the CIA.
"It was so odd to me that Jerry Ceppos was so protective of Gary and stood behind him and was really angry about what everyone was writing, and then all of a sudden it started changing. And I think maybe it came from above him [Ceppos]: 'Maybe you guys need to back away from this story.'"
Banished
As the smear campaign orchestrated by the big mainstream newspapers against Gary and Dark Alliance continued, Gary's editors at the Mercury News began to stonewall his efforts to pursue the story, ultimately pressuring him to resign. For his family, it was a very difficult ordeal, one that his kids really didn't understand at the time.
"Gary did the follow-up stories [on the original Dark Alliance series after the media attack started], and he wasn't getting calls back [from the Mercury News editors in San Jose]," Sue says. "He sent those stories [from Sacramento] to the editors [in San Jose] and he said, 'I don't know what they're doing. There not not working on them.'
"Then Jerry Ceppos started denying Gary even had stories, saying they were just notes he sent," Sue adds. "And Gary's like, "Those were not notes; they were stories I sent them.' It was just weird stuff."
But Gary went to great lengths to keep the turmoil he was experiencing away from this children. "He did such a good job of not showing that anger to us about his work," Ian recalls.
When Gary was relocated to the Mercury News bureau in Cupertino, a penalty for doing his job too well, Sue says he was very upset. Cupertino is located some two-and-a-half hours by car from the California state capitol of Sacramento, where Gary was based as an investigative reporter for the newspaper.
"I remember Gary's mother was there the day he left, and he started crying," Sue says. "The whole reality of what was happening was so overwhelming to him. 'They're making me go to Cupertino, leave my family and kids. What am I going to do?'
"Then he went to Cupertino and had to write stories, like the one about a horse dying of constipation. He was doing stories he did when he first started as a reporter, and he would not let them use his byline."
Ian says, "It just sucked. It didn't make any sense to us, at that age especially.
"At that time, too, I just didn't realize the … pride of your work," Ian adds. "Until you get a little older, and start doing something you like, you don't get that. For all I knew, my dad would be good at anything. I just knew he loved to write.
"But when you're looking at your dad, especially as a kid, he's invincible. He can do anything. So yeah it's been this realization ever since he passed away, and I've gotten a little older and started doing something I love, yeah, if someone told me I couldn't do that ever again, it would kill me, it would ruin me. So I can understand now."
One of the deepest blows for Gary, Sue says, is when the Mercury News took Dark Alliance off the Internet. She says Gary worked with the newspaper's Mercury Center to assure his story and documentation were made available online, a novel approach at the time.
"Gary felt it was important to have his documentation out there so he went to them [the Mercury Center]," Sue says. "'This is really important,' he said, 'because there's a large unbelievability factor here, so we can put all this stuff online.' And he was very proud of that too."
"I remember when they took it off the Internet," she adds. "They just kept sticking it to him, over and over, and now they've taken the series off the Internet. He was really, really hurt by all of it, by the way they treated him."
Sue adds that she appreciates greatly that Narco News has the Dark Alliance series on its website, and has "kept it alive for so many years. That's great, because it's nowhere else."
Ian adds: "Yeah it's perfect. I use that because a lot people don't realize who my dad is, and they just go straight to that site [at Narco News].
"I remember my dad told me about the school [the Narco News School of Authentic Journalism, held annually, which Gary Webb helped to launch in 2003], and he showed me a couple pictures when he returned [from the school in Mexico]," Ian says. "I knew he liked it, and it was something he was excited about doing."
Unmasking The Dark Alliance
At the time Dark Alliance broke on the national scene, Ian says he was 12. But even at that age, he says he knew it was a big deal.
"We went down to South Central LA to a rally in a high school auditorium, the whole family," Ian says. "I remember seeing how big of an impact it was having and how many people had shown up."
Sue says he was doing a lot radio interviews in the house. "Things were more exciting then," she adds, "and we had just moved into this house when he wrote Dark Alliance.
"The house needed remodeling, and we had just gone on vacation, and Gary was off working on the story and doing interviews. It was just a chaotic time."
Ian says he doesn't know how his dad made the time to do everything he did while chasing down huge investigative stories like Dark Alliance. He says Gary coached their hockey team, even taking the time to write a newsletter every week, called the Rebel Yell.
"And he passed it out to all the parents every week," Ian says. "He'd have all the stats, all the passes. I just didn't realize how detail oriented he was with those kind of things."
Sue recalls the day when Gary finally connected the dots that led to the Dark Alliance series. He was ecstatic. Sue, however, admits to having a sense of dread.
"I came home one day and he said: 'You're not going to believe what I figured out today. You're not going to believe it. I figured out where these drugs are going and being sold.'
"He said he had traced it to South Central Los Angeles. And he was so excited about that because he found that connection. I remember that day so clearly," Sue says, "because it made me nervous. I just felt uncomfortable about it.
"But those are the kind of stories Gary did. If he thought it was a good story, he was going to write it. He didn't think about the consequences of it, what might happen. He thought if you told the truth, it doesn't matter. If you lay it out there, it really doesn't matter. And then he learned the hard way."
The Man
What the establishment media did in their assault on Gary Webb, in its effect, went far beyond killing an important story. They also ruined a good man. Gary wasn't a heel in a suit, like so many of those who, out of jealousy or fear for career, chose to attack him.
He was a family man, a loving father who instilled working-class values in his children, and who above all else strived to be fair and to tell the truth. Gary Webb was one of us.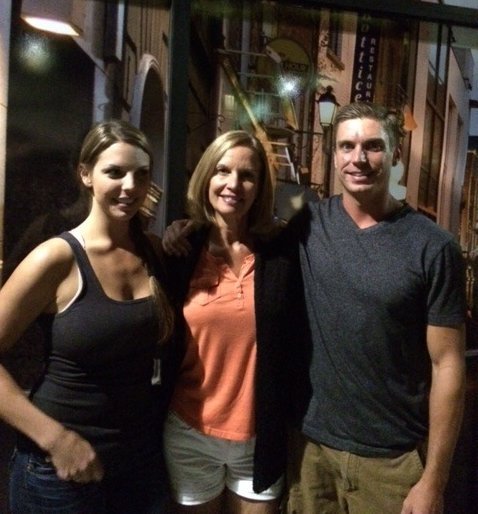 L to R: Gary's daughter, Christine; his longtime companion and mother of his children, Sue Bell Stokes; and Ian, Gary's oldest son. Gary's other son, Eric, is now 26.

DR 2014

Bill Conroy
"My dad had a don't-take-crap-from-somebody kind of attitude," Ian says. "He was really good at defending himself and making sure if he was arguing about something that he had all the facts to present his argument."
Christine says her dad "always told us to stick up for ourselves, and he was extremely reasonable if I had any issues, and I was talking to him about it.
"He would look at it from both sides and have a reasonable response, and he would never baby us. 'You need to be fair about everything,' he said. And he always told us not to put up with crap from our friends, people we were dating, ourselves. Always expect the best."
Sue stresses that he also was young at heart and "always liked to have fun" with his children.
"Yeah, he hated people who were too serious about stuff," Ian recalls.
Ian says his father "loved being a kid and never wanted to grow out of that stage, and he made sure we had fun with him while doing some of those activities."
"I don't understand how he found so much time to have fun with us, when he was such a serious busy guy in this other life," Ian adds.
And Gary did work hard. He was passionate about his work.
Sue says he would stay up late writing, a lot.
"When he got really into a story, that's all he did. He would just stay up and write and write, and get just a couple hours of sleep," she recalls. "He just threw himself into it and just wanted to get the story done. He was that kind of writer."
"Yeah," Ian adds, "looking over his shoulder while he was writing, forget about it. He was like, 'You need something?'
"I understand that now. When I'm editing [video] and someone's trying to talk with me… I respect that now."
Christine says her dad "had so much in his head. He knew everything about everything."
He was a huge Jeopardy fan. Sue says he would watch the TV quiz show and answer all the questions, "and I said, 'You need to go on the show. How do you know this?'"
Ian recalls that his girlfriend got upset at him once because he was telling her something about a car, about the mechanics.
"She said, 'Where did you hear that?"
And I said, "My dad." And she said, "He doesn't know everything, OK."
And I said, "Well, so far he's been pretty right on about everything."
Christine adds that one of the last times she saw her father, "he offered to read [Dr. Seuss'] Green Eggs and Ham to me at the doctor's office."
"And I was like 13," she adds. "I was like, 'No dad, you're not reading me Green Eggs and Ham. … He was a smartass, and he was a brat."
Ian adds: "He trusted you. It was important to have that trust."
"It was big to tell the truth," Christine says. "Always tell the truth."
Narco News is funded by your contributions to The Fund for Authentic Journalism. Please make journalism like this possible by going to The Fund's web site and making a contribution today.

- The Fund for Authentic Journalism
For more Narco News, click here.