Take This Job and Shove it
Authentic Journalism Draws a Line in the Sand in the Alamo City
By Bill Conroy

Special for The Narco News Bulletin
May 14, 2014
On May 1, International Workers' Day, I walked into my publisher's office mid-afternoon, after he finally came into work that day, and resigned as editor-in-chief of the San Antonio Business Journal, a position I had held for 20 years.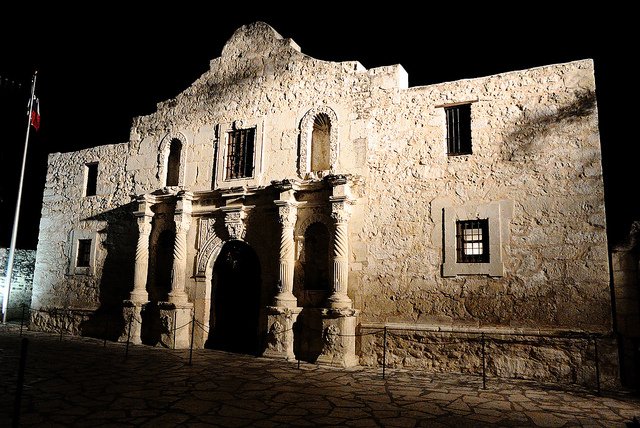 The Alamo, located in the heart of downtown San Antonio, is an old, rather small former Spanish mission that has been around for some 300 years. The San Antonio Business Journal, by contrast, was launched a little more than 25 years ago — with Bill Conroy serving as editor-in-chief for 20 of those years. Photo Courtesy of RedTail_Panther

CC

[Some Rights Reserved]
During that period, the newspaper was always profitable and I never had to fire a single person. Consequently, I had a kickass veteran reporting staff, most of them there at least 10 years — a rarity in the news business today. Ironically, then, I was the first person I ever fired, and it was due to two primary reasons.
The first is as old as the newspaper industry itself, and baseball for that matter. When a coach of even a winning baseball team has a philosophical disagreement with a new general manager, over players or strategy, the coach almost invariably loses, and is out of a job. The same scenario holds true in the newspaper industry.
I had a philosophical disagreement with a new publisher, who failed to appreciate the line of separation between editorial and advertising/sales. At one point, after a long discussion over why I would not allow my reporters to write advertorial copy had come to an end, the publisher said he planned to "continue pushing the line" between editorial and advertising, and if it ever became a problem, he would just say someone other than the journalists wrote the ad copy.
I knew then that my days were numbered. I could go out with my integrity, or I could trade it in for my salary. In the end, for me, at this point in my career, with some 30 years in the journalism business, I knew my salary was the only trade I could make and have any hope of continuing as a journalist. That was reason No. 1.
But reason No. 2 has everything to do with why the new publisher, a 30-something salesman with no editorial background and limited management experience, was in the job to begin with, replacing a publisher of 20 years who had previously served as a newspaper editor. Though I can't speak for other journalists, I suspect much of what I'm going to say here will ring true for many in other parts of the business as well.
American City Business Journals (ACBJ), a Charlotte company that operates the largest business weekly chain in the nation (some 40 newspapers), owns the San Antonio Business Journal. In recent years, ACBJ has been undergoing a quite public transformation, something company officials now refer to as "Pinstripe"— after discarding the prior project name, "The Business Journal of the Future," seemingly because it conveyed a misleading message similar to one displayed in many Texas icehouses: "Free Beer Tomorrow."
At any rate, Project Pinstripe was ACBJ's way of coping with the realization that the Internet was here to stay, and that the free news now available online had totally altered its paid-subscription business model. Essentially, the new Pinstripe model calls for devoting the entire newsroom's resources to putting stories online first, for free, and then repurposing them for the print product, and then charging the audience to read those repurposed print stories — both online as "digital print content" and in the weekly newspaper (counting on the fact that the online readers and print readers aren't the same and will never figure it out).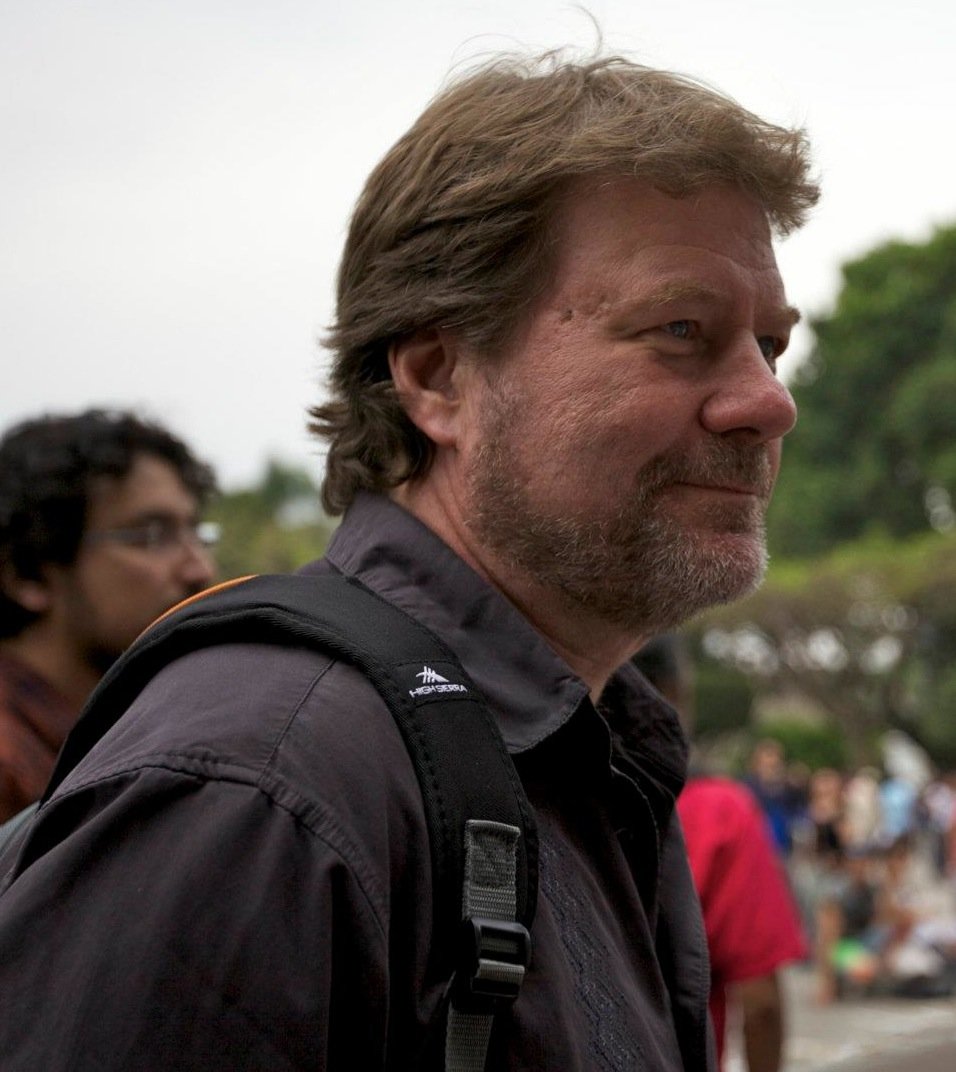 Bill Conroy looks out over a small plaza in the Mexican city of Cuernavaca, just south of Mexico City, where the one-year anniversary of the Movement for Peace with Justice and Dignity was playing in the spring of 2012, absent the cameras and pens of the mainstream media.

DR

Narco News School of Authentic Journalism
It sounds to me like a recipe for cannibal soup — or journalistic schizophrenia at the very least. It can only feed the already vicious cycle that is devouring the legacy newspaper industry — flat to declining print revenue and fast-growing but flyspeck online revenue set against considerable staff and printing/mailing costs. The result is an incredible pressure to cut costs, creating extreme working conditions for the journalists that remain employed — since they are writing multiple stories daily online as well as producing multiple print stories each week.
As a result, predictably, quality is sacrificed at the altar of volume, and newsroom morale plummets — which normally is blamed on the editor.
The other pressure created by this fiscal slow-bleed is the frenzy to enhance revenue. And the trick is to do so not just through newspaper ad revenue, which is faltering industry wide, but alsoinso-called "nontraditional areas" — or in what ACBJ company-speak describes as "buckets." And for that, you need a special kind of publisher — and editor.
Advertorial products are an old-but-sturdy "bucket," and it is no surprise that my new publisher planned to rely on that trick, since he is from the advertising side of the daily newspaper world that invented them. The twist in the rope for us, though, was that for the first time I was feeling pressure to make my reporters write for these advertorial sections — a major threat to the credibility of the paper, since once that happened, who was going to believe reporters' news stories had any veracity?
Another bucket for ACBJ, and other newspaper companies as well, is the "awards event" — in the San Antonio Business Journal's case, eight of them a year and growing.These events, in theory, can be handled with dignity and transparency if editorial integrity remains a guiding principle, but at the San Antonio Business Journal, under its new leadership, these award events were destined to become little more than cattle calls.
The goal was to get as many heads in seats at the events as possible, charging per person or by the table, and tacking on a bigger price tag for a sponsorship. And that meant ginning up the number of award winners, or potential winners. And it fell to the editorial department to carry out that mission in San Antonio. The new publisher's mandate for the editorial department included writing the scripts and marketing propaganda for the events; appeasing the sponsors of the events when they complained or demanded privilege (the same people and companies that were the subjects of the paper's news coverage); and choosing as many winners and "runner-ups" as possible, even if it meant making up new award categories and rules.
That event-revenue charade push and the impending demand for reporters to write advertorial copy for special sections, along with some other matters that fall into the category of inside baseball, are what drove me to throw in the towel and resign as the editor of the San Antonio Business Journal. The new publisher couldn't, or wouldn't, understand my concerns and had made it abundantly clear he was going to ultimately ignore them. He said the battle to maintain editorial separation from advertising has been over for a while, and "journalism didn't win."
He is cut from a cloth that I suspect could become the pattern for future publishers in the weekly business journal world, possibly beyond. The same disdain for journalistic integrity will be selected for in future editors as well, I expect.
And in this particular battle in the Alamo City, the journalism did lose, but what this new publisher — and others like him — don't understand, and what these dying legacy newspaper companies fail to see, is that the war to save authentic journalism has only just begun.
Bill Conroy is senior investigative reporter for Narco News [www.narconews.com], an online publication covering the drug war and social movements in the Americas. Email him at narcosphere@aol.com
Narco News is funded by your contributions to The Fund for Authentic Journalism. Please make journalism like this possible by going to The Fund's web site and making a contribution today.

- The Fund for Authentic Journalism
For more Narco News, click here.