Announcing 20 Authentic Journalism Scholarships on Constructing and Reporting Movements to Win
Deadline for Completed Applications is January 19
By Al Giordano

Founder, School of Authentic Journalism
December 17, 2013
The 2014 School of Authentic Journalism will be held March 31 to April 3 in Mexico, and offers scholarships for 20 (or maybe more) filmmakers, writers, photographers, Internet publishers, radio reporters, bloggers, journalists, webmasters, and community organizers who do communications for social movements.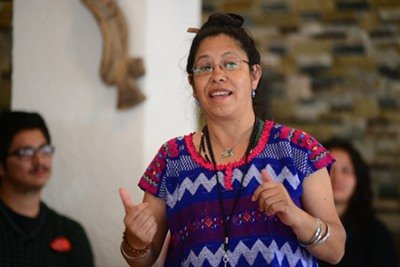 Chiapas human rights defender and organizer Mercedes Osuna at the closing session of the 2013 School of Authentic Journalism. D.R. 2013 Rodrigo Jardón
This four-day intensive training program will be completely in the Spanish language. In addition to teaching the techniques of video-making, writing, reporting and gaining a wider audience for that work on the Internet and elsewhere, it will include training in nonviolent civil resistance and designing social movements to succeed rather than fail.
The scholars will be chosen based on written applications and follow-up interviews. Completed applications are due January 19. The scholarships charge no tuition and pay for the room, board and materials of each scholar during the four days and three nights of the school. In a moment I'll disclose how to obtain an application, but first let me please tell a story.
Thirteen years ago, Narco News, then only four months old, the great Mexican authentic journalist Mario Menéndez Rodríguez and I were sued in the New York Supreme Court by Banamex, the National Bank of Mexico, for news stories that featured photographs and testimony of narco-trafficking by the bank's owner. We waged a spirited defense in the media capital of the world and emerged victorious. Our court triumph established, for the first time, case law that declared Internet journalists enjoy the same press freedom protections as the New York Times and big media. It was a turning point for independent journalism everywhere.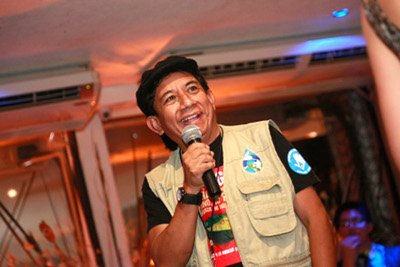 Oscar Olivera, an organizer, strategist and spokesman for the coordinating council of Bolivia's 2000 "Water War" that stopped the privatization of that resource, addresses the inaugural session of the 2013 School of Authentic Journalism. D.R. 2013 Noah Friedman-Rudovsky.
During that lawsuit and its aftermath, I received literally hundreds of emails from young people around the world. They said things like, "I'm working my first reporter job at a newspaper and it won't let me publish the truth," and, "I'm studying journalism at the university, I wanted to do journalism to change the world, but the garbage they are teaching me isn't useful for that." And they all said, "Can I come work for free as an intern in your office?"
Those emails made me smile. There was no office: just a laptop in my little house in an indigenous town in Mexico. But they also imbued me with a great weight of responsibility: Something had to be done for all these talented young people of social conscience. Society wasn't giving them the path they wanted and needed. I contacted other independent investigative journalists I knew and asked them to come to Mexico's Yucatán peninsula to train such youngsters how to do what they do. The first School of Authentic Journalism happened in early 2003. We had offered six scholarships but the response was so overwhelming – and support for the idea by our readers so great – that we were able to offer 25 scholarships. Over the next decade, six Schools of Authentic Journalism would be held. Each of them was bilingual: all the classes were translated in Spanish and English. There has always been a ratio of one professor per scholar, and in subsequent years graduates of the school returned as professors, because we believe in building leadership that will last beyond our own lifetimes on this earth.
Because all six of the first Schools of Authentic Journalism were in two languages, that meant that everything took twice as long. A presenter would speak a phrase in one language, and a translator would then provide the same words in the other. A ten-day program therefore in fact offered five days worth of curriculum. Each School also featured three workgroups where the scholars would complete assignments to report written news stories, produce viral videos – we entered the work of posting short videos on the Internet before YouTube existed! – and, more recently, creating an ongoing work we call The Manual to Change the World.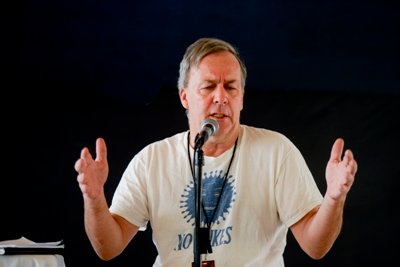 Renny Cushing tells the story of how his neighbors and he organized majority resistance to a nuclear power plant planned for his town of Seabrook, New Hampshire, in the United States, the mass civil disobedience campaign and training for it, that gave birth to a national and international anti-nuclear movement, during a plenary session of the 2013 School of Authentic Journalism. D.R. 2013 Rodrigo Jardón.
We still believe that a ten-day bilingual program works better than anything we've ever seen or done, but it costs a lot of money, especially because for each School we paid travel scholarships for scholars coming from long distances around the world. We had support for each of those Schools from other friendly organizations and individuals to be able to do that. And ten days and nights together offered an ideal set and setting for building lasting working relationships and lifelong international friendships for the participants.
But, as everyone knows, funding organizations and philanthropists are fickle. They tend to get into other things over time. And it's always been kind of a miracle that a program as fiercely independent as the School of Authentic Journalism received any funding at all, since in each session of the School we have maintained full autonomy in planning each plenary session and workgroup lesson. I've always insisted that only people with real lived experience can present at the School of Authentic Journalism: We don't provide room for academic discourses by people who haven't actually lived and done what they teach. It's never been easy to find funding for that. We know of no other school in the world that holds up that standard and successfully resists the dominant paradigm of teaching done by those who cannot do.
The 2013 School of Authentic Journalism was our most successful ever. We've learned a lot through trial and error over the last decade, and know better how to do it now.
Faced, this year, with the prospect of not being able to hold a 2014 School of Authentic Journalism for lack of outside support, and thinking of all the talented people who want so much to attend it – we have received more than 5,000 applications over the years, and only been able to accept a small percentage of applicants for scholarships – giving up was not an option.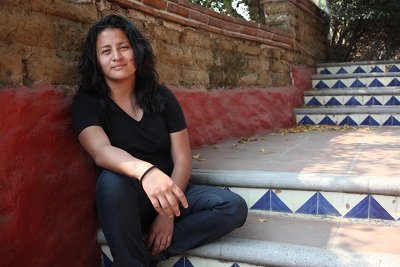 2013 graduate Fabiola Rocha is the director of the 2014 School of Authentic Journalism. D.R. 2013 Elaine Cromie.
Therefore, we've designed the 2014 School of Authentic Journalism to include all of it's best curriculum in less than half the time, simply by holding it in only one language – Spanish – and replacing the 20-plus hours normally spent in workgroups by making the entire school into one big workgroup. That alone makes the School much less expensive to host. In fact, we'll be able to add some new curriculum: key parts of the nonviolent civil resistance training sessions developed in Mexico by a small group we've been part of known as The Strategy Salon, which formed out of the 2012 YoSoy132 youth movement in this country. People from all countries are invited to apply for the scholarships, with the understanding that you need to be fluent enough in Spanish to complete the application in that language and, if we like your application enough to interview you, be able to have that conversation in the language. Since there is no budget for travel scholarships this year, applicants must confirm that you can get to Mexico City on your own.
Scholarship applications can be received by sending an email to becas2014@narconews.com, and completed applications are due Sunday, January 19, 2014. We've made our application a little bit smaller than the notorious 14 pages of questions and essay requirements from previous Schools of Authentic Journalism. But it's still going to take each applicant more than a full day to complete: That way we weed out lazy people or those who do not want something enough to work hard for it.
The 2014 Authentic Faculty
We have long believed that "being right is not enough." It is the duty of every participant and organizer of social movements to conduct them in a manner that increases their chances of winning historic battles, instead of just marching around and yelling ineffectively (which defines too much "spurious activism" in this day and age). The same goes for journalists and communicators: Showing up with a camera or a pen and notepad at a political protest doesn't help anyone if we reporters don't have an understanding of the strategic dynamics of social movements and the lessons of how movements that won their battles were constructed and organized differently than those that did not.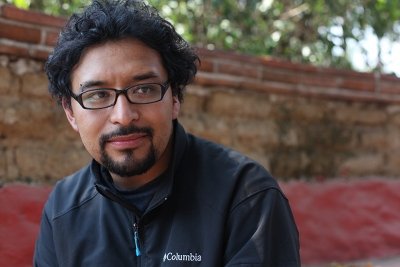 Uriel Pérez, graphic designer, class of 2013. D.R. Elaine Cromie.
That's why at every School of Authentic Journalism we have featured professors and presenters with real lived experience in the trenches of movements that achieved their goals. The 2014 School will continue in that tradition.
Three of our professors in 2014 will be sharing such experience with us: From Bolivia, Oscar Olivera, an organizer of the victorious "Water War" against the privatization of that resource in his city of Cochabamba in 2000; from Chiapas, Mexico, Mercedes Osuna, a successful human rights defender even before the Zapatista rebellion of 1994 who has since played an important role in organizing wide participation by Civil Society in support of autonomous indigenous and grassroots movements, and from the United States, Renny Cushing, a co-founder of the historic Clamshell Alliance which sparked the national and international movement that stopped a new generation of nuclear power plants from being constructed in his country and in other lands. (I was a teenager in that movement: It's where I learned to organize to win, something I later brought with me into journalism, and I'll probably play a larger role in the 2014 School sharing those lessons than I have in years past, too.)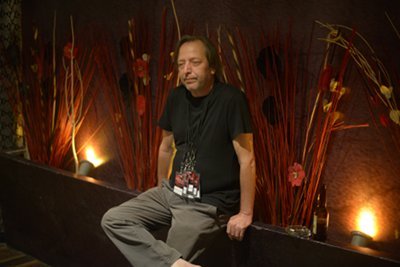 Al Giordano stops to listen to a speaker while taking a break from handing out "press pass" credentials to 2013 scholars and professors. D.R. 2013 Rodrigo Jardón.
We'll be joined by some former graduates of the School who have already returned in subsequent years and proved to be fantastic professors: Viral video pioneers Greg Berger and Barrett Hawes (class of the 2004 School held in Bolivia), Karina Gonzalez, Katie Halper and Mariana Simoes (class of 2010), Laura García and Heather McCuen (class of 2012). Another colleague who began as a professor, and is editor of my books, Katherine Faydash – there are none better – will also be rejoining us next year.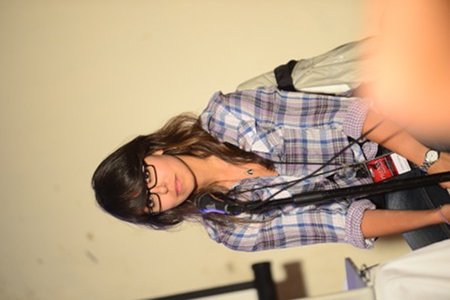 Journalist Laura Garcia (class of 2012), "Overlord" of the 2013 School, returns once again as a professor in 2014. D.R. 2013 Rodrigo Jardón.
Among the 2013 School's ongoing successes is that a significant number of its scholar-graduates will be returning, this time as professors, in 2014. In fact, the director of next year's School, Fabiola Rocha, is one of them. Fabiola, along with Marlon García and graphic artist Uriel Pérez, developed the eight-hour nonviolent civil resistance training sessions that have been held throughout Mexico over the past year, and will be coordinating that part of our curriculum. Community radio journalist Erik Coyotzín, photojournalist Rodrigo Jardón, investigative journalist Alex Mensing (who wrote stellar
reports
about his attendance of the first Escuelita Zapatista earlier this year for Narco News), and New York performer and writer Alexandra Tatarsky will also be part of our faculty: all were graduates just eight months ago. Of course, we look forward to finding in the class of 2014 worthy professors for 2015 and onward.
Finally, it is my great pleasure to be able to say that the School of Authentic Journalism's popular social directors, Tiberio Tinarelli and Maia Facen, will be with us once again in 2014, mixing mojitos behind the bar and animating the social hours of the School the same way that they've done for years (Tiberio invented the role at the first School, eleven years ago, in 2003). As I frequently say, they are the only professors with tenure. They are that irreplaceable.
A School Supported by the People
So, how are we going to pay for the 2014 School of Authentic Journalism? Although it will be less expensive to do it in one language for less days and nights with fewer professors and scholars – about 40 participants in all, compared to 70 in recent years – it still isn't free to make it all happen.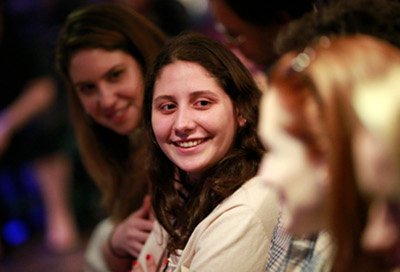 Brazilian journalist Mariana Simoes, who teaches "How to Write a News Story" at the School, together with 2014 professors Katie Halper (left) and Heather McCuen (right). D.R. 2013 Noah Friedman-Rudovsky
This summer, I received the news that a distant cousin had passed away at the age of 96. She left a small inheritance to my aunt, a Catholic nun who had taken a vow of poverty. She, in turn, passed along a small piece of that to me. At first I thought I'd take those resources and go live for a while in Ravello, Italy, to write there as the late Gore Vidal did in his final decades. I have books to complete, after all. But the truth is that I can write from anywhere. Therefore, I am personally offering a $7,500 dollar matching grant for every dollar sent by the readers of Narco News and the many supporters and graduates of the School of Authentic Journalism everywhere. Ravello will have to wait, at least while the existence of the School of Authentic Journalism hangs in the balance.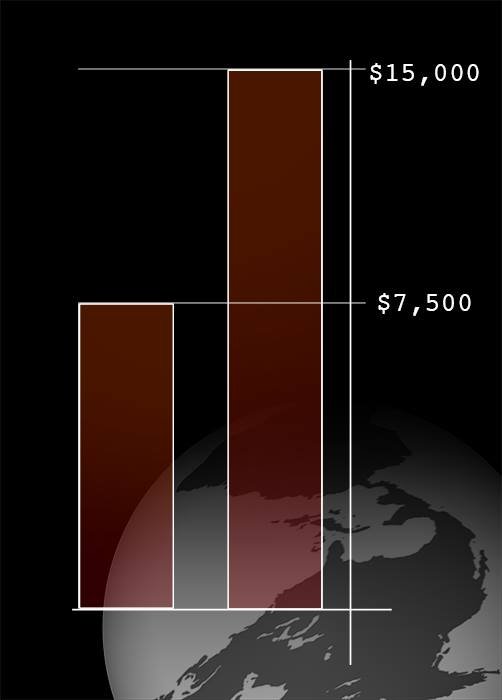 That means – and I'm speaking directly to you, dear reader – that if you donate one dollar, I'll match it and the School now has two. If you donate $20, the School will have $40, so on and so forth, until we get to $15,000. Uriel Pérez has designed a nifty bar graph through which we'll all be able to track the progress of this fundraising goal, and graduates of the School of Authentic Journalism will be sending letters to our readers in the coming weeks – the
first
, today, is published by Matt Richter (class of 2013) – so you can hear about what the School means to the people who know it best, and how it has helped us all be better, faster and more coherent at our work as journalists and organizers.
Narco News readers have always risen to the challenge before, including when we've had to raise more money than that. I have no doubt you will do the same and therefore can announce these 20 scholarships with full confidence that we will comply with our promise as we always have.
To do your part, please make a donation today. You can do it right now, online, via this link, with your credit or debit card:
http://www.authenticjournalism.org
Or you can send a check to:
The Fund for Authentic Journalism
P.O. Box 1446
Easthampton, MA 01027 USA
The Fund for Authentic Journalism is a 501c3 nonprofit organization, which means that if you donate before the end of the year you can deduct the amount of your contribution from your taxable income in the United States.
The School that Will Not Die
If you don't have critics, or adversaries, or even enemies in this life, go out in public and do something really great. They'll come out of the woodwork and reveal themselves, perhaps out of envy that they themselves won't make the hard sacrifices that you've made to do something special. Ever since the first School of Authentic Journalism in 2003 we've happily earned the spite of powerful forces that are threatened by the authentic journalism renaissance and even by some poor and petty individuals with organizations that feel they deserve the support that the public has always given us to carry out such a special School and all the other work we do 365 days a year on Narco News and elsewhere. And because we have always fully disclosed what organizations and individuals have donated significant funds to make the School happen, some have even harassed those funders simply because they helped make something really great happen that those lesser people couldn't control.
I have a message for any such poor souls: This time the main funder of the 2014 School of Authentic Journalism is me. My email address is narconews@gmail.com and I live somewhere in the mountains of a country called América (that is, the América with an accent). You want to harass somebody? Come and get it, the same way that narco-bankers and others have when they've thought they could extinguish our flame. One of the skills I've learned from years of community organizing, nonviolent civil disobedience and authentic journalism is how to raise the costs on those who try to impede human progress. Nonviolence isn't about avoiding conflict. It's about creating conflict that wins without killing anybody in the process. Not even the oft-misunderstood Gandhi – who once said, "a coward is incapable of exhibiting love; it is the prerogative of the brave" – was always "nice."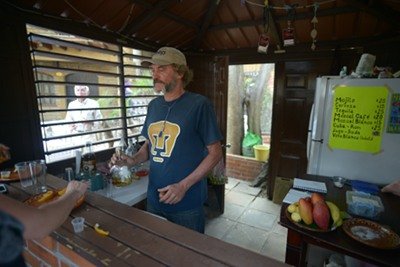 Maia Facen and Tiberio Tinarelli, social directors of the School of Authentic Journalism, hold court at the bar. The only rule for Tiberio at the School is that since 2003 he has had to erase the

BANAMEX

logo from the shirts he wears for his beloved Puma's soccer team. D.R. 2013 Alice Driver and Rodrigo Jardón.
The simple fact that this School of Authentic Journalism refuses to die marks a terrible defeat for those who wish it would. And it is a wonderful victory for everybody else.
For the rest of you, who believe in and support great works that increase the human freedom of everyone, I have only gratitude. It is a very special thing to be able to write on the Internet, "We need $7,500 to make the 2014 School of Authentic Journalism happen," and know with absolute confidence that our friends and readers will surely make it happen, as you always have, with small donations that add up to make big change.
Oh, and I mentioned above, that we might be able to provide more than 20 scholarships! If you, our reader and friend, together with others, contribute more than our goal, that means we will be able to accept more scholars. Our campus has beds for many more. Your support can literally have a great impact on the life and work of someone who might be able to attend if we can grant more than 20 scholarships.
And for those of you who want to be part of it, wherever you are in Mexico or in the world, who want to improve your skills at journalism, organizing and strategy, your Spanish doesn't need to be perfect but does need to be fluent enough to learn and converse, to work and play, with others, we invite you to apply for this scholarship. More details can be found in the application, which you can receive simply be sending an email to becas2014@narconews.com and completing the application by January 19. Completing the application is hard work: It's the first lesson of the School of Authentic Journalism! As one of our 2013 scholars said, "Just filling out this application helped me to see more clearly what I want to do in this life."
What we want to do is change the world. We're looking for 20 good people to be part of that mission. For those that apply and obtain this scholarship, we'll see you on March 31 in Mexico. Our work together begins there.
Lea Ud. el Artículo en Español
Legga questo articolo in italiano

Narco News is funded by your contributions to The Fund for Authentic Journalism. Please make journalism like this possible by going to The Fund's web site and making a contribution today.

- The Fund for Authentic Journalism
For more Narco News, click here.