What the School of Authentic Journalism Did for Me, and Why It Needs Your Support
Today, More than Ever, I Understand Why We Must Study the Strategies and Organizing of Social Movements
By Isadora Bonilla

School of Authentic Journalism, class of 2012
October 2, 2012
In January of 2012 I was accepted into the School of Authentic Journalism. I had completed an application which including the essay requirement, ended up being 18-pages long. There, I offered my opinions about new expressions of protest like Occupy Wall Street and the "Indignados" of Spain along with other thoughts about the challenges for movements around the world. I knew this would be an intensive course attended by people from all over the planet, journalists and community organizers who would work together for ten days to work in different fields; viral video, investigative and online journalism. On the first day of the school, during the bus ride to the campus where we would work for the following days, the school's director, Al Giordano, gave me my assignment.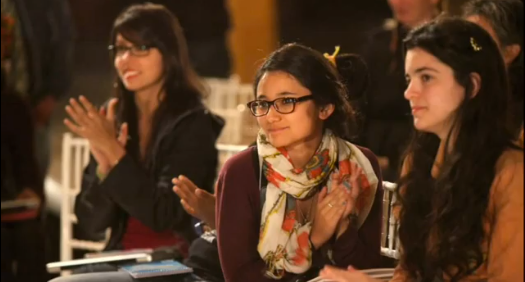 Isadora Bonilla (center) at the 2012 School of Authentic Journalism with Laura Garcia (left) and Leah Hennessey (right), three graduates of the 2012 school that will return in 2013 as professors.

DR 2012

Noah Friedman-Rudovsky.
My job would be to write a profile about Ghada Shahbender, an Egyptian human rights defender and organizer who had been part of the Arab Spring of 2011 and for years beforehand, building citizen participation and monitoring networks that helped pave the way for the protests of Tahrir Square and the defeat of the dictator Hosni Mubarak. I wasn't yet a journalist and the task wasn't simple because I didn't even know how to operate a digital audio recorder.
In the process of writing about Ghada, I learned general lessons like what a headline is for, what kind of structure and language would work best and I had to confront challenges such as the speed of editing and the management of diverse sources – human and written – that journalism demands. There were also technical questions like the difference between audio recording for written press and radio and the kinds of questions to ask in order to do a good interview. All those elements have been very useful to me after graduating the School of Authentic Journalism. Also during this intensive process of the school my way of understanding the kind of journalism that the world needs completely changed.
Through interviewing community organizers and other journalists who have contributed with their work to social movements in so many lands I found a very enriching experience that I think would strengthen anyone. In the work as well as in just being around these people I could listen to different stories that helped me better understand the global map of civil resistance. I learned about the effects of pepper gas on the health of a protester and also the challenges that exist in the social fabric of every culture where great movements grow, as well as the complexity of the terrain where we report these struggles. To understand it better we studied the strategy of reporting and organizing a civil resistance movement. We also learned at the school to maintain a high level of creativity and spirit in order to tell not only of the difficulties – which are real and deep – that exist behind and within social movements, but also the stories of human solidarity, the courage to keep struggling in spite of crisis and the joy of victory that many people have felt when they won their battles through grand and organizing nonviolent campaigns. Humor, constructive language and high spirits are important and we learned that not only in our work groups but also in the rest of the school's activities.
The people who attend this school are more than journalists. They're not merely "objective" and "neutral" journalists (I don't believe in objectivity), but are journalists, artists, community organizers and human rights defenders. I prefer to call them just humans. During the school, which for ten days has an exclusive campus of its own, there is a strong sense of community, equality and solidarity. It doesn't matter if one comes from a different culture or one's job or culture seems opposite those of others, or if one has a different religion or age. In some way we all speak the same language and we know after more than a week of intensive labor together that hope and victory are constructed and won by working for them.
Today I work on the Narco News team and have followed and reported since the spring the movement against the imposition of a president on Mexico, a country deeply harmed by the violence and corruption of those who govern it. The YoSoy132 movement has grown during the second half of 2012 and has become a phenomenon without precedent: It offers a social critique of the media industry's manipulation of the population and of its connections with the corrupt organs of power.
Today, more than ever, I understand why we must study and understand what is at the core of the daily reality of social struggles to defend natural resources, human rights, freedom or democracy. Media can play a fundamental role in the construction of a critical mass of participation in the revolutions that we need and we can't wait or depend on someone else to do it: We have to do it ourselves, no matter where we came from.
With your support, journalists and community organizers will graduate from the next School of Authentic Journalism with better and finer tools to enrich a network that allows us all to take back the power of our voices and our pens to tell our version of reality and be able to write our own story, always alongside social struggles and the emergence of a new journalism.
Please make a donation today, via this link:
http://www.authenticjournalism.org
Or you can also send a check to:
The Fund for Authentic Journalism


PO

Box 1446
Easthampton,

MA 01027 USA
Thank you for your attention, and for an authentic journalism,
Isadora Bonilla
Administrator, Narco News
School of Authentic Journalism, class of 2012
Lea Ud. el Artículo en Español

Narco News is funded by your contributions to The Fund for Authentic Journalism. Please make journalism like this possible by going to The Fund's web site and making a contribution today.

- The Fund for Authentic Journalism
For more Narco News, click here.