A Life of Challenge to the Dogma of "Objectivity"
Richard Bell Is Practiced at Juggling Journalism, Advocacy and Politics
By Kirsten Han

School of Authentic Journalism, Class of 2012
May 7, 2012
Journalism, advocacy, politics: Are they completely different fields or aspects of the same game? Can someone actually do all three?
Richard Bell has done them all and has lived to tell the tale. Today he works as an editor, researcher and writer.
Getting such a multi-tasker to sit down turned out to be difficult. "My schedule's very flexible here," he had said, but it was a whole day before I got hold of him. It was always "just let me send this one more email" or "let me have a word with that person over there" and then he would be gone.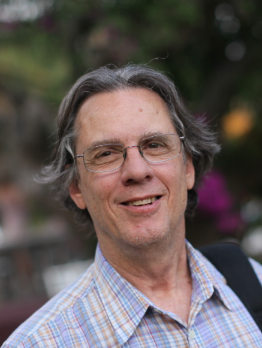 Richard Bell, professor for the past three sessions of the School of Authentic Journalism, in Mexico again for the 2012 school.

DR 2011

Noah Friedman-Rudovsky.
It was late in the evening when we finally sat down together in the middle of a windstorm that had blown out of nowhere during the School of Authentic Journalism, a ten-day intensive training workshop held recently near Mexico City. The wind had knocked a heavy laptop off the table, and everyone had to run to get an extra jacket for the cold.
It was a fitting setting for an interview with a man whose nickname is the "Prince of Darkness," but it doesn't take long to realize that the nickname is ironic rather than descriptive.
"I called him 'Prince of Darkness' because there is nothing dark about him," says Al Giordano, journalist and former grassroots organizer who worked with Bell in the 1980s. "He's a very honest guy, very ethical guy . . . We thought it was funny to call him that."
Clamshell Alliance
As a journalist in the 1960s and 1970s, Bell covered a number of significant social movements in the United States, such as feminist actions and the Stonewall Rebellion. "It was a churning period," he recalls. "I got to meet a lot of the early organizers." But Bell had never been deeply involved in a movement until some friends convinced him to join the Clamshell Alliance — an anti-nuclear movement that originated in Seabrook, New Hampshire. The movement began with a group of 18 locals who opposed the electric company's plan to built two nuclear reactors in their town.
Bell had already been following Clamshell's activities before joining up. As an editor, he supervised a team of reporters and photographers covering a Clamshell action in 1977 that turned out to be the largest mass arrest for civil disobedience in US history.
"The most interesting were the affinity groups," he says, referring to the small groups of people within the alliance who committed to supporting one another and carrying out actions together. "It was exciting to be part of a new social organization model that happened to be against nuclear power."
The nuclear issue was not new to Bell. Growing up in Norfolk, Virginia, during the Cold War, he had been acutely aware that the huge naval base — which housed nuclear weapons — was a potential target of the Soviets. "So I'd always been aware in a way I might not have been [otherwise]," he says.
Bell joined Clamshell full-time as a media spokesperson. Giordano rarely met with Richard during the movement, but he had a good impression of Clamshell's media presence at the time. "[Richard] was a media guy," he says. "It was all very professional."
Bell says his approach was simple: "What could I do to make it as easy as possible for reporters to write stuff that was well informed about the issues, the politics and the movement?"
Their paths would cross again a few years later, in 1984, when they both worked on Democrat John Kerry's campaign for the US Senate. Giordano was a field organizer, and Bell had been hired as issues director. "We became very strong allies very fast because we were the two most radical in the campaign," Giordano says.
Kerry won the election that year and eventually went on to run for president in 2004. Bell played a role in Kerry's online presidential campaign as blog master for the website. He also created the Democratic National Committee's website back in 1993, when political organizations did not have much of an online presence.
"Richard's always kind of been on the cutting edge of things. He was right that you could use the Internet for political action, before most people were on the Internet. He was into crowdfunding before there was even the word 'crowdfunding'!" Giordano recalls, adding that Bell's 2004 model was the precursor for the 2007 and 2008 success of
Barack Obama's historic online fundraising success.
Playing the Field
This mixing of the three fields of journalism, advocacy and politics is uncommon. Relations between the three are more often mired in distrust. Some insist that they be kept separate, so as to maintain objectivity.
For example, Kevin Corrado, president and publisher of a Wisconsin newspaper, recently wrote a column on journalistic objectivity.
"All citizens, including journalists, have a right to hold their own opinions about . . . political issues," he wrote. "But journalists who work within a professional news organization must ensure against even the impression of favoring a candidate or a position. They must exercise caution and not become involved with issues that may cause doubts about their neutrality as journalists."
Although Richard had not played a major role in any movement until he had left journalism, he believes that it is still possible for journalists to be involved in movements, as long as they are upfront about their conflicts of interest.
This view has its supporters. "As someone who shares stories, objectivity is a false pretension," says 2012 School of Authentic Journalism scholar Jenny Gustafsson, a Swedish reporter based in Lebanon. "It's necessary to tell your stories, and you have your perspective, experiences, values and feelings. I think it's good that journalists are open about where they come from because it helps people to understand the story."
There are even those who believe that Richard's varied experience in all three fields has helped to enhance his skills in each. "If you have been involved, you can report better because you understand what goes on behind closed doors. The mythology is stripped away so you become a much shrewder reporter," Giordano says.
"[Richard] has an awareness of the grassroots that people in mainstream politics don't have and he's more realistic than people in the direct-action wing are," says political scientist Stephen Zunes, who was also involved in the Clamshell Alliance.
It was this ability to see different perspectives that led Bell to coauthor the book Nukespeak: Nuclear Language, Myths, and Mindset, which dealt with the language that mainstream media and authorities used in referring to the issue of nuclear power. The authors asked: "What we read and what we know is different. Why is that?"
The book won the 1982 George Orwell Award for Distinguished Contribution to Honesty and Clarity in Public Language. A new, updated edition was recently released in the wake of last year's tsunami in Japan and the resulting problems with the Fukushima nuclear power plant.
"Richard is one of the few people who is comfortable and effective working among both the nonviolent direct-action wing of social movements and electoral politics," Zunes adds. "People usually do one or the other, but Richard has made his mark and got respect from a lot of people in both of those traditions."
For Bell, every change provided him the opportunity to look at situations with fresh eyes. "Each time I changed positions, after six months to a year I'd have an epiphany. I wasn't standing in the same place anymore."
But at the end of the day, Bell always knew what he was dealing with. "The values remain. The tools used may be different but the idea is the same."
Click here for more Narco News coverage of Mexico
Lea Ud. el Artículo en Español

Narco News is funded by your contributions to The Fund for Authentic Journalism. Please make journalism like this possible by going to The Fund's web site and making a contribution today.

- The Fund for Authentic Journalism
For more Narco News, click here.