Julian LeBaron, in Zacatecas, Speaks of Community Organizing as a Strategy to End the Violence
"The Neighbors Began to Organize Block by Block in the Neighborhoods Where They Live"
By Julian LeBaron with Antonio Cervantes

Caravan of Solace
June 14, 2011
ZACATECAS, MEXICO, JUNE 6, 2011: I would like to read to you something that I think has solutions for the violence.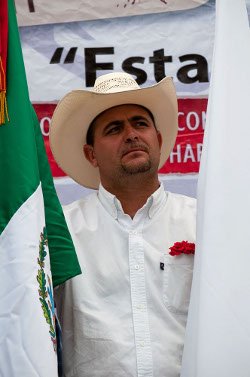 Julian LeBaron speaks at the Plaza of Arms in Zacatecas during the caravan to end the drug war.

DR 2011

Tyler Stringfellow.
Yesterday, in San Luis Potosí, someone in the audience shouted and asked Javier Sicilia for a solution, a solution for the violence. I thought about that last night and would like to tell you a story.
Some time back some doctors in Tijuana organized a demonstration to ask that a doctor who had been kidnapped by some criminals be returned. The pressure was so great that they achieved his freedom, and he is alive. But they didn't stop there. They began to organize on each block in the neighborhoods where they lived. They told me that the neighbors got together and started knocking, door to door, house by house, and introduced themselves to each other with their names and occupations.
"Good morning, my name is Julian. I build houses."
"I am Maria, I'm a schoolteacher."
"We are neighbors. What is your name and what do you do? We want to know each other better and create a community on this block."
I imagine it happened something like that.
They say that the next day after doing that, some people disappeared and stopped living on that block. Surely, they must have been dedicated to something dishonest. What would happen if all the blocks of a neighborhood did this? And after that, all the neighborhoods of a city, and then all the cities of a state, and then all the states of a country? Where would the criminals of Mexico hide then?
I would like to make an appeal, an appeal that we cultivate the capacity within toward indignation when one person is assassinated. Even if he was a criminal or delinquent. We need to have sufficient indignation to at least know the truth.
When someone is assassinated we need to feel enough of our love for ourselves and enough love for our neighbors so that it matters to us.
I would like to leave you with these words and may God bless you all.
Transcribed by Marta Molina. Translated by Al Giordano.
Lea Ud. el Artículo en Español

Narco News is funded by your contributions to The Fund for Authentic Journalism. Please make journalism like this possible by going to The Fund's web site and making a contribution today.

- The Fund for Authentic Journalism
For more Narco News, click here.