The Nonviolent Occupation of Ciudad Juárez
Actions of Presence and Actions of Conscience
By Antonio Cervantes

Caravan of Solace
June 2, 2011
We have to continue marching and peacefully occupying the streets and the cities and the public spaces, but for a reason!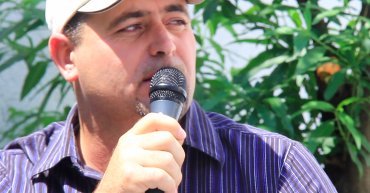 Julián LeBaron, of the Mormon community of Chihuahua, read these words of Antonio Cervantes at the May 19 press conference by Javier Sicilia in Mexico City.

DR 2011

Leslie Askew.
We have to develop our conscience, in each one of us, that violence is something evil and that only we the people can stop it.
This will not succeed if we blame the violence on someone else.
Maybe the government can contain the violence, but it will not eradicate it.
We have to take actions of presence and of conscience for our own selves, to rise up an individual cry against violence and war and kidnapping and rape and torture.
We are going to occupy Ciudad Juárez peacefully. We are going to fill the city with human presence and nonviolent conscience.
We are going to walk ten steps for every man, woman and child who has died in this war. We shall take 400,000 steps, which is the distance between the cities of Chihuahua and Juárez.
And I hope that the caravan generates in us, little by little, the conscience that many lives have been lost, and when we arrive at 40,000 lost lives, we feel sufficient pain and conscience to not allow ourselves to keep harming each other in this way.
We are going to fill the most violent city on earth with humanity and desire for life. Come everyone, from all the regions of the country.
We are going to demonstrate to the world that we are able to tend this stupidity of killing our selves. May peace and life live in all of Mexico.
(This text was read aloud by Julián LeBaron during the May 19 press conference presenting the caravan in Mexico City.)
Lea Ud. el Artículo en Español

Narco News is funded by your contributions to The Fund for Authentic Journalism. Please make journalism like this possible by going to The Fund's web site and making a contribution today.

- The Fund for Authentic Journalism
For more Narco News, click here.