Javier Sicilia to Narco News: "Journalists Amplify the Voice of Civil Society"
A Surprise Visit to the School of Authentic Journalism's Graduation Dinner Brought a Lengthy Discussion with Participants
By Henry Taksier

Class of 2011, School of Authentic Journalism
May 26, 2011
On March 28, seven innocent young men were taped at the mouth, shot, and stuffed into a compact vehicle by organized criminals. All of them had names and families. One of them was Juan Francisco Sicilia, the son of a soft-spoken poet. The Mexican government turned a blind eye, writing it off as collateral damage.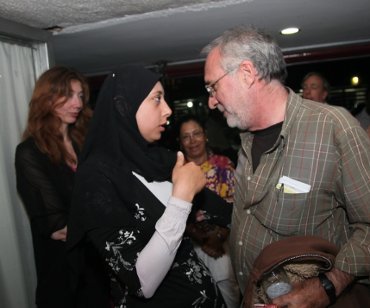 Egyptian journalist Noha Atef speaks with Javier Sicilia at the School of Authentic Journalism graduation dinner in Mexico City. In background: Maria Dayton and Mercedes Osuna.

DR 2011

Noah Friedman-Rudovsky.
Seven weeks later, shortly after the sun went down over Mexico City, Javier Sicilia took his seat in front of a microphone and shared his thoughts with eighty journalists, academics and community organizers from various corners of the world. The former poet, driven by the tragic death of his son, will not rest until justice reemerges in his country. "I will speak to journalists," he said, "because journalists amplify the voice of civil society."
Sicilia delivered his remarks on May 20, the final night of the 2011 School of Authentic Journalism. "The case of my country might seem strange to Europeans," he said, lighting a cigarette. "Because my country decided to direct itself like a mafia. Like a criminal state." In a country torn apart by organized crime and government-sponsored violence, Sicilia's voice of dissent has united thousands of ordinary people under a common cause: to reform Mexico's government and ultimately end the drug war.
The Mafia State
Sicilia is no politician. He refuses to join political parties and opposes the entire system of authority in Mexico. The problems, he said, can be traced back in time to Mexico's birth as an independent nation. "I call it a mafia state because it's run directly by means of handing out special privileges and favors from the President's office," Sicilia said.
For half a century, the Institutional Revolution Party (PRI) dominated Mexican politics through repression and electoral fraud. Sicilia called it a "soft dictatorship," and also "the perfect dictatorship." In the 70s, the PRI fractured into competing factions. This enabled President Vicente Fox to seize power, backed by the National Action Party (PAN).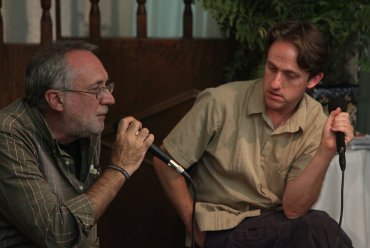 Filmmaker Gregory Berger (right) translates Javier Sicilia during his visit to the School of Authentic Journalism.

DR 2011

Noah Friedman-Rudovsky.
In this period of transition, Sicilia asserted that Fox could have reformed the state by disbanding the mafias inherited from the
PRI
. Instead, he chose to administrate them, and "this created fertile territory so that the state ceased to exist and organized crime that had already penetrated the state grew to become greater and control much more," Sicilia said.
Electoral fraud continued in 2006, resulting in the rise of Fox's successor from the same political party, President Felipe Calderon. Backed by foreign aid from the United States, Calderon launched a War on Drugs, granting his military officers the authority to execute citizens without so much as due process.
"And in this war between the mafia-co-opted state and these powerful drug trafficking organizations, there has come a war in which we, the Mexican people, are the ones who have to suffer the deaths," Sicilia said. "At any time, we can be kidnapped. We can be murdered. And these crimes will not be investigated."
In the meantime, special interests in the United States profited by shipping weapons and military supplies across the border to Mexico. Sicilia referred to them as "our dear but inconvenient neighbors," a country that consumes an absurdly high amount of drugs at the expense of the Mexican people.
"We've had a government and upper middle classes that have lived on their knees, in awe of the United States," he said. "We will need a government that is stronger and more valiant to hear the calls of the citizenry."
In a perfect world, Sicilia asserted, the United States would propose a unilateral agreement to legalize drugs in both countries. Like other currently legal substances, including alcohol and tobacco, drugs would be treated as a matter of public health rather than criminal justice. It would be a "necessary evil," but thousands of lives would be saved in the long run.
The Road to Democracy
Under the rallying cries of Sicilia, the Mexican people began to mobilize. His son had been murdered in the crossfire, and by then, the body count had reached 40,000. Sicilia reached out to the families of other victims, including families that had been coerced into silence, and told them it was okay to speak out and fight back.
"We began to march together and look at one another in the eyes," he said. "And our first task was to give each other consolation. We decided to write a new pact, a pact with six points from which a state of law and justice might emerge."
The six points called for political reforms, including mechanisms to democratize the media and to punish politicians who failed to serve the Mexican people. These points would not, by any means, put an immediate end to the violence and corruption plaguing Mexico. They would, however, pave the road to a more participatory form of democracy.
On June 4, protestors will launch a caravan from Cuernavaca, carrying a plea for peace, justice, and dignity. It will travel across key points in Mexico, gathering supporters, and arrive at the US border city of Cuidad Juarez on June 12 to sign a pact reflecting the will of the Mexican people.
According to Sicilia, the success of the journey depends on the ability of everyone – including the members of competing parties and dissenting social movements – to forget their personal agendas for just a moment and focus on transforming Mexico's failed institutions.
Documenting the Struggle
The first question of the night came from Al Giordano, dean of the School of Authentic Journalism, who asked, "What do you need from us authentic journalists in the caravan that will be going to Cuidad Juárez?"
"Your eyes, your ears, and your interpretation," Sicilia replied, lighting another cigarette. "Without you, we won't have safety because we'll be passing through what is known as the map of terror. It's the most unprotected region of this country where people, in the midst of this war, are killed for nothing."
Sicilia told the story of an averted tragedy during his previous march, from Cuernavaca to Mexico City. A group of migrants, with whom the protestors shared solidarity, decided to board a train called The Beast. It was an unfriendly journey for migrants, due to frequent cases of rape and mistreatment.
In Topilejo, the third stop on Sicilia's route, a journalist informed him that a group of organized criminals, armed with guns, tried to occupy The Beast about 400 kilometers from Mexico City. The police were not around and the military didn't dare to interfere. The criminals tried to kidnap a mother and her two-year-old daughter.
The presence of journalists with cameras managed to deter the criminals from carrying out their plans. The mother and daughter safely reached Mexico City and joined the march with Sicilia. "This is the importance of the media and, above all, independent journalists," he said. "I'm hoping many of you will be able to join us in this caravan."
A New Kind of Poetry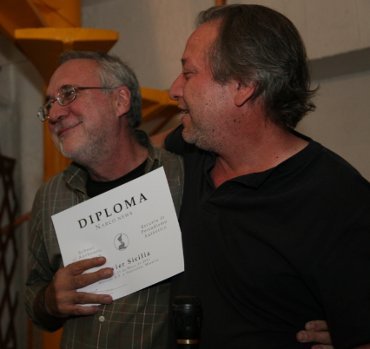 Javier Sicilia receives his diploma from School of Authentic Journalism president Al Giordano.

DR 2011

Noah Friedman-Rudovsky.
In a lengthy question and answer session after his remarks, as well as during the dinner before he spoke, Sicilia took queries and comments from journalists and social movement leaders working in Egypt, Bolivia, Catalonia, Mexico, the US, Finland, Brazil, Burma and other lands. A transcript of the entire exchange – in which Sicilia shared his thoughts on state power, nonviolence, Mohandas K. Gandhi, Egyptian martyr Kahled Said, the philosopher Thomas Hobbes, and Giorgio Agamben's concept of
Homo Sacer
, or "The Accursed Man," will shortly be published on Narco News. At the end of the evening, Sicilia received a diploma with his name on it from the 2011 School of Authentic Journalism ("we give credit for life experience," said Giordano upon presenting it). "I thank you from the bottom of my heart," the poet responded. "I think my son would be very proud… And I take this diploma in the same grateful manner you all will receive yours."
Andrew Stelzer, a radio producer and news reporter from the School of Authentic Journalism, brought up the fact that Sicilia gave up poetry after the untimely death of his son and asked, "Is giving up your means of expression, especially during a time of such pain, a good choice?"
Sicilia, a practicing Catholic, replied by shedding light on his spirituality. "I come from a tradition that has an immense respect for the Word," he said. To Sicilia, the Word is sacred. God created everything through the Word, and modern poetry is a continuation of making the Word sacred. Jesus Christ, an innocent man who was murdered, is the ultimate embodiment of poetry.
"And my son was a face of that sacred Word," Sicilia said. "When they murdered him, when they strangled him, they strangled the poetry out of me as well. And on Good Friday, I decided to turn to silence. And I will await the rebirth of my nation in order for that Word to reemerge in myself. You can strangle the verse, but you can't shut up the poet. And mobilization is a form of poetry in motion."
Lea Ud. el Artículo en Español

Narco News is funded by your contributions to The Fund for Authentic Journalism. Please make journalism like this possible by going to The Fund's web site and making a contribution today.

- The Fund for Authentic Journalism
For more Narco News, click here.