Egypt's Revolution Retold by Four Who Helped Make It Happen
In Mexico, Noha Atef, Namees Arnous, Joe Rizk and Maria Dayton Share their Experience with Eighty International Journalists
By Alphonce Shiundu

Class of 2011, School of Authentic Journalism
May 25, 2011
In pin-drop silence at a giant poolside gazebo in a Mexican resort, three Egyptians and an American activist who has previously worked and lived in Egypt told the story of the 18-day uprising that led to the fall of long-time Egyptian dictator Hosni Mubarak.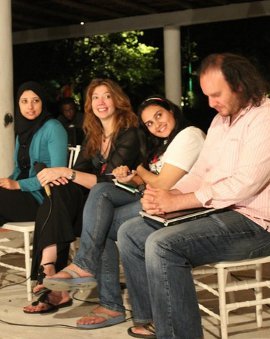 Noha Atef, Maria Dayton, Namees Arnous and Joe Rizk discuss the Egyptian revolution at the School of Authentic Journalism.

DR 2011

Terri Bennett
The quartet of Noha Atef, Maria Dayton, Namees Arnous and Joe Rizk shared details of the many unreported protests and repression that had been simmering in Egypt before the Egyptian people exploded on January 25, 2011—the symbolic date of the Egyptian Revolution.
The revolution in Egypt grabbed worldwide attention as a massive unarmed movement against a 30-year-old dictatorship, providing a case study on social movements for the journalists gathered at the Narco News School of Authentic Journalism.
Atef, a journalist and blogger, said she began her blog, Torture in Egypt, in 2006 to fight the widespread practice by police in Egypt. She documented torture in police stations across the country; writing about sodomy, rape, beatings and assaults committed by police officers.
"If you want to start something, and believe that it will happen, just do it, because, it will happen." Once she launched her blog, she learned from her readers that there were many more people interested in the subject. She named and shamed the perpetrators by publishing their photographs and other details about their private lives on the Internet.
Given the brutal and unforgiving nature of the police force under the Mubarak regime, Atef's struggle was a risky one. But she felt she was not alone in her efforts. Dozens of other Egyptian bloggers were also engaged in speaking out online, venturing into social matters that were erstwhile taboo in Egypt, and creating a growing online community. Other bloggers like Aalam Wassef were documenting the socio-political ills of the Mubarak regime, like corruption, police harassment and extrajudicial killings. "I don't know these people," Atef said, "but I know they're people who fought for justice… The world ought not to have been surprised by what happened in Egypt," Atef said. " Because nothing happens all of a sudden."
Atef displayed a photo showing thousands of textile workers in a labor strike in El Mahala in 2007. The image looked like photos of Cairo's Tahrir Square during the 18-day siege.
"This strike was in 2007 and it was in Egypt," Atef said. "There were many protests in Egypt between April 2009 and May 2010, 169 sit-ins, 112 strikes, 87 demonstrations, and 63 marches." These went unreported.
Maria Dayton, an American who'd lived and worked in Egypt for more than five years before the revolution, blamed the so-called "global surprise" at Egypt's revolution to "failure by journalists to tell the story of Egyptian activists."
Dayton was working with Egyptian civil society on human rights and democracy at a time when what she called "fear of he who must not be named" ruled Egypt. In 2005, she recalled, that a movement called Keffiyah ('Enough' in Arabic) rose up against the regime.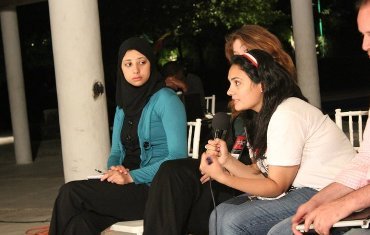 Namees Arnous participates in a plenary discussion about Egypt at the 2011 School of Authentic Journalism.

DR 2011

Terri Bennett
"There was very little coverage from the international community," she said. It was perhaps the "laziness" of the international press and independent journalists to highlight this that kept the rest of the world in the dark, Dayton said.
After Hamas won elections in Palestine in 2006, Egyptian police cracked down hard on activists and the rest of the civil society. This crackdown also passed with very little coverage. "If people had understood, they wouldn't have been surprised by the January 25 revolution," she said. "I wish authentic journalists would have covered the activists who sacrificed so much."
Namees Arnous vividly narrated her days in Tahrir Square (see related story, "Tahrir Square As It Happened," Narco News), noting that the success of the revolution was a result of every Egyptian's effort. Arnous was a journalist who quit her job after her employers sided with the totalitarian rule.
Joe Rizk, an organizer in Egypt's civil society, said the revolution has to be protected at all costs. He said that after the February 11, after chants of "Mubarak is out, Egypt is Free" and after the Army took over, it took 200,000 protestors to force the Army to bring Mubarak and his cronies to book.
Since Mubararak resigned, the Army has done numerous things that are contrary to the revolution, Joe said, including kicking protestors out of Tahrir Square, engineering sectarian violence and cracking down hard on political dissent and activism.
"The Army has banned protests; banned discussing the military publicly without prior notification, and cracked down on civilians using military courts and prison," said Rizk. "The revolution will not be over, until we have civilian supremacy and the rule of law."
For Rizk and other like-minded Egyptians, the struggle continues. Several of the speakers were unhappy about the branding of the revolution as a "social media revolution" at a time when only 10 percent of Egyptians have access to the Internet.
"Twitter and Facebook are available all over the world," Atef said. "Why then didn't the revolution happen in all countries of the world? If it was a social media revolution, the regime wouldn't need to use live ammunition against protestors."
Dayton and Arnous agreed that social media were great mobilization tools, but nonetheless, there were specific skills and tactics that helped propel the revolution.
Rizk said he liked a comment from Jack Duvall, president of the Washington DC-based International Center on Nonviolent Conflict (ICNC was a sponsor of the School). "Jack Duvall believes that clicking 'Like' on Facebook is the beginning of something much wider; a more participatory democracy…and I agree with him."
Click here for more Narco News coverage of Mexico
Lea Ud. el Artículo en Español

Narco News is funded by your contributions to The Fund for Authentic Journalism. Please make journalism like this possible by going to The Fund's web site and making a contribution today.

- The Fund for Authentic Journalism
For more Narco News, click here.