"Gringoyo" Offers Another "Flavor" to Video Journalists
Mexico-Based Filmmaker Gregory Berger Melds Parody and Reporting to Make Videos on Social Movements "Go Viral"
By Alex Elgee

Class of 2011, School of Authentic Journalism
May 20, 2011
On a hot afternoon, "Gringoyo" strolls down a Mexican avenue with an American investigative journalist disputing what defines their profession. To cool down, they stop at an ice cream shack. Gringoyo turns to his counterpart, "What ice cream do you want – chocolate or strawberry?" Noticing the variety of ice creams available, the investigative journalist replies, "What about all the other ice creams?" Seizing the opportunity to make his point, Gringoyo replies, "Like the ice cream, journalism doesn't have just two flavors, there are many ways to produce it."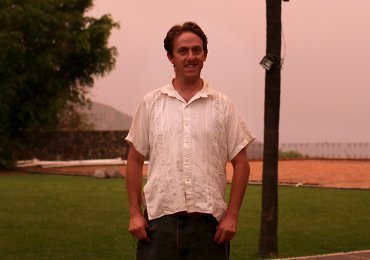 Greg Berger at the 2011 Narco News campus.

DR 2011

Noah Friedman-Rudovsky.
Lying in the grass at the School of Authentic Journalism, Gringoyo, otherwise known as Greg Berger—"Gringo" being a North American and "Goyo" a Spanish nickname for Gregory—says he has many disputes with what he calls "mainstream" journalists who do not agree what he does is journalism. Up until 2004, he didn't either. Then the young film maker was introduced to authentic journalism.
"Before I thought it was just art," he says flicking back his hair and abruptly sitting up. The night before was a late night for Greg, in fact so too were the last three nights. His eyes are slightly bloodshot but his passion for his work keeps him seemingly buzzing throughout the day. He quickly looks at his phone, an old Nokia, then continues with our conversation. "I met Al Giordano, who told me it was journalism, authentic journalism."
"It tells a story, the facts are true and its based on real issues," says Greg, increasingly stirred by discussing his work. "There is no such thing as objectivity, everyone has a bias but not all are honest about it. We are."
Since arriving in Mexico in the early 1990s Greg has produced a variety of short movies, based on real events but using humor to raise awareness about social movements. "Greg has really figured out that instead of spending six months on a film project which few people will see, you can spend a number of weeks on a smaller made-for-Internet piece and more people will see it," says Al Giordano, director of the School of Authentic Journalism. "You can make it viral and get your message out to so many more people. Greg is kind of pioneer in this type of news."
The term "authentic journalism" was coined by journalist Mario Menéndez Rodríguez, the director-general of Por Esto!, a Mexican daily, to describe journalism which attempts to work with movements to resolve issues in society. As practiced by Al Giordano of Narco News, it is a media free of advertising, never changing its style or content to raise revenue.
"Authentic journalism is not alternative journalism though, that's what the mainstream media thinks, it is the original form," explains Greg.
Greg first became interested in the social movements of Latin America at Hampshire, a liberal art college in Western Massachusetts. After graduating, he moved to Mexico to teach and learn more about the social movements occurring across the continent.
Sitting in his room at the j-school campus Greg admits he rarely talks about the good things of college. He does not agree with formal education. He says, however, Hampshire really shaped him. "We had no grades, and I was really free to do what I wanted, they allowed me to be the master of my own destiny," he says, powering up his computer—like most video people, it is a Mac, but it has taken a battering. "If I hadn't had that experience I am not sure I would be doing what I am doing today."
At college, Greg was well known for his colorful projects, which drew the attention of most the school. For his final dissertation, Greg wanted to make a comment on the orange juice industry and international capitalism. Having interviewed migrant workers and bankers involved in the industry, Greg then produced what he calls a "multimedia freak show." Having built a giant orange juice carton, Greg then picked up students and professors around the campus and wheeled them to a fountain where they projected the interviews on the scene.
He has continued to create such videos till this day. Since coming to Mexico, Greg has produced countless "viral videos," working alongside social movements and their activists to raise awareness for various issues which haunt the continent.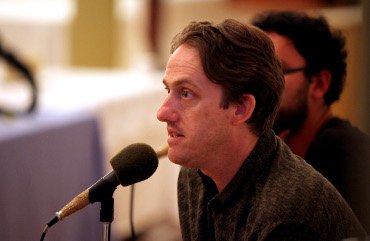 Berger speaks during a plenary about viral videos at the school.

DR 2011

Noah Friedman-Rudovsky.
One of his first major videos was in Bolivia where he worked along side Oscar Olivera Foronda producing documentaries in an attempt to educate a wide audience about the problems Bolivia faces, and the US involvement in many of these issues.
"He was very sympathetic to our people and was liked by everyone," says Oscar having just finished an interview with a j-school student from Italy who is doing a profile on him.
Oscar goes on to add that Greg is "a big thinker" always making ambitious plans, which gained him a lot of respect from Bolivians.
Greg was also a a big thinker in the literal term. Oscar recalls one time when Greg decided to make a gigantic version of their traditional game—normally played on a small table. "He made a coin which was one hundred times the size of the coin we normally use and a massive hole to throw it in, everyone thought it was hilarious."
Due to budget constraints, a feature documentary was never finished but it inspired him to make shorter, quirkier films, which can be produced quickly and grab the attention of audiences with humor and punchiness. The results can be viewed on his videos on Youtube and Narco News TV, which continue to be viewed increasingly every day.
In one of the films from Bolivia, part of the "Revolutionary Tourist" series, Greg travels around enrolling foreign tourists to work in a mine for free in order to compensate for the colonial "enslavement" of the Bolivian people over the last hundred years.
His latest work, "Spring Breakers Without Borders" is his favorite yet. In the video, which can be watched on his website, he explores the involvement of the US in the ongoing drug war. While tourism is decreasing in Mexico due to the soaring violence, the video shows a group of "spring breakers," the children of US businessmen who are benefiting from the drug trade through the sale of weapons to Mexico and the strengthening of US politicians campaign via anti-immigrant laws.
At present he is running, along with Chilean journalist based in Philadelphia Milena Velis, the viral video production course at the 2011 School of Authentic Journalism, which has nearly thirty students and professors—the biggest ever. Within ten days the students, who come from all over the world, undergo an intense immersion in Greg's world of "viral video." From learning basic shooting and editing skills, students then make their own viral video projects.
During a workshop at the j-School, all eyes are alert and focused on Greg as he bounces around the front of the room explaining how to distribute the videos. He explains that Youtube is a more effective launchpad than Vimeo because Google owns it, therefore making uploads more searchable. He then goes on to tell the class that he believes all media should be free. "Media wants to be free, it should be free," he says, twiddling with a pen. "As Oscar Wilde once said, 'Talent borrows, geniuses steal.'"
This year, one of the groups has created a video with Serbian Ivan Marovic, who with other students toppled the regime of Slobodian Milosevic in 2000. The video, titled "How to Topple a Dictatorship for Dummies," shows Ivan as a retired revolutionary, enjoying the high life in a luxury Mexican resort. The aim is to mix humor with serious issues in order to get as many views as possible and educate people on the strategies used during the Serbian revolution.
Arzu Geybullayeva, a blogger from Azerbaijan, attended a viral video production course conducted by Greg in Madrid earlier this year. Sitting on a sofa by the pool at j-school she explains how it helped her work. She admits that before the school she had little knowledge of video, and how she could use it to benefit her work to improve the political system in her country, where the next elections in 2012 are expected to be neither free nor fair.
By the end of this week she is planning to produce a short viral video to raise awareness about the oppression in her country. Using images from a violent crackdown on peaceful protestors, Arzu will use a voiceover to talk about the situation in her country.
Before the course in Madrid, Greg spent one week in Egypt where he met and interviewed many of the people involved in the January uprising and co-produced a video, first in a series, titled "The Daily Life of the Egyptian Revolution." The film focuses on video maker Aalam Wassef, and how he used funny viral videos to change the media discourse and raise awareness about the corruption and political situation in Egypt.
For Greg this was a big trip. "It confirmed to us that videos can be used with social movements and help them win," he says sitting out on the j-school lawn wearing a black T-shirt with "Egypt 25 January" written on it.
"We can also use videos to drag mainstream journalists by their hair and change the media discourse."
Greg has brought some of his inspiration to his students at the Autonomous University of the State of Morelos in Cuernavaca, Mexico, where he works as a film professor. The students are trying to emulate what they have learned about Egypt's movement and copy the Facebook group, "We are all Khaled Said," which was set up in memory of a 19-year-old boy killed by police after exposing their involvement in the drug trade.
To raise awareness about the movement, which is currently underway in Mexico against the drug war—led by poet Javier Sicilia, who comes from Cuernavaca—the students have created the group, "Todos Somos Juan Francisco Sicilia" in memory of Sicilia's son who was brutally murdered. Here they post videos, information on upcoming marches and discuss issues.
When Greg is not teaching, or shooting films, he spends most of his time with his son going on long vacations. "We just kind of go on adventures, its awesome." His five-year-old son, it seems, has also been infected with the "Gringoyo" revolutionary bug. Recently, while Greg was explaining to his son about the "silent march" against the war on drugs, his son quickly turned to his father and asked, "Is it like what Zapata did?"
Along with thousands of people, fed up with the innocent bloodshed, Greg took his son on his shoulders through Cuernavaca. While his son stayed, Greg followed the march through the mountains all the way to Mexico City. With a team, Greg produced Javier Sicilia's communique explaining the movement (seen by over 10,000 people) and then went on to film the the whole march and speeches in Mexico's main square, the Zócalo.
Back in the viral video group Greg coordinates an editing team working on the footage from the march at the same time as balancing numerous other tasks. Taking a quick break, he says he hopes that Narco News TV will produce more and more viral videos and that all of the students who he teaches will go back to their countries and submit work.
At a time when newspapers are dwindling and people's attention span wanes, Greg may have found the answer to how authentic journalists can continue to inform wide audiences about important issues. So some might say, its just in time that Gringoyo productions offers a new flavor to journalism, which can exploit the Internet's growing importance as a source of information.
"As we see traditional media die, this type of authentic journalism is the future, and may just takeover," says Greg, before finishing an interview and running off to his next workshop.
Narco News is funded by your contributions to The Fund for Authentic Journalism. Please make journalism like this possible by going to The Fund's web site and making a contribution today.

- The Fund for Authentic Journalism
For more Narco News, click here.