Authentic Journalism Tells the Stories That Aren't Told
Support A Committed Journalism That Will Build a Social Transformation
By Aldo Orellana López

Class of 2011, School of Authentic Journalism
April 15, 2011
I want to tell you that my path to the world of journalism has been a necessity. This necessity to tell stories that are not being told, including those that are often times overshadowed, is what has always driven me to do journalism.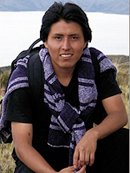 Aldo Orellana
During my very brief experience in this field I've had the luck of having great and intuitive communicators as
compañeros
and
compañeras
, who have been and continue to be my references when it comes to reporting. Whether old or young, men or women, they are builders of a committed journalism that denounces injustice, wherever it may come from. They also promote solutions, debate, and discussion about the problems and challenges that we have in our society.
Now I have been given the opportunity to nurture new experiences and acquire new tools that contribute to the work and effort that many have begun, this effort to build another type of journalism in Bolivia. It is a committed journalism that looks for a social transformation in my country of Bolivia, and of course in all of Latina America and the whole world.
For this reason the School of Authentic Journalism is very important to me, because it will allow me to broaden my vision of the world, and broaden my experience in acquiring the important tools that can be used and shared with my compañeros for a common cause of searching for a social transformation.
Please make a donation today, online, at this link:
http://www.authenticjournalism.org
Or you can make a check out to:
The Fund for Authentic Journalism


PO

Box 1446
Easthampton,

MA 01027 USA
Please, I ask you to donate to the Fund for Authentic Journalism so that the 41 students that were selected can share and nurture their experiences and tools, which I'm sure will mean a change in the construction of a new society in our places of origin.
Thank you,
Aldo Orellana
Lea Ud. el Artículo en Español

Narco News is funded by your contributions to The Fund for Authentic Journalism. Please make journalism like this possible by going to The Fund's web site and making a contribution today.

- The Fund for Authentic Journalism
For more Narco News, click here.