Authentic Journalism: Something to Believe In
There Are Many, Like Me, Who Filled a Reporter's Notebook with Ideas and Now Work to Make Them Reality
By Hugo Ramírez

Class of 2010, School of Authentic Journalism
September 28, 2010
When I hear the word "journalist," it bothers me. I'm Colombian. And as someone said before, being a Colombian is a question of faith. It is what the journalists of my country least inspire. They enrage you, misinform you, stigmatize you, and none that inspires faith.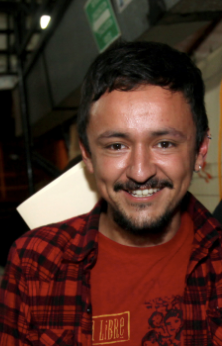 Hugo Ramírez at the 2010 School of Authentic Journalism.
Photo: D.R. 2010 Noah Friedman-Rudovsky
In what is already the twenty-first century, many are surprised to learn that in Colombia there is only one national newspaper, whose owners are family members of the ex-vice president and the current president of the country, and the same with the current president of the Inter-American Press Association (IAPA), infamous for its claims about the supposed violation of press freedom in Venezuela, but also well known for its complicity with the dictatorship of Pinochet in Chile. But I'm not surprised. Here, in order to be a saint – "santo," in Spanish – one has to be a member of the Santos family.
For years I have watched on television and heard on the radio about who are the good guys and bad guys, about how some "have sought a stupid death" by correcting the lies that apparently we all believe. Although I'm not sure that we share a belief in them, nobody ever asked me, but they have always been reported as if they are true. And that doesn't surprise me either.
In this country we have various choices, and we spend our lives watching soap operas in which housewives seduce the protagonists with their bodies and sweet arguments, in which we "machos" entertain ourselves with beautiful girls that certainly must spend as many hours working out their gluteous muscles as they spend in acting class. Those who like these soap operas of course can make their choices, and what is left then but to sweeten their lives with hard liquor?
They sell us our dreams. All of us here dream of a life like everyone else has and over many years they have taught us that dreams like ours aren't worth it if they are not endorsed by the media. The truth is, very few ever obtain their dreams.
A Colombian artist, reflecting on this situation, made a clay replica of the car in which Juan Pablo Montoya, one of our sad sports personalities from the Formula One media chain, keeps driving in NASCAR tournaments habitually burning out his motor before arriving at the finish line. Clay idols, clay politicians, models and singers that are not made of clay, but of silicone, are those that the media monopoly works to legitimize and make them seem like authentic representatives of our reality.
Earlier this year I had the opportunity of being invited to the School of Authentic Journalism in Mexico. Never before had I had the chance to know so many people from other countries. With utter amazement, I was able to explain to many companions there that the shouts and dance moves of Shakira don't resemble anything about my country, as well as explaining how I live in a country of the ultra-right where neither the FARC guerrillas nor the government nor anyone else has control. Mine is surely the best country in which to be an anarchist, where those that govern and those that disobey alike all have interiorized this idea: That the law doesn't have anything to do with me.
The Sabrothers Band of Bogotá, which is really more of a joke than anything else, composed a song that I never tire of singing, repeating over and over again: "I don't believe in God, I just believe in Mancera, and in the way he moves his hips." Probably, most of you who read these words have never listened to the "Sabebrothers" and much less whistled as their bassist shakes his hips, and much less could you understand the freedom of yelling at full lung a slogan as senseless as that one. The times of "the people united will never be defeated" have passed. We've already been defeated and never did unite.
Now is the time to stop believing and to begin to demystify all that they have sold us as the truth, even if our proposals at first don't seem anything like the correct way to do things. Would you say that Narco News and it's J-School are an example of that?
At the School of Authentic Journalism, Al Giordano gave me a reporter's notebook, which for 15 days I filled with ideas and with many contacts. Alongside my computer screen is my agenda: just a few ideas from inside that notebook that today I am making real. I have a job, and a school loan to pay off, so please do understand: I can't make the revolution happen with no food in my belly and much less with nothing in my head. But every free moment I have I dedicate to the ideas in that notebook.
At the moment in which I think about why someone should support Narco News and the School of Authentic Journalism, I remember that it is not only I, but many people in distinct lands who have a notebook like the one that I filled. It is certain that we are going to have something to believe in, that we will be able to change our realities, and, of course, shake our hips a little in the process of doing it.
There are many things to work on, and many things we need to change, many fences we need to break, and while Narco News and the School of Authentic Journalists aren't going to jump that wall for you, they certainly push you to want to do it as they have for me.
Please make a contribution today via this link:
http://www.authenticjournalism.org
Or send your donation to:
The Fund for Authentic Journalism


PO

Box 1446
Easthampton,

MA 01027

, United States
Thank you for taking a few moments to read these words, and for your continued support.
Hugo Ramírez
Bogotá, Colombia
Class of 2010, School of Authentic Journalism
Lea Ud. el Artículo en Español

Narco News is funded by your contributions to The Fund for Authentic Journalism. Please make journalism like this possible by going to The Fund's web site and making a contribution today.

- The Fund for Authentic Journalism
For more Narco News, click here.