You Got There First, "Cachito"
Gonzalo Subirats (1956-2010), Photojournalist with the Daily Por Esto and Professor of the School of Authentic Journalism
By Por Esto!

Editorial Staff
February 20, 2010
Journalism will always speak well of Gonzalo Subirats, his place in the history of news, information and professionalism in photography is reserved.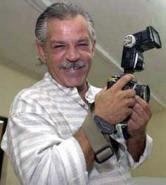 Gonzalo Subirats
D.R. Por Esto!
During the 1990s there was a man in Quintana Roo who blazed the path to follow in graphic journalism. He did not know the word "no." He always went out and sought the photo that was different than all the rest. For him, no photo was impossible and there was no image that he could not succeed at creating.
He was known by many, above all by those photographers in those years when the foundation of what is now journalism in this state, each of whom at one moment or another found themselves in his presence; receiving his orders, his criticisms, his courage, his hand motions but also his congratulations and recognition.
A straight shooting man of integrity, he never spoke behind anyone's back. He always confronted problems, truth told, each and every time. That made him different than the rest. It was his style, his personal brand.
"With me, there are no half tones," he liked to say to those of us who truly appreciated and above all valued his work that defined an era at the daily Por Esto! and later in the sports organization, the Pioneers of Quintana Roo.
For him, a picture told more than a thousand words. It meant more than the front page of a newspaper or a representation of reality. For him, photography was his passion, his pride and, above all, his greatest strength.
Those who knew him in life knew perfectly well they could count on a loyal friend through thick and thin. There are not many left in journalism today that are like that.
Who does not remember his travels with Renán Castro Madera in the special investigations that they conducted many times throughout Quintana Roo?
Who does not remember him with camera in hand, a smile on his face and the fingers of his left hand pulling on his mustache? "My mustacho," he liked to say to those who knew him well.
He was a fervent admirer of joyful music, of salsa, merengue and trova cubana.
Addicted to more than perfection at work, Coca Cola Light, coffee and a good cigarette.
Creator of the celebrated phrase that defined many who he made into heroes through his images, and through his photographs a place is reserved for him in the journalism of Quintana Roo and the Yucatán peninsula. "How are you, Cachito?" he would say always with a huge smile.
Gonzalo Subirats was, is and always will be the reference for images in journalism. Evidence of that was his final job done in the gymnasium of the University of Xalapa, where he took photographs of the game between the Pioneers and Falcons in the semifinals of the National Professional Basketball League.
With an honest smile, a friend like few others, happy, jovial and every bit a professional of the photography that over the years brought him great friendships throughout his journalistic career, today our compañero and brother Gonzalo Subirats García has left us and gone ahead of us into eternal life.
In his hours of work, with his photographic equipment, always looking, seeking the photo… the photo…! That is what always distinguished him among compañeros and that is how we say goodbye to Gonzalo Subirats.
Compañero like no other, he fought and struggled for the photo as a grand professional.
The daily Por Esto! newspapers of Yucatán and Quintana Roo had in him a great partner in work, a true friend and brother, like few others, in good times and in bad.
Of a sincere heart that now has failed him, but in life he never skimped when bringing his friendship to those he knew, it was always his shield of welcome toward all.
Today Gonzalo Subirats has gone but his words, the professionalism of his work and his character as a strong and beloved man will always be remembered.
And precisely that strength of a well loved man that brought him to his last thoughts in life to the woman he loved and his son who now more than ever will miss his father.
Until always, Gonzalo Subirats. Until always, Cachito. Until always, my friend…
The only thing I can say to you is that you will be missed when we triumph in the victory that we always dreamed of and that day after day we worked to construct.
Lea Ud. el Artículo en Español

Narco News is funded by your contributions to The Fund for Authentic Journalism. Please make journalism like this possible by going to The Fund's web site and making a contribution today.

- The Fund for Authentic Journalism
For more Narco News, click here.