Mariano Abarca Lives, and the Struggle Continues
Almost Two Months After the Anti-Mining Leader's Assassination in Chiapas, Blackfire Exploration Ltd. is Under the Microscope
By Gianni Proiettis

Special to The Narco News Bulletin
January 23, 2010
SAN CRISTOBAL DE LAS CASAS, CHIAPAS, MEXICO. JANUARY 20, 2010 – It is about 8pm on Friday, November 27. In Chicomuselo, a town of about 5,000 souls located about 200 km southeast of San Cristobal de las Casas near the border with Guatemala, the sun has just set. Fifty-year-old Don Mariano Abarca Roblero, father of four and leader of the struggle against the mining industry in the state, is inside his car and talking with an acquaintance, Orlando Velasquez, who is outside the car, leaning against the window. A man gets off a motorcycle, moves towards the car, and shoots at Mariano. He hits him in the neck, chest, and heart. He kills him with a calculated coldness. On of the shots passes through Abarca's body and wounds Orlando Velasquez in the thigh.

Brother and son of Mariano Abarca: Uriel Abarca Roblero (right) and his son, José Luis Abarca (left).
D.R. 2010 Gianni Proiettis
Today, almost two months after this abhorrent crime against a defender of his land and his people, there are those who suspect that Velasquez might have been in league with the murderers and cite as proof the fact that his wound was light and purely accidental. He also never appeared with the family during Don Mariano's funeral service, and he even paid off a debt he had of over a million pesos just a few days after the murder. And, as Mariano's brother Uriel points out, other people participated in the execution that Friday, in addition to the two hitmen who are currently in prison.
The history of Mariano Abarca Roblero, the history of his struggle against the plundering and devastation of two Chicomuselo ejidos* by the Canadian mining company Blackfire and the history of his death were recounted by Kristin Bricker in Narco News on December 1, 2009, ("Chiapas Anti-mining Leader Murdered"), just three days after his death.
Today, on January 20, 2010, the consequences of Mariano's assassination are becoming apparent. Details about the incident and those responsible are coming out, and three people have already been imprisoned for directly participating in the murder. The intellectual authors are being investigated. It has not been ruled out that some Blackfire official could have been involved. The constant threats, including physical violence, that Mariano allegedly received from company employees and contractors for months arouse suspicions against the company.
At the moment, Blackfire's activities in Chiapas—the extraction of barite from lands in the Grecia and Nuevo Morelia ejidos—are temporarily suspended due to an order from the State Environmental Ministry. However, it is subject to future review by the federal Ministry of Economics.
Another consequence of Mariano Abarca's homicide is the indignation and ability to respond that is growing amongst the environmental and anti-globalization sectors and movements in defense of Mother Earth. This growth is occurring alongside increased access to correct information. Like Chico Mendes and many other defenders of life, people, and nature, Mariano Abarca should have been protected—not harassed—by the State, his memory should be preserved, his loss indemnified, and his biography taught in schools like the hero he really was.
On January 19 in the headquarters of Otros Mundos in San Cristobal de las Casas, the Canadian Embassy's political counselor, Karim Amegan, met with Mariano Abarca's brother, Uriel Abarca Roblero, and Mariano's son Jose Luis, a young man who appears determined to carry on his father's struggle.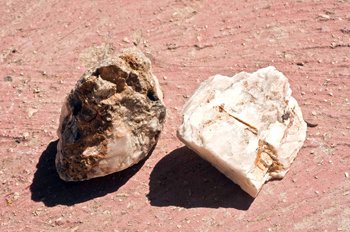 Barita from the Blackfire mine at ejido Grecia
D.R. 2010 Gianni Proiettis
Upon leaving the meeting, the Canadian counselor gave no comment, diplomatically hiding behind the argument that he had only been sent by the embassy as an observer in order to collect testimonies, formal complaints, and opinions. It is obvious that with all of the accusations and complaints that the Canadian government receives from Mexico against mining companies, it has decided to collect as much information as possible about the issue. Especially now that there is a murder and an important company is involved. It seems as though things haven't changed much since B. Traven wrote
La Rosa Blanca
.
Don Uriel Abarca and his nephew Jose Luis turn out to be more accessible. Gustavo Castro, the coordinator of the non-profit Otros Mundos, is very welcoming and a prodigious source of information about barite's industrial uses, Blackfire's activities, and the activities of other mining companies in Chiapas.
Narco News: Don Uriel, it seems as though Juan Sabines' administration is currently, perhaps due to strong national and international pressure, interested in clearing up your brother's murder and bringing [those responsible] to justice. However, up until this past August it seems as though Sabines dedicated his energies to legally harassing your brother. When they detained him, what did they accuse him of?

Uriel Abarca: They held my brother for ten days under arraigo (pre-charge detention) but they couldn't make a charge stick. The accusation was for attacking public roadways, but they couldn't prove it, because it was related to a protest encampment that didn't even block free transit. They also accused him of inciting people to violence, but they couldn't prove that either because in reality he led a group that protested to protect the environment, and that isn't a crime. So the State Attorney General's Office had to desist and they had to free him from where he was being held under arraigo in [the city of] Chiapa de Corzo.

Don Uriel Abarca Roblero remembers that he was able to talk with his brother while he was in arraigo, and he told Mariano that their family had offered to post bail to get him out. Mariano rejected the offer because he knew he was innocent. "He felt sure that they would have to let him out.

"Thanks to pressure from many national and international organizations in support of Mariano, the state government had to back down and free him on August 27, after ten days. The government realized that it was embarrassing to hold someone prisoner just for defending the environment."

Narco News: Was it after his release and after the Second Conference of the Mexican Network of Peoples Affected by Mining (REMA) in Chicomuselo on August 30-31 that the threats started up again?

Uriel Abarca: One month later, on September 28—I remember it was raining that day—I called him to ask how things were going, and he told me that they were bad, that people from Blackfire had directly threatened to kill him, and he told me that he wanted to file a legal complaint against the people who had threatened him. I told him that he was right, that he should denounce [what was going on]. He did it, accusing by name Antonio Flores and Ciro Roblero of threatening him.

Ten days before Mariano's death there was an official forum about mining in Tuxtla, and the governor declared Chiapas a no-mining state. On that occasion the mining companies that operate in Chiapas felt that power that they had always had was being taken away: they saw the government increase the conditions it placed upon them and above all the taxes they had to pay for [mining] concessions, which increased in one blow from 1% to 4%. The mining companies, Blackfire included, were infuriated and understood that these problems were caused by my brother's struggle. In fact, if it hadn't been for Mariano and the movement that he organized in Chicomuselo, things would be the same as they always were: corrupt.

My brother had to die for Blackfire to suspend its operations, and in fact, it's only a temporary suspension ordered by the State Environmental Ministry. The final decision is in the hands of the federal Ministry of Economics, and the permanent suspension of Blackfire's right to operate in Chiapas is far from a sure thing.

Narco News: What were Mariano's specific complaints?

Uriel Abarca: My brother decried the damage to the environment and to people's health. The use of dynamite to extract barite causes constant pollution due to the mineral's residues that oxidize and pollute rivers and soils, causing the death of fish, cattle, and other animals. Moreover, the detonations of dynamite have caused the complete disappearance of many small streams. Not only that, before the mineral is extracted, the brush is uprooted, leaving barren surfaces that are then completely useless for farming. It is an utterly devastating activity.

Narco News: Apart from the little employment that mining provided, in what other way did the zone's inhabitants benefit?

Uriel Abarca: They didn't benefit. The only person who benefited economically was the mayor, Julio Cesar Velasquez, who periodically received checks from Blackfire. He is also subject to investigation for my brother's death, but he legally benefits because he is a government official.

Narco News: Do you think that the three people that have been detained for the homicide of your brother are the true culprits?

Uriel Abarca: Two of them were detained as the people who actually carried out the murder, but they didn't act alone. There were other people who participated in the execution that night and there has to be more than one intellectual author. We are led to believe that some official from the mining company had something to do with the decision to eliminate my brother. I say this because of the corrupt manner in which the company already operated. They didn't stop at corrupting, dividing, and poisoning a village. To do all this they had to conspire with local people. We can't say for sure that it was the Canadians who ordered my brother's death—we don't have proof—but the company's behavior makes us suspect its direct participation in the homicide.

It was the murder that caused the suspension of the company's activities. They killed my brother on November 27, and Blackfire suspended its operations on December 6.

Those who were directly affected by the mine's closure are the mayor and Mr. Walter Leon Montoya, the owner of the transport company that transported the mineral. He directly threatened my brother and is in prison along with the hitmen.
* An ejido is legally recognized in Mexico as commonly held land.
Click here for more Narco News coverage of Mexico
Lea Ud. el Artículo en Español

Narco News is funded by your contributions to The Fund for Authentic Journalism. Please make journalism like this possible by going to The Fund's web site and making a contribution today.

- The Fund for Authentic Journalism
For more Narco News, click here.