Esdras Amado López Explains Increasing Lack of Chemistry between Channel 36 and Roberto Micheletti
Coup President Fails to Confiscate Award He Signed to Journalist and Station Owner in 2006
By Belén Fernández

Special to The Narco News Bulletin
October 7, 2009
TEGUCIGALPA, HONDURAS, OCTOBER 7, 2009: Hanging in one of the upstairs offices of Channel 36 TV/CholusatSur in Tegucigalpa is a framed award presented to the station in 2006 by then-Congressional President Roberto Micheletti, whose title has since evolved to coup president. The award praises Channel 36's technological innovations and contributions to journalism in the form of live broadcasts, the novelty of which – according to station owner Esdras Amado López – centered around the installation of camera crews in the Honduran presidential palace and the Congress building. Micheletti would gradually come to regret his encouragement of such practices by Channel 36, with the trajectory of regret culminating in the closure of the station by the coup regime on September 28 and the confiscation of its broadcasting equipment.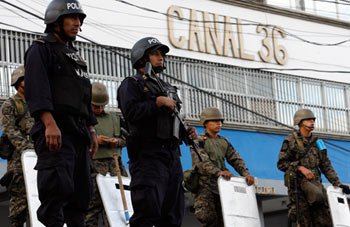 Honduras coup troops invaded Channel 36 TV on September 28, removed its equipment, and surrounded the building.
According to Amado López, Micheletti's appreciation for technological innovation had declined in accordance with Channel 36 news reports of his alleged involvement in premeditated financial mismanagement and the nonfatal shooting of an attorney who had participated in the 2008 hunger strike at the Congress by public prosecutors protesting corruption in Honduras. Micheletti meanwhile explained the lack of chemistry between Channel 36 and himself by accusing Honduran President Mel Zelaya of funding the news outlet, an accusation challenged by Amado López, who pointed out that TV stations "sell advertising, not rocks," that Zelaya's government had paid for their ads just like people presumably paid other stations for ads comparing Zelaya to Hugo Chávez, and that
golpista
Rafael Ferrari owned far more media outlets than he himself did.
As for Channel 36's initial financial position, Amado López admitted to being taken by surprise when he was authorized by the administration of Carlos Flores Facussé to open the station in 2001 despite the fact that he was not part of Ferrari's socioeconomic "club." Hailing from the southern Honduran province of Choluteca, Amado López had worked as a journalist, covering – among other events – the fall of the Berlin Wall, the Persian Gulf War, and the participation of the Honduran ambassador to South Korea in the illicit sale of Honduran nationality to Asians. He had then rented space in Tegucigalpa to start a broadcasting station called Pueblo Visión, which later progressed to Channel 36 but maintained the commitment to providing a forum for popular expression.
In Amado López' view, the station's rapid popularity was a result of the fact that the non-elite of Honduras were not accustomed to seeing the problems in their barrios addressed on television and that no one was accustomed to seeing live sessions of Congress. Currently in charge of approximately 60 employees nationwide, Amado López joked that the decision to make Channel 36 a news station was due in part to the lack of sufficient resources for an entertainment station and that Micheletti's delays in starting Congressional sessions helped to fill up air time. Filling up air time has become less of a challenge in the aftermath of the June 28 coup, during which Zelaya's removal from the country coincided with Channel 36's removal from the air and Amado López' retreat into hiding.
Broadcasting rights were subsequently restored, although repeated electricity cuts and the application of acid to the station's transmitters continued to be matters of concern, as did death threats, satellite blockage, and Micheletti's appeal to banks and cellular phone companies to withdraw advertising from Channel 36. The various forms of interference were denounced by the news channel to the National Telecommunications Commission and the Public Ministry, which Amado López claimed had yet to investigate the complaints as opponents of the coup were apparently the only ones subject to immediate investigation. The term "media terrorism" was meanwhile revealed not to mean "terrorism of the media" in Micheletti's lexicon but rather Channel 36's newsflash on September 21 that Zelaya was in Honduras and not in a hotel suite in Managua as sworn by Micheletti.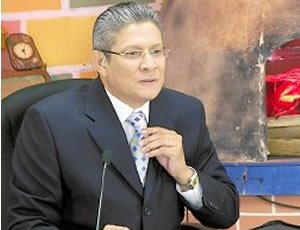 Channel 36 owner and journalist Esdras Amado López.
As for non-media terrorism occurring a week later, prospects for the return of Channel 36's confiscated equipment – the current condition of which is unknown – were cast into doubt at an October 5 press conference at the presidential palace. There Micheletti revealed additional lexical idiosyncrasies such as that his "completely revoked emergency decree" did not mean that his emergency decree had been completely revoked, and instead meant that Channel 36 would have to submit to a judicial process in order to be a channel again.
Amado López questioned definitions of judicial process that consisted of confiscating inanimate objects that had not committed crimes and additionally invoked Article 73 of the Constitution, which had not been suspended by the emergency decree and prohibited media closures unless it had been determined by authorities that said media had failed to conform to the law. Channel 36's conformity to the law is seemingly upheld by the coup authorities' determination that it has incited insurrection, which Article 3 of the Constitution calls for in situations involving usurper governments.
The owner of Channel 36 maintained that the decree had not succeeded in silencing the people of Honduras, who he explained continued to speak to him on a regular basis in Tegucigalpa in order to convey their sympathies; additional noise had also apparently been made in certain villages, where inhabitants had misplaced the blame for Channel 36's disappearance and shouted at local television companies. Declaring the coup unsustainable, Amado López laughed that he had turned on golpista radio that morning to discover that an announcer who had just weeks before been rejoicing at Honduran riddance of Zelaya was now claiming that Zelaya was his friend.
Amado López confessed that it has thus far been too painful for him to personally inspect the extent of Channel 36's equipment losses or to view the security camera footage of the confiscation in its entirety, although he did show me an excerpt of a YouTube video of police dismantling equipment on the station's roof. The fact that the coup regime failed to confiscate security cameras suggests that Channel 36 continues the tradition of technological innovation praised in 2006 by Congressional President Micheletti, who recognized the value of real-time transmissions in pro-coup media situations when he insisted that interrogatory priority go to those outlets broadcasting live from the October 5 press conference.
As for the ceremonial hug between the reappeared Zelaya and golpista presidential candidate Elvin Santos – recently transmitted live by Channel 36 – Amado López interpreted the immediate negative reaction to the footage as evidence that political innovation must accompany technological and that crisis resolution requires real-time approval by the Honduran public.
Lea Ud. el Artículo en Español

Narco News is funded by your contributions to The Fund for Authentic Journalism. Please make journalism like this possible by going to The Fund's web site and making a contribution today.

- The Fund for Authentic Journalism
For more Narco News, click here.