Honduras Reports Lack of Towns Named for Oliver North
US Cocaine Trade May Suffer as Result of Campesino Empowerment in Guadalupe Carney
By Belén Fernández

Special to The Narco News Bulletin
August 23, 2009
AUGUST 23, 2009, TRUJILLO, HONDURAS: Last Thursday night in the northeastern Honduran port of Trujillo, Al Giordano and I visited the Bahia Bar, past clients of which had allegedly included Marine Corps officer Oliver North in the 1980s. North's patronage was presumably an effect of the bar's proximity to the Trujillo airfield, which functioned as a transit point for Colombian cocaine en route to the United States.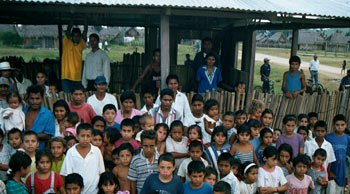 2,000 adults and 1,400 schoolchildren of the town of Guadalupe Carney, near Trujillo, Honduras, won legal title to their land but continue to be under frequent attack by military, paramilitary and organized crime forces.
Photo D.R. 2008 Chiapas Indymedia
To reach the Bahia Bar one must first cross the airfield's wide asphalt runway, which in addition to being unilluminated at night also lacks any sort of control tower. A similar lack of supervision was apparently enjoyed by Colonel North in the 1980s, when—as demonstrated in a later Congressional investigation by
US
Senator John Kerry—he utilized cocaine profits to fund guerrilla war against Nicaragua.
A local teacher named Francís Salgado met Al and me at the Bahia on Thursday to discuss strategies of resistance against the June 28 coup that ousted Honduran President Mel Zelaya. Salgado alerted us to alternative forms of control towers at the airfield next door, where he claimed the Honduran military had parked two empty buses in case Zelaya intended to make Trujillo the transit point for his return to Tegucigalpa.
A brief investigation on our way out of the bar revealed that there was at least one bus parked in the middle of the runway and that there were soldiers sleeping under it, apparently unaware of the danger of being run over by Zelaya's plane. Army fatigues hanging from the bus windows to dry suggested that aircraft deterrence was not the only addition to the list of possible bus functions in the context of the Honduran coup, which had already seen soldiers shoot out the tires of a school bus full of peaceful protesters en route to the capital.
Other instances of Honduran vehicular impediment had meanwhile occurred near the community of Guadalupe Carney just outside Trujillo, where resistance members had closed the highway a number of times following the coup. One campesino leader reported to Al and me on Friday that the road closures had generally lasted between 48 and 72 hours and had complicated not only the curfews imposed by the coup government but also banana transport for the US-based Standard Fruit Company. Subsequent research revealed that Standard Fruit was now called Dole; campesino fixation with archaic Latin American terminology was also observed in their reference to Roberto Micheletti's "presidential succession" as a military coup.
In response to the highway closures outside Guadalupe Carney, the Trujillo Chamber of Commerce had issued a pronouncement on July 18 which failed to mention either Standard Fruit Company or Dole but did not fail to mention the harmful effects roadblocks can have on the nutritional intake of old people and children. The pronouncement appealed to the national government to disarm Guadalupe Carney, citing "the presumed presence of arms in said community," and additionally appealed to relevant authorities such as the Ministry of Defense to put an immediate end to roadblocks.
An elderly community leader named Ramón offered a different perspective on the presumed presence of arms, and—in between coveting Al's filterless Mexican cigarettes—described an August 2008 attack on Guadalupe Carney at five a.m. by mercenaries of a local landowner and former Army colonel named Henry Osorto Canales. Osorto's approach to community relations is thus shown to be distinct from that of the campesinos, who established Guadalupe Carney almost a decade ago by simply moving onto territory belonging to large area landowners and planting corn and beans.
The community is now populated by several thousand Hondurans, who are presumed to actually be Venezuelans, Cubans, and Nicaraguans by the same people who presume the presence of arms. The effectiveness with which said nationalities have disguised themselves is now reaching new levels, and a public schoolteacher in Guadalupe Carney described a visit to the community by North American reporter Reed Lindsay on behalf of Venezuela-backed TeleSur.
Rumors of Latin Americans in disguise have meanwhile been fueled by societal modifications undertaken by ousted President Zelaya, whose contributions to agrarian reform included legalizing the land underneath 700,000 Honduran subsistence level farmers. According to a law passed in 2006, citizens occupying land for two years or more were entitled to own it, and the government was responsible for compensating the previous titleholders. One such previous titleholder was former Army colonel Henry Osorto Canales' father, whose failure to include Osorto in his will did not deter his son from sending 15 masked men with AK-47s into Guadalupe Carney on August 3, 2008.
Osorto's attempt to introduce his own method of land titling led to a battle between AK-47s on the one hand and sticks, stones, machetes, and AK-47s pried away from the enemy on the other, which resulted in the paramilitary killing of community leader Irene Ramírez and the arrest of a community delegation that went to Trujillo to complain to the district attorney and police departments. The Honduran media analyzed the sequence of events and determined that the paramilitaries had been attacked by savage farmers.
Recent Honduran media analysis has included the idea that the coup is not a coup and that those who beg to differ are armed and foreign. Armed nationals have meanwhile included the Honduran army, which arrived to Guadalupe Carney in the midst of one of the post-coup road closures in addition to allegedly disappearing the American priest Guadalupe Carney in the 1980s. Community member Augustín Calíz explained on Friday the town's adoption of the priest's name: "He was a great friend. He gave a lot. In the end, he gave his life."
According to a resistance leader in Guadalupe Carney, life-giving has temporarily been put on hold while military troops display their best behavior in honor of a visiting international human rights delegation. He failed to explain, however, why there is no Honduran town called Oliver North.
Former army colonel Henry Osorto Canales may be amenable to retitling the land around Guadalupe Carney in more ways than one, given his presumed interest in the Guaymoreto Lagoon bordering the community which was used as a key loading point for Colombian cocaine by Oliver North and his private-sector narco-successors. The arrival to the area in 2000 of the campesinos, who tend to focus on less lucrative products like corn and beans as well as tending to notice when drugs are being funneled through their backyard, has thus interrupted the flow of business.
Community leaders in Guadalupe Carney fear the flow will be reinstated via an expulsion of campesinos from their land. The Honduran coup regime's insistence on discrediting farmers as violent foreigners suggests that although the clientele of the Bahia Bar in nearby Trujillo has changed since the days and nights of Oliver North's command here, covert drug interests have not.
Narco News is funded by your contributions to The Fund for Authentic Journalism. Please make journalism like this possible by going to The Fund's web site and making a contribution today.

- The Fund for Authentic Journalism
For more Narco News, click here.