The Wall Street Journal Walls Itself In and Ridiculously Defends the Dictatorship of Roberto Micheletti
Mary Anastasia O'Grady, Unwilling to Be a Real News Reporter, Cribs Her Stories Jayson Blair Style from Emails and Cable TV
By Juan Carlos Rivera

Mirada del Halcón Honduras, Translated by Narco News
August 9, 2009
Since June 30, the US newspaper The Wall Street Journal has published the weekly opinion columns of Mary Anastasia O'Grady, who in lieu of providing objective information offers the reader a strong dose of intrigue, fiction and ideological propaganda to defend the dictatorship of Roberto Micheletti in Honduras and ridiculously discredit the Constitutional President Manuel Zelaya Rosales.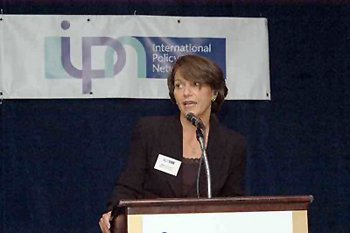 Pro-Coup Ideologue Mary Anastasia O'Grady Publishes a Weekly Opinion Column and Edits "News" Stories at the Wall Street Journal
I have followed the career of O'Grady, an editor of the newspaper, and she almost always makes me laugh out loud with the string of imprecise claims that, according to her, constitute profound analysis. Hers is a neighborhood political gossip column that passes along whatever she hears, including via email.
On July 6, the editor, supposedly a specialist in Latin American affairs, left her work methods nakedly exposed. That day she published a column titled: Honduras at the Tipping Point.
"Hundreds of emails from Hondurans flooded my in-box last week," she wrote in her lead. But the part that caught my attention said: "All but a handful of my letters pleaded for international understanding of the threat to the constitutional democracy that Mr. Zelaya presented. One phrase occurred again and again: 'Please pray for us.'"
Kind reader of Mirada de Halcón, as you can divine, O'Grady writes those texts closed in her cubicle, in side the walls of the Journal, watching CNN, copying facts from the dispatches of the press agencies, transcribing the emails sent serially from Honduras and reading the newspapers of the businessmen that financed the coup d'etat. On more than one occasion she has quoted El Heraldo.
In contrast with we, the journalists who are in the streets of Honduras and that, more than once, have endured the sting of the teargas launched by coup forces, O'Grady opts to follow in the footsteps of Jayson Blair, the New York Times Journalist who wrote about a sniper in Washington when he was really in New York.
The New York Times fired Blair for writing lies in his informative reports, but the Wall Street Journal will never dismiss O'Grady for writing untruths, because she has the green light from the newspaper's owner, the magnate Rupert Murdoch, arch enemy of Venezuelan President Hugo Chávez.
Any matter with the scent of Chávez is and will be satanized by the Wall Street Journal, as long as it is in the hands of Murdoch. That's the powerful reason why O'Grady, when she speaks of Zelaya Rosales and Honduras, ends up throwing sparks and lightning at the Venezuelan president.
For example, in that same text ("Honduras at the Tipping Point") this columnist wrote: "Mr. Zelaya's violations of the rule of law in recent months were numerous. But the tipping point came 10 days ago, when he led a violent mob that stormed a military base to seize and distribute Venezuelan-printed ballots for an illegal referendum."
O'Grady ignores or falsifies information for economic and ideological reasons. On June 28, Zelaya Rosales wasn't going to hold any referendum. The executive branch, instead, through the National Census Institute (INE, in its Spanish initials), was to hold an "opinion consultation," authorized and protected by Article 5 of the Citizen Participation Law.
"Do you agree that in the 2009 general election there should be a Fourth Ballot Box in which the people will decide whether to convene a national constitutional convention?" was the question on the piece of paper which O'Grady had likely never seen, but which one can find on this blog.
In another column, titled, The White House's Latin Connection, the expert wrote: "It was his first time back in Honduras since he (Zelaya) was arrested and deported on June 28 for violating the constitution.
That day in dawn hours, as all Hondurans including those in the military know, elements of the Armed Forces took the President from his home at gunpoint, under threat of death, and expelled him to Costa Rica. They never brought him to a jail to face a trial.
This week, as seen, the Latin American specialist had writer's block, so she had to establish a forced and impossible relationship between political situations in two dissimilar countries. She titled it, What Haiti Can Teach Us About Honduras. And thus continued her ideological campaign in favor of the dictatorship.
(Originally published, in Spanish, by Mirada del Halcón.)
Lea Ud. el Artículo en Español

Narco News is funded by your contributions to The Fund for Authentic Journalism. Please make journalism like this possible by going to The Fund's web site and making a contribution today.

- The Fund for Authentic Journalism
For more Narco News, click here.