Bolivia: Constitutional Referendum Now in Voters' Hands
On the last day of campaigning, and three years after taking office, Bolivian President Evo Morales speaks in Cochabamba
By Erin Rosa

Special to the Narco News Bulletin
January 23, 2009
Cochabamba, Bolivia; January 22, 2009: An estimated crowd of 25,000 people gathered in central Cochabamba on Thursday to hear Bolivian President Evo Morales's final arguments supporting a new constitutional referendum that will be decided by voters on Sunday, January 25. It was the last day, under law, for campaigning for and against the measure and it also marked three years since Morales was officially inaugurated as president of the Andean nation.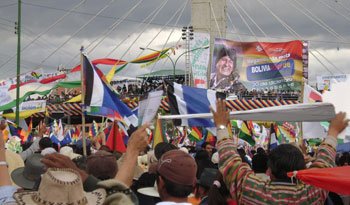 Photo: Erin Rosa D.R. 2009
Standing before a convergence of
campesinos
, indigenous Bolivians and other supporters, Morales asked attendees to vote yes for the new constitution, while praising the history of the city's participation in the Cochabamba water wars of 2000, where residents successfully organized against the privatization of the city's water supply by the U.S.-based Bechtel corporation over a period of four months.
"Brothers and sisters, in the new constitution human services like water, electricity, and telephone access are human rights," Morales said. "Cochabamba made history. The movement liberated all Bolivians. The grassroots organizing set the direction for the new constitution."
Five people were killed—one of them a 17-year-old—and dozens were injured in the protests the rocked the city in 2000. Residents opposed the privatization after Bechtel began raising the cost of water by as much as 300 percent as part of a business agreement with former president Hugo Banzer. Under Bechtel, citizens had to obtain a permit even to collect rainwater, making the valuable resource unattainable for Cochabamba's working and middle-class populations.
Morales also took time to criticize the conservative opposition opposing the new constitution, characterizing it as corrupt and a part of stale politics.
"The opposition says that if you have two houses, President Evo Morales will take one, that if you have two cars, the government will take one, and the next thing they are going to take, if you have two women, is one woman!," Morales joked amid laughter from the crowd. "The new constitution guarantees private property, state property and collective property. The opposition has not held open rallies like this, because they are always afraid of the people."
Morales was elected president with 53 percent of the popular vote in December 2005, and again received more than two-thirds of the vote in a recall referendum held in August 2008.
Narco News is funded by your contributions to The Fund for Authentic Journalism. Please make journalism like this possible by going to The Fund's web site and making a contribution today.

- The Fund for Authentic Journalism
For more Narco News, click here.