Clinton Confirmation Hearings and Obama-Calderon Meeting Reveal Big Changes About to Come in US-Latin America Policy
An "Upgrade" of NAFTA, an "Update" of Plan Colombia, Labor Protections, Easing of Cuba Embargo and "direct diplomacy with Bolivia and Venezuela" Are on the Docket
By Al Giordano

Special to The Narco News Bulletin
January 14, 2009
Prior to Tuesday's US Senate Foreign Relations Committee hearing on the confirmation of Senator Hillary Clinton for Secretary of State, committee chairman John Kerry submitted a 78-page list of questions to the nominee. Five pages of the document were dedicated to questions and answers on US-Latin America policy and can be found on pages 69-75 of this .pdf document transcript published by Foreign Policy magazine.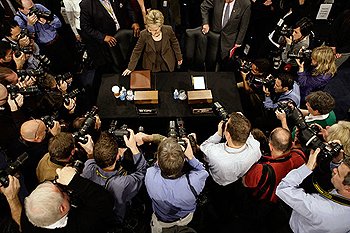 Senator Hillary Clinton now adopts Obama's positions on "direct diplomacy" with Venezuela and easing the Cuba Embargo.
The questionnaire reveals that Clinton now advocates the Obama platform for easing the US embargo of Cuba and for "direct diplomacy with Bolivia and Venezuela," – positions that she opposed in her own presidential campaign – as well as reiterating shared public positions on rewriting the proposed US-Colombia Free Trade Agreement.
More on the details of the future Secretary of State's answers to Senator Kerry's questions about Latin America in a moment, but first some news and analysis about the previous day's session between President-elect Barack Obama and Felipe Calderon (who has the title of, but not a popular consensus that he is, president of Mexico).
Obama Meets Calderon, Takes Rahm With Him
An Obama transition press advisory after Monday's meeting in Washington DC noted that:
"On trade and the economy, President-elect Obama said that with both countries facing very difficult economic times, it's important to work together to maintain a constructive and comprehensive dialogue. He expressed his continued commitment to upgrading

NAFTA

to strengthen labor and environmental provisions to reflect the values that are widely shared in both of our countries, and proposed the creation of a consultative group to work on a host of issues important to the United States and Mexico, including

NAFTA

, energy and infrastructure."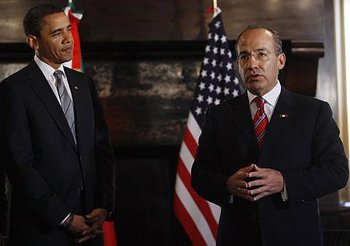 Mexico's Calderon met with Obama on Monday…
Emphasis added in bold type, because Calderon has been frantically lobbying against amending the North American Free Trade Agreement (NAFTA) that currently gives carte blanche to business interests on both sides of the border to skirt labor, consumer and environmental protections.
Calderon must have not liked what he heard in that meeting, as the next day he ventured into the lame duck Bush White House for a joint press conference with the outgoing president. There, after a private meeting with Calderon, Bush told reporters:
And secondly, I want to thank you for your steadfast support of trade. I'm a big, strong believer in

NAFTA

.

NAFTA

has been good for the United States of America, and

NAFTA

has been good for Mexico. And I want to thank you for that.
Calderon – who speaks English but addressed the reporters in Spanish – ended up correcting his interpreter when speaking about NAFTA, according to the transcript:
I agree with what the President has said with regard to the North America Free Trade Agreement. It has proved to be very useful, both for the United States and for Mexico. In that regard, millions of jobs were created here in the United States. Mexico is the second-largest purchaser of U.S. goods. We buy, in fact, twice as many U.S. products as the People's Republic of China. Two million jobs based on exports were created in Mexico—

PRESIDENT CALDERÓN: No, in the United States.

INTERPRETER: In the United States—excuse me—as a result of NAFTA.
Politics as entertainment doesn't get much better than this. No, not even Calderon can say that NAFTA created more jobs than it destroyed in Mexico (it's destruction of jobs and farms, in fact, led to the steep rise in immigration by Mexicans into the US). And his claims about job creation in the US are bogus, too: Calderon withheld the math on the US manufacturing jobs eliminated by NAFTA. Regarding jobs, NAFTA was a net loss and mere relocation of decent paying union jobs to lower paying non-union jobs, causing a massive displacement of workers on both sides of the border, an imposed exodus that continues to this day.
And there, on Tuesday, at the White House, Calderon had to "walk back" his historic fierce insistence that NAFTA not be changed with these words:
And yesterday, I was discussing with President-Elect Obama the fact that we are willing to continue working on future additions of a way to continue to build on the achievements that

NAFTA

has created—benefits, issues of concern to both of our citizens. I understand that there are issues of concern to Mexicans, as well as to U.S. citizens, on the issue of the environment and on labor.
The Obama transition press advisory about the meeting also mentioned that:
"President Calderón was joined in the meeting by Foreign Secretary Patricia Espinosa, Interior Secretary Fernando Gomez Mont, Treasury Secretary Agustín Carstens and Ambassador to the United States Arturo Sarukhan.

"President-elect Obama was joined by Chief of Staff Designee Rahm Emanuel, National Security Advisor Designee General Jim Jones (Ret.) and White House National Economic Council Director-Designee Lawrence Summers.

"The meeting was held over lunch at the Mexican Cultural Institute in Washington, DC, and lasted for one and a half hours."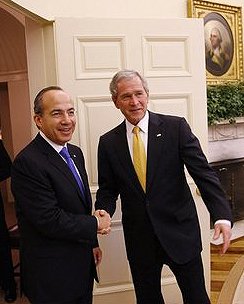 Calderon then met with George Bush on Tuesday.
The inclusion of incoming White House chief of staff Emanuel in the meeting was particularly of note, since his post has no direct role in US-Mexican relations or policy. However, Emanuel has the reputation as the tough-talking, hot-headed enforcer in the fledgling Obama administration and when dealing with a neighboring country's leader who probably presumed bi-national relations would carry on, business as usual, despite campaign promises to the contrary, Rahm's the guy to bring to the fiesta to send a message that you're serious about making changes to
NAFTA
. And that's even more effective given Emanuel's history in Congress as a
NAFTA
supporter: What better symbol to send the message that a change is gonna come and to clear up any possible illusions that there will be a "save
NAFTA
" saboteurs cell inside the White House?
One of the messages sent this week in both the Obama-Calderon meeting and the Clinton confirmation hearings is that whatever administration members' positions on issues were prior to joining the Obama staff, they're all marching to his tune now. This is an important telegram to send and should head off attempts to cherry pick or pit one against another at the pass.
The Clinton confirmation process has revealed this evolution in even greater detail.
From Bitter Rival to Good Soldier
As one of the pens that most vociferously wrote in warning against the appointment of Senator Clinton as Secretary of State, I find her answers to some of Kerry's questions to allay, now, some of my expressed concerns. For example, during their presidential rivalry, when Obama called for easing the US economic embargo of Cuba to allow Cuban-Americans to visit the country and send money to relatives there, the Clinton campaign's response was a terse statement that candidate Clinton planned no changes to US-Cuba policy. But here she is now, in her capacity as Secretary of State designate, with a new and better stance:
President- Elect Obama believes that Cuban-Americans especially can be important ambassadors for change in Cuba. As such, he believes that it makes both moral and strategic sense to lift the restrictions on family visits and family cash remittances to Cuba. We do not currently have a timeline for the announcement of such a new policy, and the Obama-Biden Administration will consult closely with Congress as we prepare the change.
That's a super big deal, and it's the crack through which, if implemented, more sweeping changes will plow through. (For example, if a policy allowing Cuban-Americans to travel to, or send funds to people in, Cuba becomes law, it won't be long before US Courts rule that the Constitution's equal protection clauses extend that right to all Americans.) It's such a sea change on fifty years of bad policy – an embargo begun by President Kennedy and continued by Presidents Johnson, Nixon, Ford, Carter, Reagan, Bush 41, Clinton and Bush 43 – that Senator Clinton had to underscore the initial limits that Obama has placed on the change, yet with the suggestion of more advances in the future:
President-Elect Obama also believes that it is not time to lift the embargo on Cuba, especially since it provides an important source of leverage for further change on the island.
Essentially, these are Obama's precise campaign promises being put into action by a secretary-designee that opposed some of them. And one thing about Obama's campaign pledges is that, to a tee, he framed them in the realm of possible, attainable goals that can, if pushed, win backing in Congress.
Kerry's next question to Clinton was on US-Venezuela policy, a kind of "third rail" in hemispheric politics, rarified by the Bush administration's cheering (and worse) of the attempted 2002 coup d'etat against its president, Hugo Chavez, and the latter's media savvy personal smackdowns of Bush at the UN and elsewhere. Clinton's written answer begins with boilerplate anti-Chavez language:
For too long, we have ceded the playing field to Hugo Chavez – a democratically elected leader who does not govern democratically, and whose actions and vision for the region do not serve his citizens or people throughout Latin America.
Oh, so the US policy toward Venezuela will remain the same? Not so fast. Clinton followed that statement with these words of change:
While we should be concerned about Chavez's actions and posture, we should not exaggerate the threat he poses. It's time for the United States to fill that void with strong and sustained US leadership in the region, and tough and direct diplomacy with Venezuela and Bolivia. We should have a positive agenda for the hemisphere in response to the fear-mongering propagated by Chavez and Evo Morales.
Clinton went even further to write:
We believe that bilateral cooperation with Venezuela and Bolivia on a range of issues would be in the mutual interest of our respective countries – for example, counterterrorism, counternarcotics, energy, and commerce.
In other words, now begins the end to the Bush policy of refusing to work with Venezuela and Bolivia on matters of mutual benefit (and those are the steps, after all, that lead to working respect and relationship on more difficult disagreements).
And for the cherry on top, Clinton then completely walked back her own virulent opposition, during the campaign, of direct talks with the Venezuelan president:
The pursuit of tough, principled, direct diplomacy has been and must again be a hallmark of effective U.S. foreign policy. We should not take any tool off the table that may help promote our interests and values throughout the hemisphere. Direct, high-level diplomatic engagement with Venezuela, of course, also requires careful preparation and a partner willing to engage in meaningful dialogue.
And she threw the ball in Chavez's court, essentially offering him the opportunity to respond in kind if he thinks meeting with Obama could be beneficial to Venezuela:
It remains to be seen whether there is any tangible sign that Venezuela actually wants an improved relationship with the United States. No decision has been taken with regard to the appropriate manner and level at which to engage with the Venezuelan government.
That, in diplomacy, is what is known as an olive branch toward a world leader who, before, only had swords pointed at him. It's respectful, and opens a door. Next, we'll find out if Chavez thinks its in his country's interest to walk through it. Diplomacy is, if nothing else, a dance between two partners. And Chavez just got invited to the dance, with transparent disclosure from the incoming US administration of the kind of steps – mainly rhetorical – that it would like in return. That's a fair shake and opens a world of possibility toward concrete change from the current dysfunction.
Kerry's Shot Across the Bow
Many pundits and reporters have noted that in the Senate Foreign Relations Committee's hearing on Clinton's nomination, there were many aspiring presidents at the table: Senators Richard Lugar, Chris Dodd, Joe Biden, Clinton and Kerry himself all sought the White House in recent years, and it was an open secret that Kerry almost became the nominee for the post Clinton will soon fill. It was also the committee's first major hearing since Kerry assumed its chairmanship.
And one of Kerry's written questions to Clinton suggests he's soured considerably on "Plan Colombia" – the multi-billion dollar US military intervention in that country – which after nine years has not shown results at what was stated as its main goal: impeding the production and trafficking of cocaine. Kerry's question also revealed his evident concern about repeating the mistakes of "Plan Colombia" now with "Plan Mexico," also known as the "Merida Initiative":
An October 2008 report by the

GAO

concluded that, although Plan Colombia improved security conditions in Colombia, it has not significantly reduced the amount of illicit drugs entering the United States. What lessons can be drawn from Plan Colombia, not only to improve its effectiveness, but to improve other U.S. counternarcotics policies, including the Merida Initiative, in Latin America?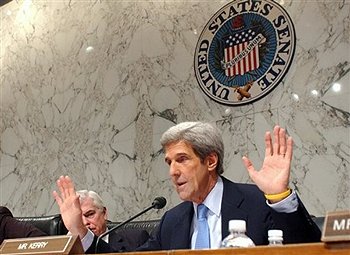 Senate Foreign Relations Committee Chairman John Kerry asked how to avoid the failures of Plan Colombia in the "Merida Initiative" (Plan Mexico).
That question was a friendly but tough shot across the bow from Kerry, who in the 1990s led the Senate investigation exposing US government involvement in cocaine trafficking through the Iran-Contra case. It put Obama and Clinton on notice that he, their political ally, and now the most powerful voice on foreign policy in Congress, is not going to sit back quietly if Plan Colombia marches on as before, or if Plan Mexico repeats its grievous errors. Here's Clinton's answer – fairly boilerplate and only marginally breaking from 16 years of failed Clinton-Bush policy toward Colombia, but the "wiggle room," emphasis added in bold type, gives Kerry and others an opening to push harder, and a suggestion of the language that could be most effective in pushing the administration to change policy:
The President-Elect has supported the Andean Counter-Drug Program, and believes that it must be updated to meet evolving challenges.

The security situation in Colombia has improved, but very significant quantities of illicit narcotics continue to flow from Colombia to the United States. I look forward to working with Congress and our friends and partners in Colombia to ensure that future investments help staunch the flow of illegal drugs and help consolidate security gains to contribute to a durable peace in Colombia. To do so, we must learn from the successes and failures of the past. We will fully support Colombia's fight against the FARC, and work with the government to end the reign of terror from right wing paramilitaries.

As we continue our struggle against the scourge of illegal drugs in our society and throughout the Americas, we must ensure that we are doing what is necessary here at home to reduce demand, enforce our laws through effective policing, and disrupt the southbound flow of money and weapons that are an essential element of the transnational illicit networks that operate in Colombia and elsewhere in the Americas. It is important that we work together with countries throughout the region to find the best practices that work across the hemisphere and to tailor approaches to fit each country.
On US-Colombia policy, the incoming administration is thus ceding part of the steering wheel to Congress (in effect saying, FDR style, "go out and push us to change it"). This is very different from the previous stances by Presidents Clinton and Bush that merely railroaded Congress' concerns about human rights and other matters through pressure built up through media campaigns. String the bold-typed words together, and here's the "new language" with which to push the next administration: Plan Colombia "must be updated," that should be done by "Congress," to correct the "failures of the past," and when it comes to Plan Mexico, "tailor the approach" to make it different from Plan Colombia.
That's hardly the embracing of a bold new or better policy, but it cracks the door for Civil Society to push through and open wider. (And to those doing the good work of that pushing, the wording of Kerry's question ought to provoke an obvious light to go on above our heads: That Kerry, if given the language and the hard information to do it, might be persuaded to become the spear for a more concrete change in direction when it comes to the failed Plan Colombia, and, in time, perhaps the larger failure of US drug policy that molded it.)
In response to Kerry's question about the proposed US-Colombia trade deal, Secretary-designate Clinton essentially put the final nail in the coffin of the current version that has been pushed so desperately by Bush and Colombian President Alvaro Uribe. It's back to the drawing board time, and here are the conditions that the Obama administration has set, in plain, clear language:
With regard to the trade agreement, it is essential that trade spread the benefits of globalization. Without adequate labor protections, trade cannot do that. Although levels of violence have dropped, continued violence and impunity in Colombia directed at labor and other civic leaders makes labor protections impossible to guarantee in Colombia today.

Colombia must improve its efforts. I look forward to working with members of this Committee, as well as other members of the Senate and House of Representatives to see what the United States can do to help contribute to an end to further violence and continued impunity directed against labor and other civic leaders in Colombia.
Game. Set. Match. The United States of America, which in recent presidential administrations, Republican and Democratic, made its number one priority in Latin America to push for "free trade" agreements at the expense of all other considerations, will shortly be pushing in the opposite direction: to reverse the extremist consequences of trade agreements that failed to protect workers, consumers and the environment on both sides of the borders.
But something bigger has just occurred: Once Washington ceases to subject every other issue – from human rights to choosing friends and foes to democracy itself – to a bullying push for more "free trade," when that organizing principle no longer exists, a few days from now… an entire new set of paths and options will open up, that boot no longer being on the neck of all other policies. A new underlying dynamic will form in that vacuum. And now the race is on – from above, but also from below – to define it.
Narco News is funded by your contributions to The Fund for Authentic Journalism. Please make journalism like this possible by going to The Fund's web site and making a contribution today.

- The Fund for Authentic Journalism
For more Narco News, click here.