Multimillionaire Budget to Assure State Viability
The Mexican Department of Public Safety Will Have Operation Centers for Immediate Reaction to Coordinate Intelligence and Investigation Tasks.
By Enrique Mendez and Roberto Garduño

La Jornada
September 11, 2008
The Administration of Felipe Calderon proposed to the House of Representatives, a budget for security, armed forces and for the CISEN (National Security and Investigation Center) of 104 billion, 181 million MXP (Mexican pesos) (USD $10.418 billion). This budget is primarily assigned to the SSP (Mexican Federal Department of Public Security), which will have more input in the struggle against organized crime, as part of a strategy to "assure the viability of the State and of democracy".
As part of the economic proposal for 2009, in its programmatic strategy, the SSP confirms that this dependency will establish police centers for immediate reaction. It also intends to coordinate all intelligence and investigation tasks (concerning) criminal organizations to provide this information to the PGR (Office of the Attorney General of the Republic) and to the states' Attorneys General.
Marina and Sedena Will Reinforce Anti-Narco Combat
According to the strategy of President Calderon to confront insecurity, the Departments of the Navy and of National Defense (Sedena) will reinforce their participation in the combat against narco-trafficking and organized crime. They are authorized to purchase aircraft, build ships and acquire and manufacture equipment and war materiel, as well as improve their facilities.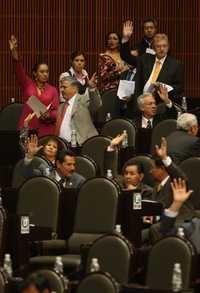 Mexican Members of the House of Representatives, from the

PRD

(Democratic Revolution Party, with the golden sun logo) during a vote in the ordinary session, yesterday at the Legislative Palace of San Lazaro (Mexico City).
D.R. 2008 Photo: Francisco Olvera
The larger budgetary increases will be for the Preventive Federal Police (PFP), which will have a budget of 15 billion pesos (USD $1.5 billion). Also, for the Federal Agency of Investigation (AFI) will have 1.8 billion pesos (USD $1.8 million), and for
CISEN
(National Security and Investigation Center) which will have an expenditure budget of 2.4 billion pesos (USD $243.9 million). This latter budget item corresponds to slightly over one fourth of the budget assigned to the Mexican Federal Department of the Interior, which is 8.8 billion pesos (USD $883.41 million).
The focus of the PAN Administration (National Action Party) is to strengthen the attributions of SSP, institution to which is assigned the task of "align the capacities of the Mexican State in the combat against organized crime, with a view to reestablish security conditions for society in all the national territory".
The programmatic strategy of the federal SSP, delivered to the House of Representatives – which delivered yesterday the economic package for 2009 to the commissions on the Treasury and on the Budget – indicates that this purpose includes the integration and coordination of all police institutions to obtain a better operational deployment and a better geographic coverage.
SSP will establish police stations throughout the country, with a budget of 1 billion pesos (USD $100 million) to "provide citizens with integral attention to prevention, investigation and persecution of crime" as well as to "offer a service of prompt attention crime related complaints, actions to prevent crime and efficient police deployment. This is given it will have personnel for analysis, technical services and investigations to disarticulate criminal organizations".
In the acquisitions items, the purchase of 4 helicopters for the PFP is foreseen. These are valued at 739,488,700 pesos(USD $73.948 million). Also, an investment of 86 million pesos (USD $8.6 million) is included to purchase security systems and equipment for the offices that the federal SSP has in 6 buildings in Mexico City.
PGR

, Advanced Techniques

In contrast with the objectives of the SSP, PGR argues that in the struggle against organized crime, and to disarticulate narcotics trafficking cartels, 'efforts will be made' to arrest its members by means of the application of "advanced investigation techniques".

Even though the increase in the security expenditures for 2009 was justified with the increase in the index of abductions, the Specialized Unit for Investigation of Abductions of the PGR will only count with a budget of 22,257,946 pesos (USD $2.2 million). Meanwhile, the Office of the Assistant Attorney General for Specialized Investigation on Organized Crime will have a budget of 857,432,583 pesos (USD $85.74 million).

Sedena will have a budget of 42,423,231,860 pesos (USD $4.242 billion). Among its duties are to support "government policies in matters of security without restriction" and to "generate the conditions necessary for the development of the nation that allow a preservation of a national order, in which public powers (3 branches of government) may be respected as institutions".

Sedena's budget includes the construction of a retirement home for retired military officers, as well as homes for active duty soldiers, who will be assigned salaries that will allow them to have "a decorous source of income". Sedena will allocate 991 million pesos (USD $99.1 million) to purchase HF radio units, 2,186,000,000 pesos (USD $218 million) to replace 3-dimensional land-based radars, and 488,359,962 pesos (USD $48.8 million) for (payments (of royalties and fees)) for technology transfer to manufacture the Heckler und Koch (H&K) assault rifle, in 5.56 caliber, among other equipment. (Note: This assault rifle is some times known in South America as G-3).

The Mexican Department of the Navy will have (a budget of) 15,757,281,110 pesos (USD $1.575 billion). One of its primary purposes is to "frontally combat organized crime, terrorism, smuggling, illegal traffic of persons and weapons (…) and to provide security to society".

Among its investments, (the Navy) will buy systems for intelligence and counterintelligence, replace radio communication systems, will acquire 6 CN-235-300M Persuader interceptors (fighters) for maritime patrols, valued at 3,230,000,000 pesos (USD $323 million), will build 5 patrol ships, 7 Polaris II- Class interceptor vessels, (will acquire) 4 ships for high seas (maritime) patrols, each of 1,680 tons of displacement (DWT), and will replace weapons and materiel.

Originally Published in Spanish September 11, 2008



Translation by FAF


Click here for more Narco News coverage of Mexico

Lea Ud. el Artículo en Español


Narco News is funded by your contributions to The Fund for Authentic Journalism. Please make journalism like this possible by going to The Fund's web site and making a contribution today.


- The Fund for Authentic Journalism
For more Narco News, click here.