The House of Death: Now Available on Video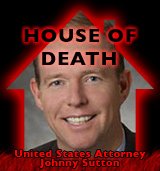 Major Overseas TV Network Tackles a Story the U.S. Networks Fear to Cover
By the People and Power series

Al-Jazeera English
June 19, 2008
Narco News has been investigating the House of Death murders for more than four years now, publishing some 70 stories to date on the case, which involved a U.S. government informant's participation (with the alleged knowledge of his U.S. handlers) in at least a dozen murders in Ciudad Juarez, Mexico. The U.S. government's role in those murders is compounded by an ongoing cover-up of its complicity that reaches into the highest levels of the departments of Justice and Homeland Security.
This past April, Narco News correspondent Bill Conroy took a trip to Juarez with the company of a free-lance filmmaker named Fernando Lucena, a Peruvian citizen who now lives in London. Their goal was to find the House of Death, located in a seemingly quiet neighborhood in Juarez on a dead-end street called Parsioneros. That journey into Juarez is chronicled in a story published previously on Narco News called: Foreboding and Loathing in the Quest for the House of Death.
Fernando also was on a separate mission to produce a news segment on the House of Death for the London bureau of the English-language Al Jazeera TV network.
His TV film project recently debuted overseas, across Europe, but is now available for viewing over the Net via Youtube in two segments.
We think it's worth checking out, because you won't see anything like this on American TV, since not a single major national news network in the United States has yet had the cajonas to cover the story.
People and Power: The House of Death
Part I
Part II
Narco News is funded by your contributions to The Fund for Authentic Journalism. Please make journalism like this possible by going to The Fund's web site and making a contribution today.

- The Fund for Authentic Journalism
For more Narco News, click here.