"You Show Those of Us Inside the United States that Victory Is Possible"
Remarks by former US Rep. Cynthia McKinney, at April 5 Continental Workers Gathering In Mexico City
By Cynthia McKinney

Special to The Narco News Bulletin
April 10, 2008
Buenos dias Brothers and Sisters of the Movement!
I am honored to participate in this Segundo Encuentro and to be a part of the struggle for self-determination, justice, peace, and dignity in the Americas.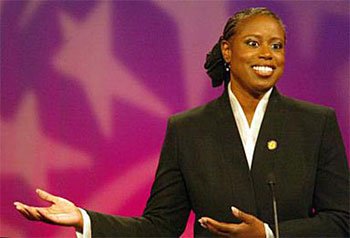 Former

US

Rep. Cynthia McKinney
Unfortunately, the need for this movement largely emanates from my country, the United States, whose rapacious corporate and wealth-inspired greed knows no bounds.
Unfortunately, the leaders of my country tell the American people that the policies being currently pursued are to protect that distinctly United States version of the "American way of life."
But, the American way of life is not worth war and slavery, torture and conquest.
The Bush Administration told us to expect war for the next generation and that there were as many as 60 countries that threatened this "American way of life." Missile strikes inside Pakistan and Somalia, occupations of Afghanistan and Iraq, gunboat diplomacy aimed at Iran, saber-rattling against China and Russia, and an Africa Command, AFRICOM, so that the complete ownership by outsiders of that Continent can be accomplished are the result.
A better USA is possible.
After September 11, 2001, the United States had the sympathy of the world. But when I asked the question, what did the Administration know and when did it know it, I was vilified and hounded out of office—twice. Now we find that much of what the Bush Administration told us and the world was a lie and that I was right.
Almost seven years later, I am proud to say that while in the United States Congress, I introduced legislation to impeach George Bush, Dick Cheney, and Condoleezza Rice because the impunity enjoyed by this Administration has to go!
I introduced legislation for a livable wage, to force U.S. corporations operating any place in the world to abide by U.S. labor and environmental standards. I introduced legislation forcing U.S. subsidiaries and contract companies to tell us their locations abroad so independent activists could visit them and verify what their labor practices were.
I introduced bills to protect our national forests and I spoke out against racism and discrimination practiced against people of color inside our country. I also sought to make U.S. foreign policy one that respects human rights.
Unfortunately, that struggle for justice and dignity meant that I had to criticize not only the Republican Party, but my own Party, too. And finally, after watching the Democratic Party aid and abet the Bush Administration's crimes against humanity and crimes against the peace, I left the Democratic Party.
I am here with you because I stand with you.
And despite your current struggles, you are winning. And you will win! You have a solid front from Haiti to Argentina and Chile. And by the fact that you struggle, you show those of us inside the U.S. that victory is possible.
Clearly, your struggle is my struggle and we are one.
Que vivan los pueblos de America!

---
Cynthia McKinney represented Georgia's 4th Congressional district in the

US

House of Representatives from 1993 to 2003, and from 2005 to 2007, and a long time friend of Narco News. She is currently a candidate for the Green Party nomination for US president. She delivered these remarks on April 5 at the Second Continential Gathering Against Free Trade Treaties in Mexico City.
Lea Ud. el Artículo en Español

Narco News is funded by your contributions to The Fund for Authentic Journalism. Please make journalism like this possible by going to The Fund's web site and making a contribution today.

- The Fund for Authentic Journalism
For more Narco News, click here.