Pro-Zapatista Activists Among Those Imprisoned In New Zealand Crackdown
Using New Anti-Terror Laws, Police Target Indigenous and Supporters Across the Country
By Julie Webb-Pullman

Special to The Narco News Bulletin
October 17, 2007
WELLINGTON: Two hundred people today demonstrated outside the Wellington District Court in New Zealand, to protest Monday's detention of four Wellingtonians, the first under the country's new Terrorism Suppression Act. Two peace activists compas from the Wellington Zapatista Support Committee are amongst these supposed "terrorists" – both of whom have been active in Oaxaca and Chiapas in the last year supporting the struggles in Mexico, and fundraising in New Zealand for health services for Zapatista communities.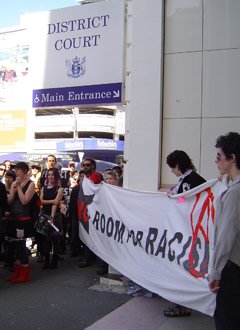 D.R. 2007 Julie Webb-Pullman
At today's hearing the Wellington Four were further remanded in custody with name suppression until Friday, when there will be a bail hearing, as well as a determination as to whether their cases will be heard 1,000 kilometers away in Auckland, with the other "suspects."
More than 300 police, many armed, had swooped down simultaneously in several cities around the country, arresting 17 people, several of whom are indigenous and all of whom are environmental, peace, or indigenous activists. They have all been charged under the Arms Act with various offenses relating to alleged possession of various firearms and ammunition. More charges may be added in the future. Police are still looking for about 60 more people, and on Tuesday more Auckland activists were being called in for questioning.
Christchurch was no walkover, however – Save Happy Valley Coalition spokeswoman Frances Mountier refused to let the police enter her premises because they did not have a search warrant.
Ruatoki women were not so lucky – they reported having their door smashed in and their children herded into another room by armed police. An elderly woman had a gun held to her head, while another was locked in her garage for six hours while police searched her property.
Meanwhile, delegates to the annual New Zealand Defense Industry Weapons Conference being held in Wellington, sponsored last year by L3 Communications (the sixth-largest defense company in the United States, providing surveillance equipment amongst other things). Serco, a company involved in nuclear weapons; Safe Air Ltd., with Indonesian war plane connections; and KBR, the former Halliburton subsidiary which provides logistical support to the US army in Iraq and runs Guantanamo Camp in Cuba, all lounged in luxury at the Duxton Hotel with not a search warrant in sight…
This blatant criminalization of social movements in New Zealand, once world leader in human and indigenous rights observation (which frankly is not that hard, given the appalling state of these internationally) and anti-nuclear activism, has sent shock-waves throughout the community.
Maori Member of Parliament Te Ururoa Flavell said a small rural community in his electorate was placed "under siege" by the police.
"The Maori families living in my electorate feel unduly harassed by the number of search warrants imposed, the charges laid and the intimidation they believe they have experienced," he said.
The Alliance Party President Victor Billot says that confusion and secrecy surrounding the unprecedented use of armed state power in a political context within New Zealand needs to be resolved quickly. "The exact and detailed nature of alleged threats to public safety must be made public immediately, and not in a selective way; the scale and timing of police operations, and the use of police publicity to create an impression of immediate danger, must be investigated; and the extremely wide nature of arrests and searches that have taken place must be justified," he said.
Global Peace And Justice Auckland denounced police allegations of terrorism in the Urewera ranges, saying they are trumped up to create the right political environment to pass the latest so-called anti-terrorism bill currently before parliament.
Canterbury University academic and spokesperson for ARENA, David Small, who successfully sued the New Zealand police for illegally searching his home at the time of an Asia-Pacific Economic Cooperation Conference in 1996, has labeled the police raids of the homes of social activists "draconian and probably illegal." He said the police seem to have learnt nothing from Justice Young's judgment condemning the police for failing to distinguish between political and criminal activity.
"Democratic societies need free and open debate. And groups engaging in this kind of critical activity need the law to protect their rights to do so. Today's raids have the opposite effect and are clearly designed to intimidate and silence these voices of dissent," said Dr Small on Monday.
Christian World Service National Director Jonathan Fletcher was shocked to hear of the early morning raids by police on homes around the country. "New Zealand police have stepped way over the mark – they are creating fear in our communities and fanning the flames of racism against Maori and mistrust of legitimate activists," he said.
When the Terrorism Suppression Act came into law, Maori said that it was only a matter of time before it was used against them – and Monday has proved them right.
Protests are expected to continue throughout the country as the accused make further court appearances.
Lea Ud. el Artículo en Español

Narco News is funded by your contributions to The Fund for Authentic Journalism. Please make journalism like this possible by going to The Fund's web site and making a contribution today.

- The Fund for Authentic Journalism
For more Narco News, click here.