Twenty-First Century: Forced Disappearance, the Current Policy in the Nation of Mexico
Five Police Officers Jailed for Beating Emeterio Marino Cruz
By Nancy Davies

Commentary from Oaxaca
September 1, 2007
Five police offices were arrested on August 27, according to Las Noticias, for the beating on July 16 of Emeterio Marino Cruz, who fell into a coma as a result of blows to his head administered by police after he had been taken into custody. Emeterio was reported dead; he was not. Instead he has emerged from the coma unable to speak, walk, or use the right side of his body. He was transferred from the hospital to his home this week. Photos show a man with a baseball cap perched lopsided on his head, his body ruined, his face distorted, weeping at the sight of his home as he was carried to the door in a wheelchair.
Two other men, teachers, were also attacked by police that same day and their case is also being "investigated."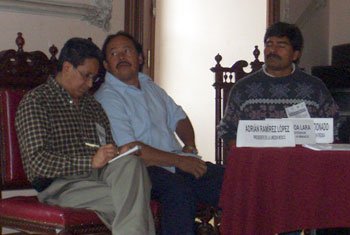 At right, Juan Sosa Maldonado.
Photo: D.R. 2007 Nancy Davies
The five detained men include one from the Federal Preventive Police (PFP, in its Spanish initials), three municipal police of Oaxaca, and one member of the Bank, Industrial and Commercial Police. They were clearly identified in videos and photos taken at the time. The attacks tooks place as the
APPO
and teachers as tried to enter Fortin Hill for the presentation of the Peoples Guelaguetza, where they were met with teargas and beatings.
So, now there will be an "investigation" to see if the assailants, or the coordinator of Public Security, or the Secretary of Citizen Protection, or anyone else of this Oaxaca government, should be held responsible.
In the history of human rights violations, going all the way back to the 1960s and '70s, to my knowledge no government official has been convicted of abuse of power, or murder, or assault.
Coincidentally, the national forum entitled "Twenty-First Century: Forced Disappearance, A Current Policy in the Nation of Mexico" (Siglo XXI: La Desperación Forzada, Una Política Vigente en el Estado Mexicano) was held at the Law School in Oaxaca center on Friday, August 28.
"There's no such thing as a clean war," asserted Manuel Martinez Camarillo, Doctor of Sociology emeritus from the Benemerito University of Puebla, the third of nine presenters at the forum. Martinez sees the situation as a confrontation of the power of brute force against the power of resistance. There is no "return of the dirty war," he claims, but a permanent intense war of extermination. Cultures, people and languages disappear due to socio-economic situations. Disappearance by force is the prerogative of the state, and has been used for decades, especially against indigenous leaders in Oaxaca.
The event also observed the recent disappearance of two Popular Revolutionary Army (EPR, in its Spanish initials) activists, plus that of a third EPR man who vanished three decades ago, the sister of whom appeared on the panel. Another woman involved bacause of family was Nadín Reyes Maldonado, from the Associacion Hasta Encontrarlos ("Until They're Found Association"), who served as moderator. Her voice broke after the testimony of Juan Sosa Maldonado, who was abducted and tortured for 25 days before being imprisoned in the maximum security facility of La Palma. Many of the women in the audience wept. It is clear that the burden of seeking the disappeared, and mounting anti-government campaigns, falls on the wives, mothers, and sisters.
Sosa testified to the arrests in Loxicha of persons like himself, against whom charges were never substantiated, though his imprisonment lasted from 1998 until 2006. He declared, "The worst is not the torture… they try to make us forget we are human beings… the worst is for the family who doesn't know where we are." The nine years of dirty war against the Zapotecs in Loxicha, according to Sosa, affects not only social struggles but families who don't dare to file a complaint. "Keeping silence is the worst we can do," he continued. "Being silent is a guarantee for the police, military and politicians to continue their tactics with impunity. Surely many (of the disappeared) are dead, but their families want to know where they are buried, to at least place a flower." Sosa's voice rose in anger and subsided. "Our children don't know us or where we went." adding, "Those who were not interested in politics are now raising their voices to overcome their fear. Say no to silence, denounce the torturers. We know who they are and the interminable list of those who must be held responsible. Against illegal arbitrary arrests we must keep on raising our voice," and overcome the "mechanisms of intimidation."
Also referring to Loxicha, the Oaxaca lawyer Israel Ochoa Lara spoke of ten men, including an artist, a teacher and a reporter, who vanished in 1996. He said the same thing is taking place now not just in Oaxaca, where about thirty people have been disappeared, but also in Guerrero, Chiapas, Veracruz, Michoacán, and Mexico DF. Not surprisingly these are states which also established popular assemblies similar to those of the Popular Movement of Oaxaca.
Ochoa pointed out that when people are grabbed with no arrest warrant it is very difficult to find them. The families must search in various places to see if the missing person has been held under a different name, so that identification requires a physical presence. "The authorities do not respond with any aid to find them. When the missing are finally located the authorities don't admit they have been held. With no explanation judges agreed to jail them on unfounded accusations."
In other words, when a governor, as in Oaxaca, controls the judicial system as well as the police, there is no justice. According to Adrian Ramírez Lopez, the president of the Mexican League for Human Rights (Limeddh), there is no legal method to demand the presentation of these illegally kidnapped people. The only recourse is an appeal to international and national voices, using reporters and the families of the disappeared, and all those who assist in various organizations. It comes down to creating a public scandal and a public embarrassment for the person in authority. Ramirez told the audience, "to fight for the disappeared is to fight for human rights and against impunity, naming the guilty by name, and showing photographs," as was the case with Emeterio's assailants. "Historic judgments catch up with people like Pinochet and Echeverria. Most important is the use of social organizations to educate and demand [the end to impunity], as well as the media; unity among organizations against impunity and La Otra Campaña to demand freedom for political prisoners." Ramirez seeks to confront the state and national government's use of force. The occupation of Oaxaca by the PFP reflects an agreement between Felipe Calderon and Ulises Ruiz to use judicial and political repression against individuals, one by one, to create fear and intimidate in the opposition. But things are different than they were in the '70s and '80s, believes Ramirez, because of international backing. "Regarding the social cost paid by the movement's activists, now we can say go and find your disappeared. Carry your babies on your back, with your bag of food. Go find them. We can help you," claimed Ramirez.
In the past year Amnesty International among other Human Rights organizations has visited Oaxaca more than once and declared that violations took place. The Mexico national committee to investigate human rights violations has been forced to send investigators for a second time; the first time they declared Ulises Ruiz in violation but nothing happened.
The forum sponsors were La Associación Hasta Encontrarlos, the Association of Families of the Detained Disappeared and Victims of Violations of Human Rights in Mexico (AFADEM, in its Spanish initials), the Diego Lucero Foundation, and Limeddh.
Click here for more Narco News coverage of Mexico
Narco News is funded by your contributions to The Fund for Authentic Journalism. Please make journalism like this possible by going to The Fund's web site and making a contribution today.

- The Fund for Authentic Journalism
For more Narco News, click here.