US Relations with Venezuela Take Center Stage in the US Presidential Campaign
Will North Meet South? Obama Said Yes, Clinton Said No, and It's a Whole New Ballgame in the US Presidential Campaign
By Al Giordano

Special to The Narco News Bulletin
July 25, 2007
During Monday night's YouTube-CNN debate among eight Democrats vying for the nomination to succeed US President George W. Bush, for the first time the questions to the candidates came not from media professionals, but from normal people.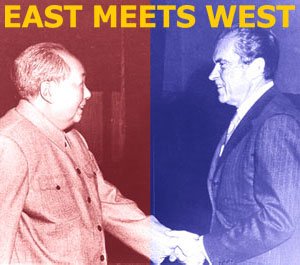 China's Chairman Mao and

US

President Richard Nixon
One of those questions came from Stephen Sorta of Diamond Bar, California. He asked the candidates whether, as the next US president, they would "be willing to meet separately, without precondition, during the first year of your administration… with the leaders of Iran, Syria, Venezuela, Cuba and North Korea, in order to bridge the gap that divides our countries."
Three candidates – luckily, the three frontrunners – answered. Senator Barack Obama (D-Illinois) said yes. Senator Hillary Clinton (D-New York) said no. And former Senator John Edwards (D-North Carolina) said maybe, sort of, perhaps.
"I would. And the reason is this, that the notion that somehow not talking to countries is punishment to them—which has been the guiding diplomatic principle of this administration—is ridiculous," answered Obama, interrupted by applause from the Citadel Military College auditorium in Charleston, South Carolina. "And I think that it is a disgrace that we have not spoken to them."
Clinton responded saying, "Well, I will not promise to meet with the leaders of these countries during my first year… I don't want to be used for propaganda purposes. I don't want to make a situation even worse… we're not going to just have our president meet with Fidel Castro and Hugo Chavez and, you know, the president of North Korea, Iran and Syria until we know better what the way forward would be."
The difference in policy positions quickly escalated into a heated war between the Clinton and Obama campaigns, more than any other between the two leading Democratic candidates to date. By Wednesday, MSNBC referred to Obama going to "DefCon Three" and the Democratic nomination fight now has its first substantive dispute between the candidates that doesn't involve a candidate's race, gender, wardrobe or hairstyle.
We'll bring you the play-by-play of how, in three short days, Clinton went from being what her chief strategist has called "the inevitable nominee" to a frontrunner stumbling over the foreign policy messes left by the previous Clinton administration, particularly in Latin America. And we'll detail for you the serious conflict-of-interest with special interests in Venezuela that led Clinton's chief strategist, Mark Penn, to chart a course this week that has proved disastrous for the Clinton campaign.
But first we'll let you watch all three minutes and 27 seconds of the full exchange – the question and the answers by the three presidential candidates – now itself an important piece in the rapidly changing history of US-Latin American relations:
Senator Obama's stated willingness to meet with US-shunned leaders of other countries marked a sharp break from the Bush-Clinton-Bush policies of the White House over the past 18 years. In the case of Cuba's Fidel Castro he broke with Eisenhower, Kennedy, Johnson, Nixon, Ford, Carter, and Reagan, too. But it's the case of Hugo Chávez – the democratically elected president of Venezuela since 1998 – that has demonstrated the inutility of Washington's childish gestures that have substituted for authentic diplomacy.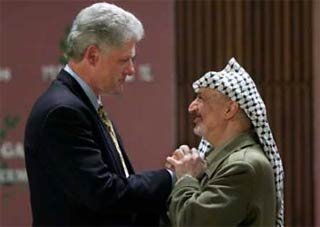 US

President Bill Clinton and President Yasser Arafat of the Palestinian National Authority
Each time the Bush administration and the Clinton administration before it tried to subvert the democratic will of most Venezuelans, they only succeeded in making Chávez more popular not only at home, but throughout the world. And they did so with constant cheerleading from the Commercial Media. In particular, the
New York Times
, the
Wall Street Journal
, the
Washington Post
, AP, Bloomberg, Fox News and most of the major news networks have dedicated themselves incessantly for the past nine years to discredit Chávez's Venezuela, to the point where they at first cheered or ignored the violent 2002 military-and-media coup d'etat against him: see
"Three Days that Shook the Media,"
Narco News, April 15, 2002).
Chávez's influence and popularity have grown in Venezuela, throughout Latin America and much of the world, in spite of (at times because of) all the scorn heaped upon him by the US government. How popular? When, last October he spoke at the United Nations and called US President George W. Bush "the devil," he was enthusiastically applauded by what seemed like a majority of nations' delegates to the UN.
Here's a typically yellow US media report – this one's from ABC – also available, coincidentally, on YouTube:
That was last October. By now, a record number of US citizens feel the same way about their disgraced president, according to every public opinion poll. And that makes the contest for the Democratic Party nomination to the presidency very closely watched even now, six months before the first votes will be cast next January in the Iowa and Nevada Caucuses and in the New Hampshire primary.
Senator Clinton has led in all public opinion surveys of Democratic primary voters to date: generally by fifteen percentage points or more. But gaining on her has been Senator Obama, who in the first six months of this year received a record amount of campaign fund donations from more than 250,000 American citizens, raising up a bigger arsenal than Clinton or any other candidate, Republican or Democrat. Obama has contrasted Clinton's votes to authorize the war in Iraq with his own long opposition to that war, and has promoted himself as "the candidate of change." On July 9, Clinton's chief strategist Mark Penn issued a public campaign memo casting Clinton as the inevitable nominee.
All that changed on Monday night.
After the two-hour debate in South Carolina, CNN announced that its "focus group" of Democratic primary voters in the first-in-the-nation primary state of New Hampshire had been wowed by Obama. In response to a question from CNN anchor Wolf Blitzer about the results, reporter Mary Snow said:
"Well, Wolf, there's a surprise here tonight. We're here with 24 Democrats, independents, who thought that Senator Hillary Clinton would be the best performer here tonight, but the results that we just got in, this is a focus group; show that Barack Obama got the most favorable in terms of the best performance from the 24 people who are here tonight."
The Fox News focus group in South Carolina found the same result. Pollster Frank Luntz, interviewed live on the Hannity & Colmes show, called the public's response "off the charts" for Obama:
"...we saw something really interesting tonight. I want to take it right to the voters.

"By a show of hands, how many of you walked in here supporting Hillary Clinton as your first choice for president? Raise your hands, raise them high. You all were first-choice Hillary voters. How many of you thought she won the debate? Look at what happened, Sean.

"Now, how many of you walked in here picking Obama as your first choice, only your first choice? Now, how many of you thought Obama won the debate, raise your hands? Check this out."
Read the transcript, where one of the participants was apparently moved by Obama's answer about his willingness to meet with world leaders:
LUNTZ

: But more of you came into this room supporting Hillary Clinton.

UNIDENTIFIED FEMALE: But don't we need that type of charismatic person to make those connections with foreign nations? We need someone who is believable, someone who's trustworthy, and someone who wants to create peace.

LUNTZ: And who is that person?

UNIDENTIFIED FEMALE: Obama.

LUNTZ: Interesting.

UNIDENTIFIED FEMALE: And Hillary has skills, knowledge. She's been around a long time. I think she has a lot to bring to the plate, but I think tonight Obama was really on target. And he convinced and pulled in, I think, those of us that were sitting here.
Here's a 28 second video excerpt:
Simultaneously, over on the popular Drudge Report website, which logs 15 million visits a day, more than 27,000 readers had voted in a poll there by 2:30 a.m. The question was "Who Won the DemYouTube Debate?" 40 percent answered Obama and only 13 percent answered Clinton, tied for second place with US Rep. Dennis Kucinich (D-Ohio).
These polls don't say much about how voters will cast their ballots in 2008, but they are snapshots of momentum at this point in the contest. And the "off the charts" response for Obama caused Clinton's chief political strategist, Mark Penn, to spin a bit too erratically as he tried to turn the tide.
Mark Penn's Meltdown
After the debate, candidates and their consultants swarmed into the CNN-YouTube "Spin Room" to explain to reporters why their candidate "won" the debate.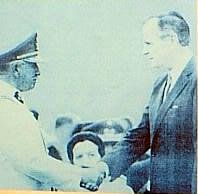 Chilean Military Dictator Augusto Pinochet and

US

President George H. W. Bush
Penn seized upon Obama's answer to Stephen Sorta's question about meeting with world leaders, according to
The New York Daily News
:
Clinton strategist Mark Penn said Clinton's answer was a "presidential moment" that would become obvious in the fallout from the showdown. "That was an essential moment that showed she knows what it means to be President," he said.

But Obama's top adviser, David Axelrod, countered that Obama knows very well that the President doesn't sit cavalierly with enemy dictators, and that Clinton's team was trying to "manufacture" a dispute.

The exchange may have embellished Clinton's leadership credentials. Still, the freer format seemed to help Obama, who may have met expectations for the first time. GOP pollster Frank Luntz said 18 of 30 South Carolinians in a focus group felt Obama won, even though only 11 went in backing Obama.
And Newsday reported:
Obama aides said he romped in focus groups of debate viewers. But Clinton's pollster Mark Penn said Obama's commitment to meeting hostile foreign leaders would haunt his campaign bypointing up his inexperience. "When you got the money question, he stumbled," said Penn.
Interestingly, for a question that concerned Venezuela and Hugo Chávez, Penn is hardly a disinterested party. In 2004, Narco News caught Penn pushing an inaccurate and dishonest "exit poll" in Caracas on the day of the recall election won overwhelmingly by Chavez. Penn had violated the ethics code of the American Association of Public Opinion Research when he did not disclose that his Venezuela poll was taken by members of a US government-funded anti-Chávez political group named Súmate, and that Penn also broke Venezuelan law by releasing his cooked "results" before the polls had closed. (In that same story we review a similar scandal, in Mexico in 2000, in which Penn had engaged in illegal and unethical activity meddling in that country's presidential race.)
So what was Penn thinking Monday night when decided that the debate angle to spin would be that Obama "stumbled" by saying he'd meet with Hugo Chávez?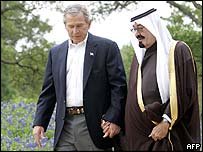 US

President George W. Bush with Saudi Crown Prince (and later King) Abdulla bin Abdul Aziz Al Saud
By any standard of smart politics, Penn was out of his mind. In US politics, the frontrunner never helps her self by attacking her nearest rival. It's a
de facto
admission that the rival is gaining too fast (and in this case had won the hearts and minds of debate viewers). Perhaps he thought he was still in Venezuela, where the anti-Chávez Commercial Media gives him a free ride?
Later that night, Penn's anti-Obama attack strategy began to crumble, when Clinton's own statement from April 2007 in which she said she favored talking with US-shunned world leaders, began circulating across the Internet, including on the aforementioned Drudge Report. Clinton had told reporters in Iowa three months prior to the debate:
"I would begin diplomatic discussions with those countries with whom we have differences, to try to figure out what is the depth of those differences… I think it is a terrible mistake for our president to say he will not talk with bad people. You don't make peace with your friends—you have to do the hard work of dealing with people you don't agree with…"
What could have possibly, then, caused Clinton to change her position in just three months? Here's a guess: His first name is Mark and his last name is Penn, and in his efforts to paint his candidate as more "presidential," did Penn convince Clinton to change her position based on perceived political expediency just to contrast herself with the Obama Juggernaut crashing up to the front from the outside? Or was it something beyond politics? Perhaps his lucrative contracts with the Venezuelan opposition led him to ill serve his candidate in the United States? Or maybe his ideological blinders simply make him a bad consultant? Those are questions the Clinton campaign and candidate ought to ask of themselves as this matter now explodes in their faces much like that cigar-bomb that the CIA once plotted to send to Cuban Comandante Fidel Castro.
All the reported 3,000 YouTube video questions, including that by Stephen Sorta, were made available to the public – and thus to the candidates and their chief strategists – prior to the debate. The larger campaigns, like those of Clinton, Obama and Edwards, had the ample staff resources to vet them and prepare scripts for their candidates as to how to best answer them. The behavior by Penn and Clinton during and since the debate strongly suggests that this was their plan all along to try to paint Obama as inexperienced. But they didn't count on the fact that the American public itself is tired of the way its own government has made a mess of its foreign policy, and that fatigue isn't necessarily restricted to the Bush administration, but also may include the Clinton administration before it, when US President Bill Clinton refused to meet with the leaders of the countries in Sorta's video question.
On Tuesday, the Clinton campaign trotted out former Secretary of State Madeline Albright and an army of "surrogates" to scold Obama's stance. US Rep. Jim McGovern (D-Massachusetts) was among those that allowed himself to be so cravenly and poorly used by Penn and Clinton in the cowardly charade of a candidate having others step in to get their hands dirty for her. Obama, for his part, sent his own platoon of former US diplomats and current lawmakers to counter them.
But in the end, the candidates themselves had to enter the fray. Also on Tuesday, Clinton told the Quad City Times in first caucus state Iowa that Obama had been "irresponsible and frankly naïve" in his willingness to talk to world leaders. Obama fired back that Clinton was "irresponsible and naïve" when she voted to authorize the war in Iraq.
By Wednesday, Obama struck back, passionately and without backing down. Granting an interview with NBC News, he said:
"I think what is irresponsible and naive is to have authorized a war without asking how we were going to get out—and you know I think Senator Clinton hasn't fully answered that issue.

"The general principle that I was laying out is that we should not be afraid as America to meet with anybody.

"Now, they may not like what we want to hear—so if I'm talking to the President of Iran, I'm going to inform him that Israel is our stalwart ally, and we are going to do what's necessary to protect them—that we will not accept a nuclear bomb in Iran, but that doesn't mean we can't say that face to face. And obviously, the diplomatic spadework has to be done ahead of time…

"But the general principle is one that I think Senator Clinton is wrong on—and that is if we are laying out preconditions that prevents us from speaking frankly to these folks, then we are continuing with Bush-Cheney policies, and I am not interested in continuing that…

"That ultimately is what's going to create the environment in which we can reduce some of the threat levels we are facing. To fail to do that is the same conventional Washington thinking that led many including Senator Clinton to go ahead with the war without having asked adequate questions."
Later on Wednesday, a member of the US Congress, US Rep. Steve Rothman (D-New Jersey) that had been wooed by all the Democratic presidential candidates, got down off the fence, based on this very question:
...the New Jersey Congressman said when he watched that debate he finally decided he was going to support Obama for president, and today he fired off a press release enthusiastically endorsing Obama '08.

"Barack's appearance in the last debate confirmed for me what I've believed all along," said Rothman. "It's new thinking versus old thinking. This notion of Hillary Clinton's that we should continue down this path of not talking to our enemies is a policy that has proven to be disastrous to our country. These are not the views of someone who professes to be an agent of change."
The Real Problem for Clinton
Beyond the inexcusable conflicts-of-interest and poor political judgment of her chief strategist Mark Penn, Senator Clinton has a deeper problem with the matter of whether the United States government can mend its disastrous relationship with most of the rest of the world. The claim to "experience" by this one-term US Senator is wholly based on the eight years she already spent in the White House with US President Bill Clinton. And while President Clinton enjoyed slightly better relations with some other countries and their leaders, that is not the case in the American hemisphere or other important regions.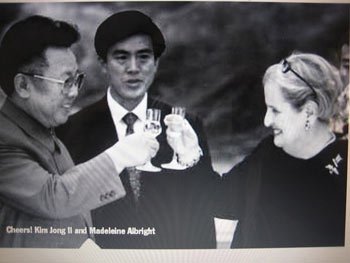 If

US

President Bill Clinton had met with North Korea's Kim Jong-il instead of just sending surrogate Madeline Albright, would there be as many problems between the two countries today?
A President Hillary Clinton would not likely see any success at all in convincing the rest of the world that US foreign policy will improve under her watch, much less inspiring the world with the kinds of bold steps that her rival Obama has consistently projected. Among the baggage from the previous Clinton administration she carries is the multi-billion dollar failed military intervention known as Plan Colombia, which has emboldened paramilitary death squads and narco-traffickers in the region, and which both Clintons continue to actively support. Their Colombian connection recently went to the extreme that Bill Clinton accepted, from disgraced Colombian President Alvaro Uribe, the "Passion Award…
for 'believing in our country and encouraging others to do the same.'"
This, as most
US
Democratic party legislators have become so concerned about human rights abuses in Colombia that they've scuttled a free trade agreement between the two countries, and even the former Vice President Al Gore, according to AP, "backed out of an environmental conference in Miami to avoid appearing alongside Uribe."
Try to imagine a President Hillary Clinton holding meetings with the leaders of Venezuela, Cuba, Syria, Iran or North Korea and it becomes evident why Senator Clinton has flip-flopped on her initial stated willingness to conduct such diplomacy: Her baggage, combined with her Dukakis-like bureaucratic hall monitor personality do not bode success for such ventures, chiefly because residents of the rest of the world will view her presidency as a continuation of eighteen years of Bush or Clinton rule. To the rest of the world, the distinctions between the two are much slighter than they are perceived to be inside the US. Speaking of Dukakis: A Clinton-Chávez meeting (the one that, on paper, ought to yield vastly improved relations between the US and this oil producing giant) would likely go as well as when 1988 Democratic presidential candidate Michael Dukakis invited rival Jesse Jackson to dinner and served New England clam chowder to the lactose-intolerant civil rights leader. Clinton simply does not believe that America needs to embark on a different course with the world than that set by the previous Clinton White House.
Obama, on the other hand, carries none of that ballast, and his responses to the citizen questions Monday night carry a very different vision. When he said, asked about meetings with world leaders that an isolated US has failed to turn into global pariahs, "I would. And the reason is this, that the notion that somehow not talking to countries is punishment to them—which has been the guiding diplomatic principle of this administration—is ridiculous," an equivalent of the Berlin Wall began to crumble on this side of the oceans, the wall between North and South. And the US Democratic primary presidential contest now has a defining contrast that, beyond signaling a paradigm break with the failed bipartisan policies of the past, has awakened the attention of the rest of the world to the 2008 presidential campaign in the United States of America.
Lea Ud. el Artículo en Español

Narco News is funded by your contributions to The Fund for Authentic Journalism. Please make journalism like this possible by going to The Fund's web site and making a contribution today.

- The Fund for Authentic Journalism
For more Narco News, click here.