Right-Wing Celebutard Bloggers Launch Internet Video War Over Immigration Reform
(So We Just Bombed Them Back with a Viral Video Parody of Our Own)
By Greg Berger and Al Giordano

Click to See the "Deport Senator Doe" Video
June 26, 2007
These are desperate times for the anti-immigrant lobby, their right-wing talk radio allies, and the silent or equally bigoted talkers and bloggers on the so-called left. And D-Day could come as soon as today, Tuesday, June 26, for their axis to crumble.
Tuesday's expected US Senate vote on whether to consider the Immigration Reform Bill is seen by all sides as razor-close as to whether the requisite sixty Senators will allow debate. If the politicians shut down debate, twelve million new American immigrants will be kept in a form of slavery, nothing will change, and each that voted to censor debate will be held individually accountable for every tragedy that comes as a result.
But if the Senators do debate it, all sides say that the bill will be approved by the end of the week, and then will head to the US House of Representatives. If the bill becomes law, the United States of America will enter a new and proud phase of its history, welcoming those that have helped, with hard work, to make the USA grow, as partners in its destiny.
We will get to the cowards on the left before the week is out (we're sharpening special surgical knives for those sell-outs), but today we answer a special call by the anti-immigrant preachers on the right: The Viral Video War.
The anti-immigrant Virtual Minority Whip Mickey Kaus made the challenge on Saturday, quoting an anonymous reader:
"…why not drive the point home to some of these congresscritters by going ahead and mashing up some sample negative ads along the lines of 'Senator So-and-so voted to give illegal alien gangbangers and drunk-drivers amnesty' and make sure the congresscritter staffs get a copy, or at least Youtubing them?"
And who do you think was the first to chase that ambulance? Fox News celebutard Michelle Malkin, of course.
Malkin's juvenile attempt at a "viral video" (a YouTube video that seeks to propagate like a virus across the datasphere) turns out to be as minor-league laughable as it is overtly racist toward Mexican-Americans. Here, see it for yourself:
Funny. Malkin's choice of a tattooed poster-boy to represent twelve million new Americans doesn't have nearly as many tattoos as the anti-immigrant member of the Aryan Brotherhood picked up by Utah police the other day on murder charges, Curtis Allgier: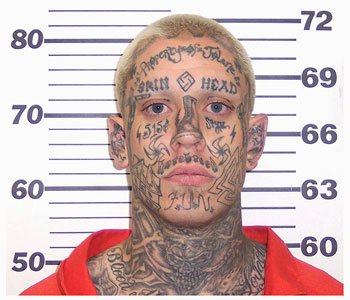 The Aryan Brotherhood's Curtis Allgier
We'll offer our response and parody video in a moment, but first some background on the viral video War of the Webs.
Malkin and her house "video whiz," Bryan Preston, as she describes one of her partners in the Hot Air website, say their "mission" is to:
"Expose new viewers to the revolutionary world of videoblogging, animation, and Internet broadcasting; Recruit dynamic, enterprising people with creative skills from across the country to help us challenge (and CONQUER!) the dinosaur broadcast media outlets; Laugh. Report. Laugh. Entertain. Laugh. Inform. Laugh. Make money. Did we say laugh?"
Laugh? Well, maybe at the celebutard.
The Hot Air anti-immigrant video – that doubles as a negative campaign ad against a specific senator that offends them because he's in favor of the Immigration Reform Bill – is funny in only one way. It shows just how inept, incompetent, and humorless home video producers can be when their bigotry strangles their creativity. It's a bush league effort to whip up fear and hatred toward immigrants and channel that bigotry toward any politician that doesn't hate enough for the haters.
This, as the third member of their Hot Air troika, who goes by the nom de blog of Allah Pundit, recently bemoaned that very lack of pizzazz among right-wingers when it comes to producing viral videos. His complaint was spurred by the popularity across the Internet of YouTube videos positive toward Democratic Party presidential candidates, and the dearth of such pixilated excitement on the GOP side, after Hillary Clinton's take-off on the final episode of The Sopranos gained wide viewership:
"This makes two creative, entertaining spots in a row to come out of her camp. She's got this, Gravel has those kooky art-film spots, Richardson has his job-interview series, and our guys are dumping out clips from their campaign rallies. 'Pathetic' doesn't begin to describe it."
He forgot to mention the first big viral video of the 2008 campaign cycle, the pro-Barack Obama video based on Apple's "1984" spot and the more recent "Obama Girl" viral video, both produced by fans of the candidate, outside of the traditional campaign organization structures.
The right-wingers "get" that viral video is going to drive the coming political debates (YouTube has even set up a YouChoose 08 section and is organizing presidential debates at which home video makers are invited to submit their questions for the candidates via Internet video). But the reptilian brain chemistry of the anti-immigrant wingnuts seems to have retarded their ability to actually make good videos.
So, given that the anti-immigrant crowd has now revealed a weakness in the talent department, we thought we'd slap together a parody of political attack ads that also serves as a response to the right's bungled attempt to "go viral" against immigration reform.
We spent zero dollars and zero cents to produce it, using materials already freely available on the Internet (with great work capturing the haters on film by Naul Ocelotl and Vietnana, two viral video pioneers), including audio from the public domain of US taxpayers (George W. Bush's weekly radio speech and a soundtrack by the US Marine Drum & Bugle Corps). The "ad" points out that the opponents of the Immigration Reform Bill will not just be voting against twelve million new Americans, but also against the toughest border enforcement provisions yet. (When we whack the imaginary "Senator John Doe" for voting against the new Berlin Wall, we're not ourselves endorsing the wall. Duh. It's a parody of how modern political campaign ads don't tell the whole story of a complex issue or legislation.)
Anyway, here's our humble submission to the Viral Video War of 2007, titled "Deport Senator Doe":
It's an imaginary ad, against an imaginary senator. Here's an unfinished 60-second version also on YouTube, with the text parts blank. That way, once the voting is done in the Senate this week, if you feel you want to dedicate a video like this one to any member of the Senate that voted to harm twelve million people by keeping them "illegal," you can simply download it, add your own text, and post your own version yourself. Viruses, after all, are known to mutate. We don't have any control over that!
Narco News is funded by your contributions to The Fund for Authentic Journalism. Please make journalism like this possible by going to The Fund's web site and making a contribution today.

- The Fund for Authentic Journalism
For more Narco News, click here.