Grenade Attack vs. Daily Por Esto! Fails to Silence Authentic Journalists
Mexico's Third Largest Newspaper Continues Expose Politicians, Bankers, Narco-Traffickers and Perpetrators of Electoral Fraud
By Al Giordano

Special to The Narco News Bulletin
August 24, 2006
For two days in a row, unidentified persons violently attacked the journalists at the daily Por Esto! on Mexico's Yucatán Peninsula.
On Tuesday, August 22, in Mérida, a Molotov cocktail thrown at a reporter's wife as she was exiting a car engulfed her 1980 Volkswagen beetle instantly in flames. She escaped unharmed.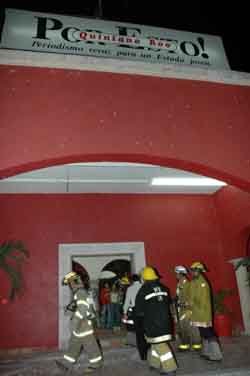 Firefighters arrive at Por Esto!'s Cancún offices
Photo: D.R. 2006 Por Esto!
On Wednesday night, armed gunmen attacked the paper's Cancún offices shooting bullets and exploding two grenades at the door. Eighty journalists, pressmen and other workers were inside the offices at the hour of the attack; none were seriously wounded.
Por Esto!'s publisher, Mario Menéndez Rodríguez (victorious co-defendant with Narco News in the 2001 drug war on trial case in the New York Supreme Court) and his team of authentic journalists have afflicted so many powerful interests with investigative reporting 365 days a year that the list of suspects with motive and means to attack the daily is large.
However, in today's edition, the newspaper accused the organization of narco-trafficker Ismael Zambada, known as "El Mayo" who the paper recently reported as responsible for the assassination of a two police chiefs (in Cancún and in Playa del Carmen) and also an anti-drug prosecutor, as responsible for the Cancún attack:
"Let there be no doubt, kind reader: If 'El Mayo' is on the street killing honest police officers and sending warnings to the daily Por Esto! it is only because the government of President Fox wants it that way. Now that 'El Mayo' Zambada has broken the rules they can arrest him. It is a question of presidential will."
Among those most exposed by Por Esto!'s reports have been politicians and businessmen that are key players in the Fox administration: Yucatán Governor Patricio Patrón Laviada, Citigroup-Banamex board member Roberto Hernández Ramírez, and, most recently, Mexico's Federal Electoral Institute (IFE). Since the July 2 presidential election in Mexico, Por Esto! has reported the details of election fraud, while also publishing the entire texts of protest speeches delivered in Mexico City by candidate Andrés Manuel López Obrador.
The government of President Vicente Fox has attempted to close the newspaper for six years now by withholding more than three million dollars of rebates owed on taxes already paid, and has charged Menéndez and others at the daily with an unending series of spurious accusations that, each time the courts have dismissed the charges, new ones were invented. Since the interlocking web of power and money between each of these forces can't be untangled, it would be unwise to presume that any one of them would be acting alone in these attacks on press freedom. And the timing – on the eve of an impending decision by the nation's Supreme Electoral Tribunal on whether to endorse fraudulent presidential election results – indicates only the contempt fear that these anti-democracy forces have of the power of a free press.
Second Attack in Two Days
The Tuesday morning violence in the Yucatán capital city of Mérida was the second Molotov attack against the home of investigative reporter Jaime Vargas Chablé, who has led many journalistic investigations publishing facts about criminal activity by state and federal officials. Ten months ago, at four in the morning, the family awoke to a loud noise on their home's roof – the impact of a Molotov explosion – and had to evacuate, with their children, from the burning house. The family has received repeated death threats via telephone. Vargas has not backed down from his investigations.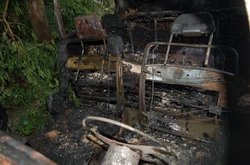 Jaime Vargas Chablé's burnt VW bug
Photo: D.R. 2006 Por Esto!
After yesterday's attack, in which the family's humble and aged VW bug was destroyed and the attacker fled on a motorcycle, the journalist's wife immediately
filed a complaint
with state prosecutors which also denounced the disinterest and failure of officials to prosecute the crime of ten months ago. The state administration of Governor Patricio Patrón Laviada (of Vicente Fox's National Action Party, the
PAN
) seems committed to encourage these kinds of attacks on journalists and their family members.
In the legal complaint, the journalist's wife, Inés Soledad López Barrera, identified a police officer of the name of Daniel Carrillo Espinoza (also known as "La Puma") as having, one month ago, conducted espionage and taken photos of their home.
Also on Tuesday, President Vicente Fox made a visit to Mérida. He said nothing about the attack on the journalist and family, instead using his photo opportunities to criticize the movement against the July 2 election fraud. In Mérida, Fox said, in a veiled reference to presidential candidate Andrés Manuel López Obrador, "Society rejects extremist solutions, messianic or apocalyptic visions, which belong to a culture of the past." Apparently peaceful protests in the street are, to Fox, "extremist" but police espionage, arson, gunshots and grenades against journalists – as well as government protection of violent narco-trafficking organizations – are part of culture of the present that Fox wishes to cultivate. There it is: Vicente Fox's legacy, unraveling with every new repression on the road to civil crisis in Mexico.
Narco News extends a hand of solidarity to our colleagues at the daily Por Esto! and advises those who try to censor or intimidate them that the authentic journalists of Yucatán and Quintana Roo count with international support from this network of journalists. They are not alone.
Narco News is funded by your contributions to The Fund for Authentic Journalism. Please make journalism like this possible by going to The Fund's web site and making a contribution today.

- The Fund for Authentic Journalism
For more Narco News, click here.