Oaxaca Government Stages "Protest March" Against Striking Teachers
Word on the Street Reveals that Many Demonstrators Were Paid to March or Threatened with Job Loss; Teachers Remain in Control of City Center, Demanding Governor's Resignation
By Nancy Davies

The Other Journalism with the Other Campaign in Oaxaca
June 23, 2006
OAXACA CITY, June 22: It looked like there were almost as many "observers" as marchers at today's government-planned march against the striking Oaxacan teachers – although the Coordination of Police and Transit estimated about 10 thousand people, according to the local newspaper El Imparcial. The marchers were silent, carrying white balloons and some banners declaring support for education for the children.
"The March in Defense of Education" was monitored by hundreds of people with cell phones (most of these equipped with photo functions), by news photographers, and by dozens of citizens with cameras or simply with silent faces staring as the march went by.
A provocation by government agents was widely expected. Radio Universidad (the student station supporting the teachers) warned teachers to leave any weapons behind if they went to watch (some men carry poles or sticks while on guard at the zocalo, following the police attack of June 14), to stay together, and if attacked, not to run.
Despite the vigilance of so many – or maybe because of it – no provocateurs showed up and the march passed without incident. A helicopter circled overhead.
The anxious time was spent before the march, when Isabel Martinez, with her cell phone and her teen-age daughter, sat on a bench in Llano Park awaiting trouble. Señora Martinez is the wife of a taxi driver here in the city. She told me that the taxi drivers in his group, Sito 5 de Febrero, had been told that either they must march or pay a fine. "He is not in the march," she told me. "It was better to pay a fine than be injured."
Isabel Martinez lived in Oaxaca when the student protesters of 1977 ousted then-governor of Oaxaca Manuel Zárate Alquino from office. Señora Martinez' daughter, who attends Prepa (High School) #6, was one of the first Oaxaca residents to run to assist the teachers on June 14. Santa Viviana Loeza told me that she went at 5:00 AM, with water to help the teachers wash their eyes after the tear gas hit them. "I am in solidarity with the teachers, she said. "I give them food. We oppose the bad government."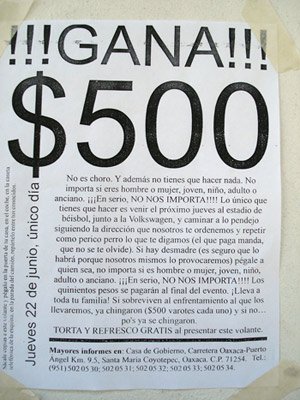 Poster in Oaxaca City: "Win 500 pesos! … It doesn't matter if you're a man or a woman, young, adult or elderly. Seriously, we don't care! The only thing you have to do is come this Thursday to the baseball stadium by the Volkswagen store, and walk like an idiot following our directions and repeating everything we say like a stupid dog (don't forget, he who pays gives the orders). If there is mayhem (and there surely will be because we ourselves will provoke it) just hit anyone you see, it doesn't matter if it's a man or a woman, young, adult or elderly…"
Photo: D.R. 2006 George Salzman
The family is united in desiring Ulises Ruiz out. Isabel Martinez pointed at buses that had brought people in from outlying towns as the governor's behest, "They have been brought in, not by their own will." During our conversation she made several cell-phone calls, reassuring people at a distance that nothing bad had yet happened.
Reports that Governor Ruiz paid or coerced "supporters" to march are widespread. One source told me that a man received a message on his cell phone offering 1,000 pesos ($87 dollars) to attend the march. The widely circulated offers of payment have caused a lot of humor and satire (see poster, right) among teachers and residents. More seriously, many told me it was a case of marching or losing one's job, and alluded to pressure on their sisters or fathers.
The march was coordinated by the director of Public Security, José Manuel Vera Salinas, accused of planning and executing the failed attack on the teachers on June 14.
The trail of white balloons and white clothes began in silence at the Benito Juarez monument and proceeded to the intersection of Niños Héroes de Chapultepec and Calzada Porfirio Díaz streets. The marchers passed the intersection (which would have been a turn-off to Llano Park where many like the Martinez mother and daughter expected them). But then they made a u-turn, and retraced their steps back to the bus station where government workers from distant regions had been deposited by PRI organizers to participate in the march, many under threat of job loss or fines.
Thousands of teachers remain firmly in control of the center of the city.
Click here for more Narco News coverage of Mexico
Narco News is funded by your contributions to The Fund for Authentic Journalism. Please make journalism like this possible by going to The Fund's web site and making a contribution today.

- The Fund for Authentic Journalism
For more Narco News, click here.